Things To Do
MeetspaceVR in Trafford is being hailed as 'the best in the world' and 'the future of gaming'
The word is starting to spread: gaming is bigger than ever in Manchester and MeetspaceVR is the pinnacle.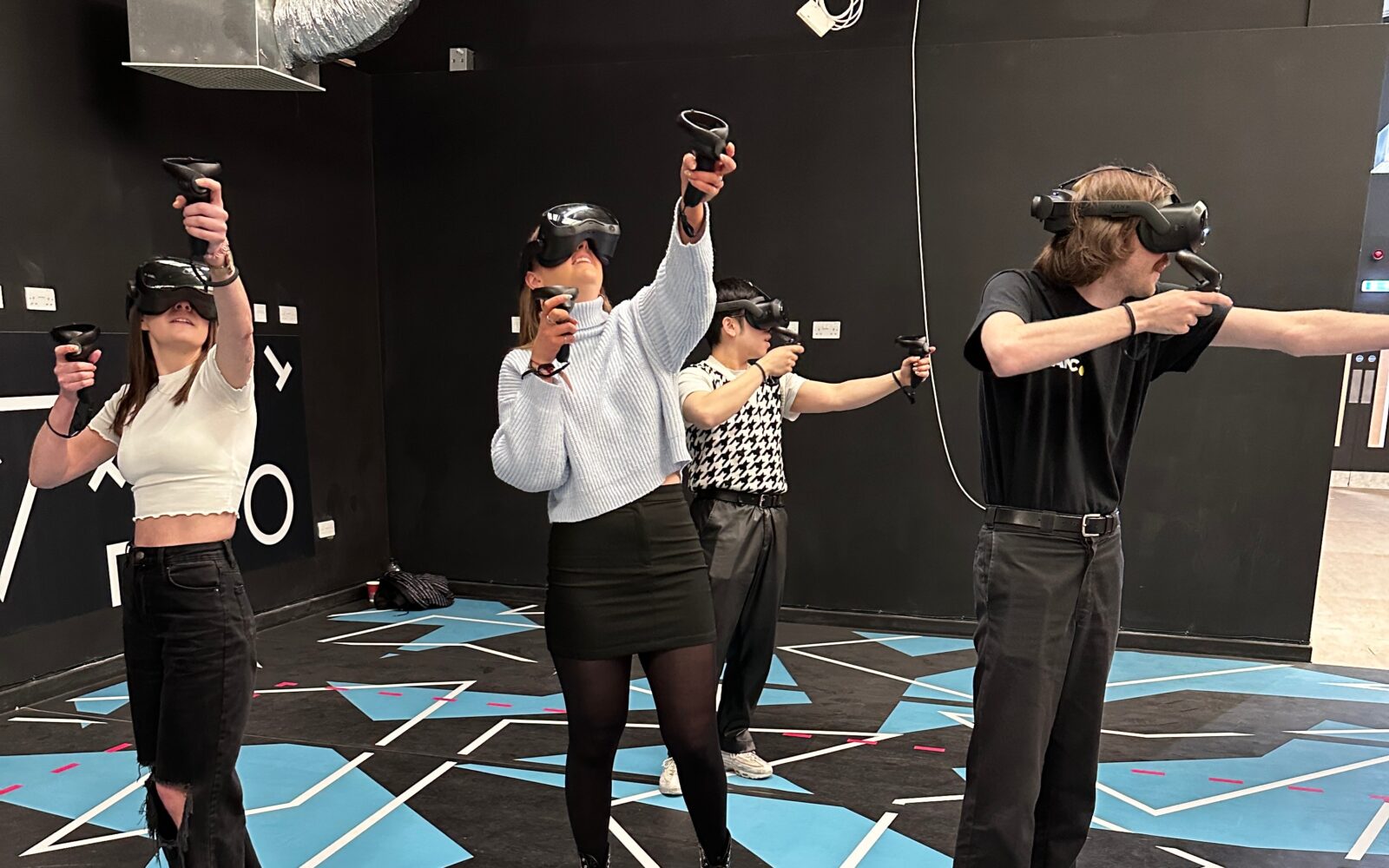 If you don't believe that Manchester is the gaming capital of the UK, then the press surrounding MeetspaceVR over in Trafford will convince you otherwise.
After opening up over in Trafford Park at the back end of 2022, Meetspace wasn't the only place you could enjoy virtual reality in the city, but it was the only site you could find full-fledged free-roam VR experiences — and it still is.
That being said, it's no wonder that the reviews for MeetspaceVR are nothing short of incredible, with Gizmodo calling it "the best, most captivating, immersive and present virtual reality experience [they've] ever tried" and Forbes dubbing it "the world's most advanced, free-roaming virtual reality".
In fact, CNET went so far as to call what's going on in the unassuming warehouse in Trafford, "the future of video games, arcades and amusement thrills all in one" and, in case you didn't guess already, we tend to agree.
Following the success of their original venues in London and Manchester, MeetspaceVR has now expanded into a total of seven different sites across Guildford, Thatcham, Nottingham, Birmingham, Bristol, Wembley and, of course, right here in Trafford.
On top of that, they've also added some seriously impressive new games to their overall selection, including Far Cry: Dive Into Insanity and a brand new VR Escape Room, Huxley. Oh yeah, did we mention they have VR escape rooms too? Well, they do.
Better still, MeetspaceVR Manchester is the only location where you can play their groundbreaking Zero Latency VR titles, the industry-leading developers behind their free-roam VR experiences.
With seven different Zero Latency games, 13 different escape rooms and literally dozens of VR Arcade games, not to mention the likes of Mario Kart and many other console classics to play when you need a break from the virtual world, there really is something for everyone. We've been back multiple times since our first visit and we still haven't got through everything on offer.
Read more:
The thing we love most about MeetspaceVR is that it isn't like most other virtual experiences in Manchester or anywhere else in the country for that matter: i.e. stood on the spot with your headset on and just waving joysticks around, often on your own. This place is like no other.
The reason MeetspaceVR Trafford is so mind-blowing is that not only does it offer fully free-roam experiences but it's also built for multiplayer, with sessions available for up to eight people per arena at a time, making it the perfect venue for away days with work, birthday parties, stag dos and more.
Whether you fancy fighting off hordes of zombies, becoming an archer in a medieval fantasy world, competing against your mates in a futuristic PvP shootout, or trying your hand at any of their other incredible VR experiences, we guarantee it'll be the best day out you've had in a long time.
You can book yourself in for a life-changing VR experience HERE.
For all the latest news, events and goings on in Greater Manchester, subscribe to The Manc newsletter HERE.
Featured Image — MeetspaceVR/The Manc Group