Audio
Fans stunned as rock royalty Alice Cooper buys Johnny Depp a present in Afflecks
'A little surreal' is an understatement.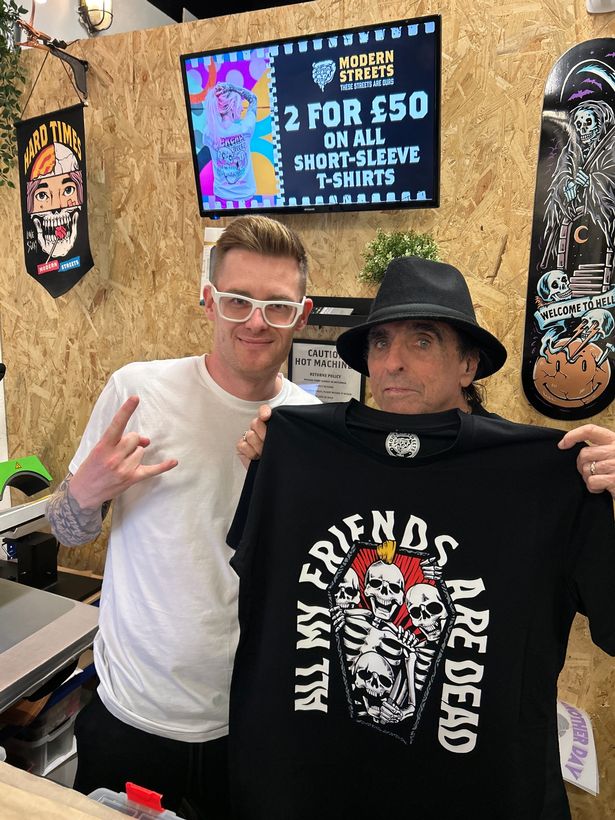 Fans and traders alike have been left delighted after actual Alice Cooper popped in to Manchester's landmark shopping emporium, Afflecks.
The rock legend visited the eccentric retail destination to buy a present for his friend and bandmate, Hollywood actor Johnny Depp.
Alice Cooper was seen browsing at Modern Streets Apparel with his wife Sheryl Goddard and photographer Kyler Clark.
The stars were in Manchester with their band Hollywood Vampires, who performed at the AO Arena on Saturday night.
The shop's owner Jack Parkinson said that Cooper dropped just over £100 on t-shirts that featured a group of skeletons around a coffin shape.
In a video shared by the shop, the rock icon says: "It's for Johnny Depp. Is he a large?"
To which Jack responds: "Don't ask me!"
Jack then starts printing the t-shirts, emblazoned with the slogan 'All my friends are dead'.
He wrote: "Alice Cooper coming into the shop to buy a t-shirt for Johnny Depp was a little surreal yesterday. Had a good chat and he grabbed photos with fans, what a rock legend."
Modern Street Apparel specialises in punk-inspired t-shirts and accessories that are hand-printed to order, in store.
Fans have been expressing their excitement over the shopping trip since the video was circulated online.
One video shared from inside Afflecks shows a fan literally dropping to his knees to worship at Cooper's feet – a totally valid reaction, to be honest.
The pair then share a hug, before the fan gets on his knees and asks Cooper to bless him.
They wrote: "One of the greatest days of my life that I got to be blessed by his majesty @alicecooper and the universe enlightened my path by his presence got taken to goth and rock heaven."
One person wrote: "I think I would've just fainted and ceased to exist."
Another said: "How did you not squeal like a girl! I would not be cool."
Someone else wrote: "I bet that has been the most surreal experience of your life. Amazing dude!"
And another comment said: "That is insane!!!! Love it. I'm going to be stalking photos of Johnny Depo now waiting for him to wear the shirt."
Read more
Featured image: Instagram, @modern.streets.apparel