Audio
Hollywood Vampires at Manchester AO Arena — tickets, supports, stage times and more
Remember when that trial was all we could read about? Well, now you can hear about him playing guitar instead.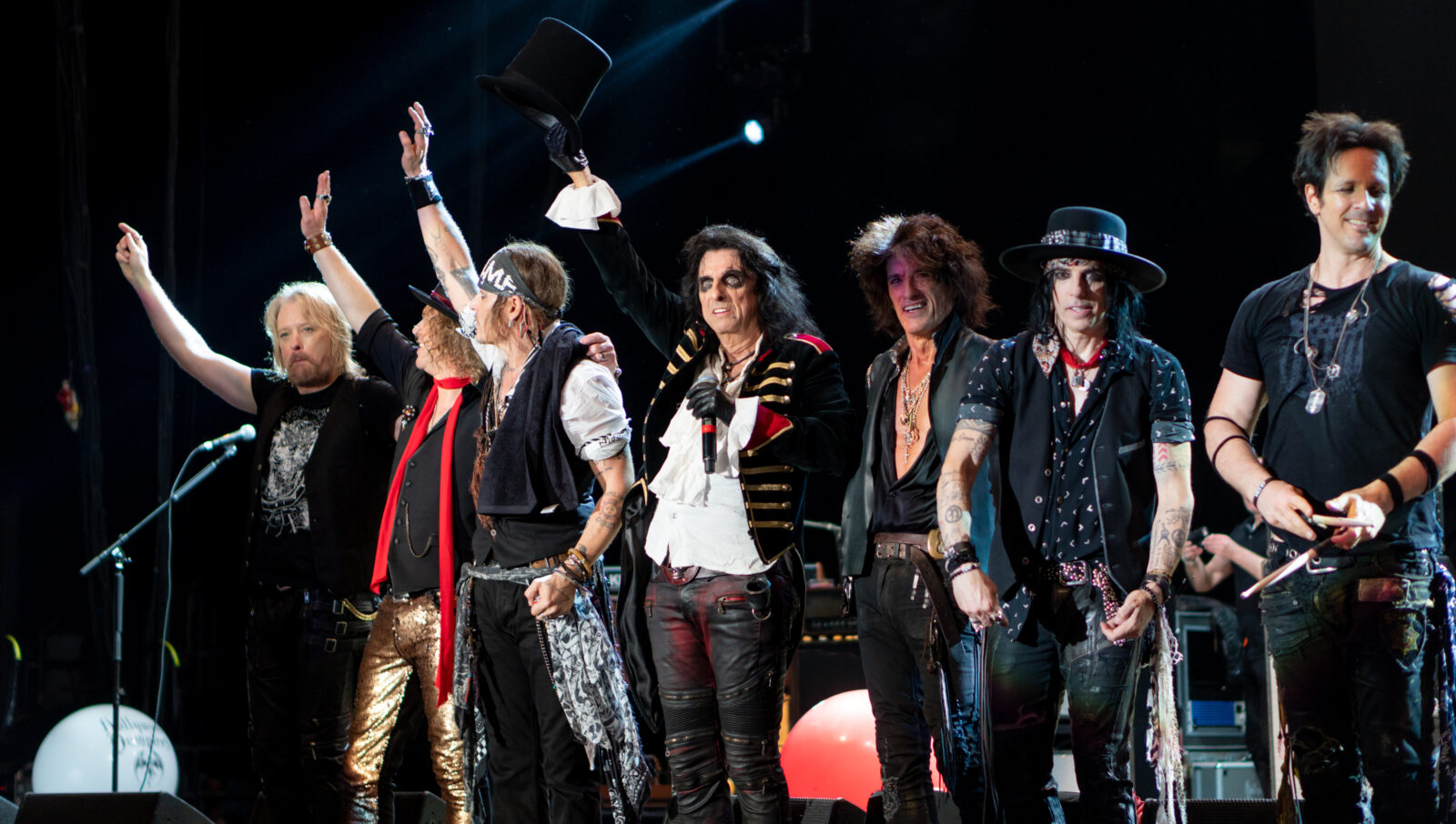 On Saturday, 8 July, one of the biggest names at the box office and on the music scene arrives in Manchester as actor Johnny Depp and his supergroup, Hollywood Vampires, continue their UK tour.
And not without controversy, of course, as the Hollywood superstar himself is gradually returning to the spotlight following his long-running and high-profile court case against his ex-wife Amber Heard.
Having won the defamation suit back in June of 2022, Depp moved to the UK where he currently resides on his Somerset estate and while there are reports he could return to the screen as Captain Jack Sparrow in the new Pirates of the Caribbean film, he's focusing on his music for the time being.
Forming Hollywood Vampires in 2012 alongside rock legends Alice Cooper and Aerosmith's Joe Perry, the bad are undoubtedly bigger now than they have ever been and having kicked off the UK leg of their tour earlier this week in Scarborough, it's time for the Mancs to show them what a real crowd looks like.
Are there tickets left to see Hollywood Vampires in Manchester?
If you're a Hollywood Vampires fan or simply just a Johnny Depp stan (we know there are a lot of you out there) and you're hoping to grab yourself a last-minute ticket, you're in luck, as there are still a fair few seats available.
While all the standing spaces have sold out, the AO Arena still has room in five different sections around the venue ranging from between £45 and £56.50 without fees — though they are all in the very top tiers.
Nevertheless, if you want to grab a ticket, you can grab yours HERE and if you're looking for a spare in a prime location, you can always keep your eye on resale sites but, as always, proceed with caution and only ever buy from trusted sites.
Support acts
You only have one support act to warm you up for Hollywood Vampires' Manchester gig, but boy aren't you lucky with who you're getting: San Francisco cult heroes, The Tubes.
Hitting their heights of popularity in the 1970s and 80s, they were never the biggest band and (in this author's case) we only know of them because of our parents' exquisite music taste, but they had some serious bangers in their time — Depp and co. certainly seem to think so too.
Contemporaries, former bandmates and friends of Alice Cooper himself, many of the original members may have passed away, but The Tubes are still playing to this day and we'd be happy to see them for this absolute bop alone.
Hollywood Vampires' AO Arena stage times
It's gonna be a pretty straightforward affair this weekend: doors to the venue open at around 6pm and the music itself with be starting from 7:30pm as rock veterans The Tubes take the stage.
Looking set for around an hour-long set followed by a half-hour break, you can expect the main event to start around 9pm, with the Hollywood Vampires playing until the usual 11pm ballpark curfew.
Then again, they are vampires so maybe they'll stay up all night.
Predicted setlist
As mentioned, Hollywood Vampires kicked off their latest run of shows in Scarborough earlier this week and played Swansea on Friday, so we have a pretty good idea of what they're going to be playing for the Manchester audience.
According to Setlist.fm, with a mix of originals and covers of rock classics, here's your best guess:
I Want My Now
Raise the Dead
I'm Eighteen (Alice Cooper cover)
Five to One / Break On Through (The Doors cover)
The Boogieman Surprise
My Dead Drunk Friends
You Can't Put Your Arms Round a Memory(Johnny Thunders cover)
Baba O'Riley (The Who cover)
Who's Laughing Now
People Who Died (The Jim Carroll Band cover)
The Jack (AC/DC cover)
As Bad as I Am
Heroes (David Bowie cover)
Jeff Beck Tribute
Bright Light Fright (Aerosmith cover)
The Death and Resurrection Show (Killing Joke cover)
Walk This Way (Aerosmith cover)
The Train Kept A-Rollin' (Tiny Bradshaw cover)
Encore:
School's Out (Alice Cooper cover)
What a way to finish and with so many recognisable music names touring with them as Tommy Henriksen of Warlock, drumming veteran Glen Sobel, as well as Chris Wyse who has played with the likes of The Cult and Ozzy Osbourne, you're in for a treat. Who knows, you may even get a guest appearance…
Read more:
Depp spent much of last year playing with both the Vampires and Jeff Buckley, so he's grown more than accustomed to British crowds — let's not forget he lives here now.
We're already looking forward to seeing people inevitably bumping into Captain Jack, The Mad Hatter, Willy Wonka or whatever character you choose to associate him with at some random pub in town like it's the most normal thing in the world.
God, it's been a big few days of Manchester gigs, hasn't it?!
For all the latest news, events and goings on in Greater Manchester, subscribe to The Manc newsletter HERE.
Featured Image — Wikimedia Commons