Audio
Matty Healy is kissing people at gigs again — and this time it was a security guard that got a smooch
The 1975 gigs simply never end without some kind of 'Ratty' shenanigans.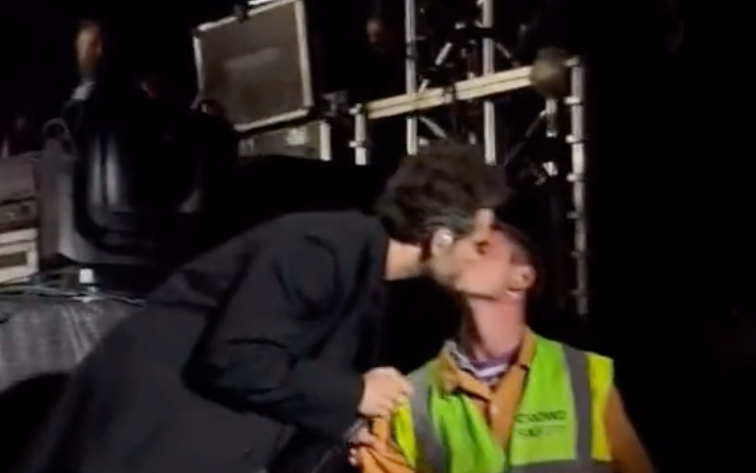 The 1975 are in the midst of a massive world tour and while playing the tunes would be enough for most, frontman Matty Healy simply cannot close a show without doing something random — kissing a security guard being the latest.
Now, the often divisive and ever-provocative songwriter, lead singer and guitarist has been kissing people for months now; the current 'At Their Very Best' tour has been riddled with him sucking people's thumbs, humping cameramen and lots more, but kissing strangers has been a staple throughout.
The London-born, Cheshire-raised and Manchester-initiated musician had packed in the gimmick of late following criticism that many of his on-stage antics were inappropriate, but at a recent festival gig in Denmark, Healy brought back the now infamous 'Robbers' kiss.
Having smooched countless fans during this popular song from their debut album — a routine that has now become a regular and expected occurrence at The 1975 gigs — this time he decided to plant a big sloppy one on the lips of a security guard watching the NorthSide festival-goers below.
Read more:
As you can see, the security guard looked to be a good sport about the whole thing, laughing and raising his arms as the crowd cheered before kissing him back — the first angle even shows him asking the staff member before he leans in.
However, many have criticised the 34-year-old not because they find it inappropriate behaviour from an artist but mainly because of his new rumoured relationship with Taylor Swift, with her fans commenting things like, "good, can they break up now?" and "No wonder Swifites hate this guy".
They have even gone as far as analysing the recent performances of both acts and are now speculating that their apparent 'whirlwind' romance has already ended — hence why Healy went back to kissing randomers, security guard or otherwise. Your guess is as good as ours, we're just here for the chaos of it all.
In case you wanted an idea of some of the other random stuff Matty has been on doing on this tour, or simply how this new album sounds live, you can have a taste down below or read our review of The 1975's Manchester show HERE.
For all the latest news, events and goings on in Greater Manchester, subscribe to The Manc newsletter HERE.
Featured Image — @theproblemmattyc (via TikTok)