Audio
Rick Astley's AC/DC drums cover crowned one of Glastonbury 2023's best moments
He won over even his harshest critics.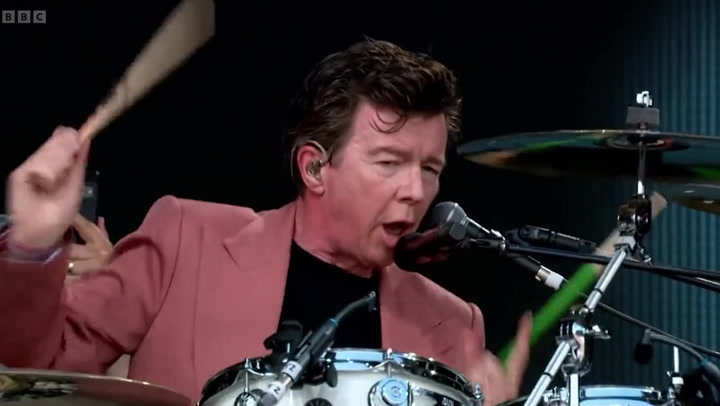 Glastonbury has drawn to a close for another year.
As thousands of festivalgoers woke up bleary-eyed today after three days of eclectic shows, and with the usual massive clean-up operation now underway down at Worthy Farm, viewers and critics have been reflecting back on what was another successful year for the UK's – and probably the world's – biggest music event.
And by the looks of things, it seems one local star has stolen the show.
We are, of course, talking about none other than Rick Astley – who is now no longer a self-professed "Glastonbury virgin" after taking to the world famous Pyramid Stage on Saturday for one of the festival's most talked-about sets.
It may have been 36 years since the iconic singer-songwriter from Newton-le-Willows first shot to fame with his massively-popular 1987 hit song 'Never Gonna Give You Up', but Rick Astley is arguably a more prominent force in popular culture now than he ever has been before.
Over the past couple of years, the 57-year-old has been amassing new fans left, right, and centre, and has even claimed the strongest run of album chart positions of his entire career.
Fans will know that Astley had already teamed up with Blossoms to perform a selection of their favourite The Smiths songs back in 2021, and it went down so well the first time, that the Stockport indie rockers decided to bring Astley up on stage with them again for a surprise set to entertain the Glastonbury masses with some of the iconic Manchester band's most well-known songs.
Taking over from Morrissey on vocals, Rick belted out some of the classics from The Smiths' back catalogue – including 'This Charming Man', 'Heaven Knows I'm Miserable Now', and 'Please, Please, Please, Let Me Get What I Want' – with the Stockport lads doing a brilliant job of providing the instrumentation.
But still, that's arguably not what Astley's Glastonbury debut year will be remembered for the most.
As it was his unexpected drums cover of AC/DC's iconic 1979 classic 'Highway to Hell' that's got viewers branding it one of the festival's best moments.
As Astley took to the Pyramid Stage for his highly-anticipated Saturday slot, the enthusiastic showman had the expansive crowd in the palm of his hands and appeared to win everyone over with his impressive vocals – but it was when he took a seat behind the drum kit for the penultimate song on his setlist that he won over even his harshest critics.
"My respect for Rick Astley has gone through the roof after this," one viewer wrote on Twitter.
And they weren't the only one to take to Twitter to sing Astley's praises, as social media was flooded with viewers complementing his unexpectedly good drumming talents, and his set as a whole.
"I didn't know how much I needed to see Rick Astley crushing AC/DC's Highway to Hell on the drums at Glastonbury," another fan wrote on Twitter.
Someone else even called Astley "the human equivalent of flare jeans" as both are "making a comeback in 2023", while another person called the cover a "legendary performance", and more fans called to "Protect Rick Astley at all costs."
One fan wrote on Twitter in praise: "Watching him play every instrument in every genre while covering vocals without mimicking the original singer like a single trick cover band singer is really quite something.
"The man appears to just love music."
Read more:
"Rick has been one of the pleasant surprises of Glastonbury," another fan summed it up best, adding that he's "a proper ray of sunshine."
Featured Image – BBC