Audio
Rina Sawayama calls out Matty Healy live at Glastonbury for offensive podcast comments
Healy responded to the backlash earlier this year but some feel it was less of an apology and more of a deflection.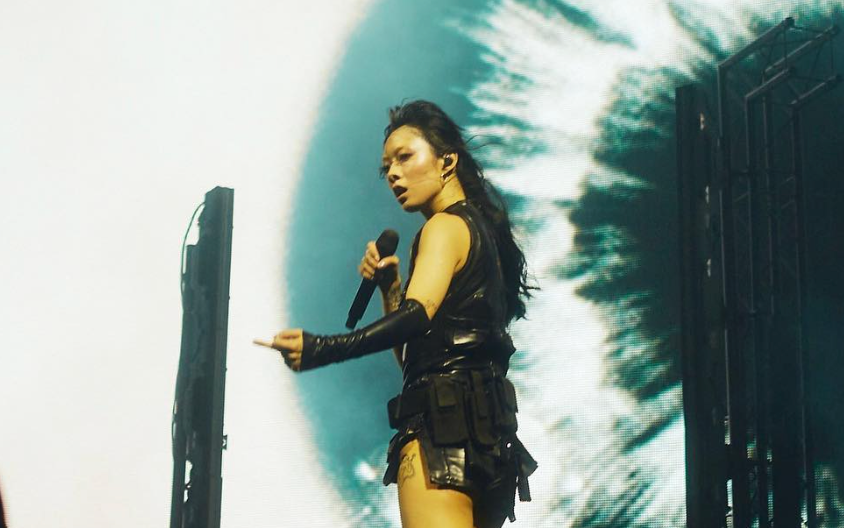 Matty Healy might be one of the biggest frontmen on the planet right now but he's also one of the most controversial figures in the music industry too, as those watching Glastonbury found out after Rina Sawayama called him out live on stage in front of thousands.
The 32-year-old singer, actress and model was performing on the Woodsies on Saturday, 24 June, when she decided to dedicate her song 'STFU!' to The 1975 singer, songwriter and guitarist following a number of offensive remarks he made or was involved with on a recent US podcast episode.
Healy, 34, appeared on The Adam Friedland Show back in February, during which he made a series of comments that many labelled inappropriate and racist, such as watching a porn genre which degrades Black women as well as joining in speculating about rapper Ice Spice's ethnicity and discussing her body.
The Wilmslow-bred musician also went on to laugh when the hosts mocked the artist with attempts at Chinese, Hawaiian and Japanese accents, to which Sawayama — who was born in Japan before moving to London as a child — responded by screaming "I've had enough!" to the Glastonbury crowd.
As you can see in the clip below, the recent John Wick 4 star said, "I wrote this because I was sick and tired of these micro-aggressions. This goes out to a white man that watches 'ghetto gaggers' and mocks Asian people on a podcast."
She then went on to say, "He also owns my masters" — with Sawayama and The 1975 both belonging to Dirty Hit Records, of which Healy was creative director and is one of multiple shareholders — before adding defiantly, "I've had enough!" before being met with rapturous cheers and applause for the crowd.
It is worth noting that Healy's role as a director has since ended in the time since the podcast controversy, with online records showing that his contract in that capacity was terminated after five years back in April, though it's unclear if the decision is linked.
Elsewhere in the podcast, Healy also suggested that Harry Styles of "queerbaiting" fans and also made jokes about women's synchronising while on their periods, which also upset many people, fans or otherwise. Regarding his Ice Spice comments, he apologised on stage this past April.
Read more:
Nevertheless, The 1975's 2018 single 'Sincerity is Scary' seems fitting here, as many still feel that there wasn't much genuine remorse in his apology, especially given his comments in an interview with The New Yorker a month later where he said, "it doesn't actually matter."
He went on multiple-award winning musician insisted, "Nobody is sitting there at night slumped at their computer, and their boyfriend comes over and goes, 'What's wrong, darling?' and they go, 'It's just this thing with Matty Healy.' That doesn't happen."
He even went so far as to say, "If it does [offend people], you're either deluded or you are, sorry, a liar. You're either lying that you are hurt, or you're a bit mental for being hurt. It's just people going, 'Oh, there's a bad thing over there, let me get as close to it as possible so you can see how good I am."
Neither Healy nor Dirty Hit are yet to issue a response following Rina Sawayama's comments at Glastonbury but it's certainly sparked quite the discussion online surrounding a public figure who is well-accustomed to being amongst the headlines for his antics, being on or off-stage.
For all the latest news, events and goings on in Greater Manchester, subscribe to The Manc newsletter HERE.
Featured Image — Rina Sawayama/The 1975 (via Instagram)