Sport
Aitch leaks new Man United kit for 2023/24 season during Glastonbury performance
Better than most kit reveals, to be fair.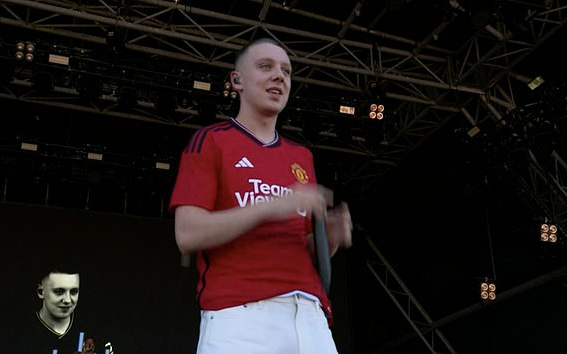 While most music fans might have been hoping for a surprise guest at Glastonbury this year — although pretty much everyone guessed Foo Fighters — we reckon there weren't many expecting to see Aitch leak the new Manchester United kit for next season.
Playing the 4pm slot on Saturday at Worthy Farm, the popular Manc rapper and well-known United fan took a little pause in his set for a costume change, warning that "some of you aren't gonna like this" and jokingly asking security to eject any City fans.
Pulling on the shirt and effectively confirming the leaks we've already seen as to what the new home kit looks like, Aitch looks to have jumped the gun a little bit.
Spoilers: the show was great and the kit is red.
As you can see, the Moston-born musician looks to have got his new United kit early, debuting the new design on the Pyramid Stage in front of hundreds of thousands of people and even more watching home.
He even had the words 'Big Shell 40' printed on the back as a nod to one of the lyrics from his 2021 song, 'Learning Curve'.
Regarding whether the kit was real, there seems to be no question as to its authenticity; in fact, the club didn't even remotely try and pretend it was fake, simply replying to a Match of the Day tweet with one emoji that all but confirmed it was the genuine article.
To be fair, the cat's out of the bag now, so there's not much they can do.
Read more:
Who knows, this could've been an intentional marketing stunt on their part as Aitch has appeared in videos promoting new jerseys before, the most recent being United's infamous 'zebra' kit in the 2020/21 season.
If so, it's worked an absolute treat as it's got plenty of people talking — case and point this article.
So, that's it, you've seen it in person now but what do you make of, Reds? Is this the kind of kit you can see going on to be one to remember after a memorable season?
Elsewhere, images of the away and third kits for the upcoming season have also been seemingly leaked online and considering they include what now looks to be the confirmed home shirt, the chances are these are real as well:
For all the latest news, events and goings on in Greater Manchester, subscribe to The Manc newsletter HERE.
Featured Image — BBC