Audio
The Stockport record shop that's throwing some of Greater Manchester's maddest street parties
Yet more proof that Stockport is far from sh*t.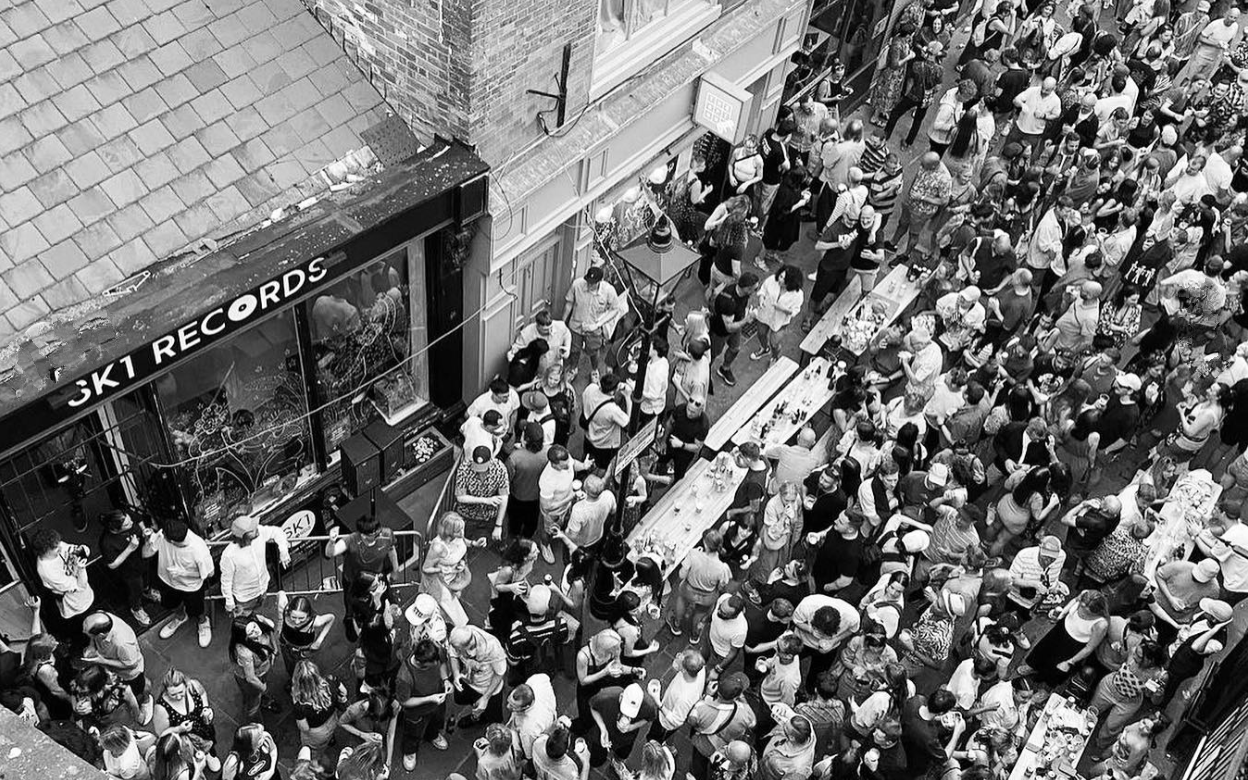 In case you haven't already heard, Stockport is an absolute hive of activity at the minute.
Among the numerous selling points brought to the borough by its recent regeneration are SK1 Records' now-legendary street parties, which might just be this place's magnum opus.
Having been voted Greater Manchester's Town of Culture for 2023, many locals and those less familiar with Stockport might understandably assume the award was largely down to the likes of Foodie Friday, County being back on the up, perhaps, or Blossoms just absolutely smashing on the UK music scene.
That being said, we'd say there's a very strong argument to be made that one of the biggest and best things about the former Cheshire town (no, for the last time, it isn't Cheshire anymore) is SK1 Records and their unrivalled street parties.
If you've never been to one of these things before, then yes, you're seriously missing out.
Based out of the record shop located on Underbank in the heart of Stockport's Old Town, these street parties are some of the most exciting and well-attended events anywhere in the area, with numerous UK DJs, Manc musicians and local Stopfordian artists getting involved.
SK1 Records itself has only been open for a few years, soon to be celebrating its fifth birthday on 18 August, but to mark the occasion and celebrate the record store putting itself firmly on the cultural and underground music map in that time, they're teaming up with an iconic Manchester club night later this month.
Aficionado is a name you'll have likely seen on countless posters plastered on pub walls and throughout different venues across town over the past twenty years or so, but for those unaware of its truly special legacy, here's the gist.
The regular Manc music event, set up by DJs Richard 'Moonboots' Bithell and Jason Boardman, started as an alternative to the superclubs that began dominating the industry back in the 90s and have continued to bring unadulterated, accessible and fundamentally free-to-enter club nights to the masses for over two decades now.
With that in mind, it's no wonder they picked this place for the next date on their calendar.
Since both SK1 Records and Aficionado are approaching important milestone in their respective journeys, the lattermost — which has already popped up in pretty much every music venue you can think of around Greater Manchester over the years — they've decided to kill two birds with one stone.
SK1 has held several street parties for the Stockport locals since opening, not to mention many gigs and pop-ups around the Manchester area with the help of Boardman, but this is their first under the Aficionado banner, who just so happen to be celebrating their 25th anniversary as well.
So, with the help of another popular local spot sitting right across the narrow cobbles of Little Underbank Street, The Spinn Off, the trifecta will be coming together for what is set to be one of Stockport's biggest street parties yet.
Owned by Emmerdale's Adam Thomas, the original restaurant over in Gatley which gave the bar its name might have sadly shut last month, but this Underbank boozer is still busy and bouncing, so it only felt right to get them involved with the next big party.
Read more:
With that in mind, as SK1 Records celebrates its fifth birthday and Aficionado its 25th, the duo will be helping punters dance the night away on Friday, 18 August, with The Spinn Off helping provides drinks and extra tables along with Stockport Market's natural wine and craft beer shop, Wine Boy.
'Nado will also be holding a ticketed event to celebrate their incredible landmark at Escape to Freight to Island on 28 August too but this is their first free event of the year, staying in touch with their roots and also picking the home of Greater Manchester's biggest and best street party to boot.
The street party itself will run from 6pm to 11pm and there's also going to be food and snacks courtesy of Cafe Sanjuan, the only Colombian eatery you can currently find in the region, let alone Stockport and. Trust us, this place is worth the hype. It's going to be a brilliant night.
Better still, we know exactly the place you want to be after the fun at SK1 Records stops…
For all the latest news, events and goings on in Greater Manchester, subscribe to The Manc newsletter HERE.
Featured Image — SK1 Records (via Instagram)