Audio
Slam Dunk festival apologises after fans complain of queues so long they 'didn't eat'
'I'm having serious doubts of ever coming again'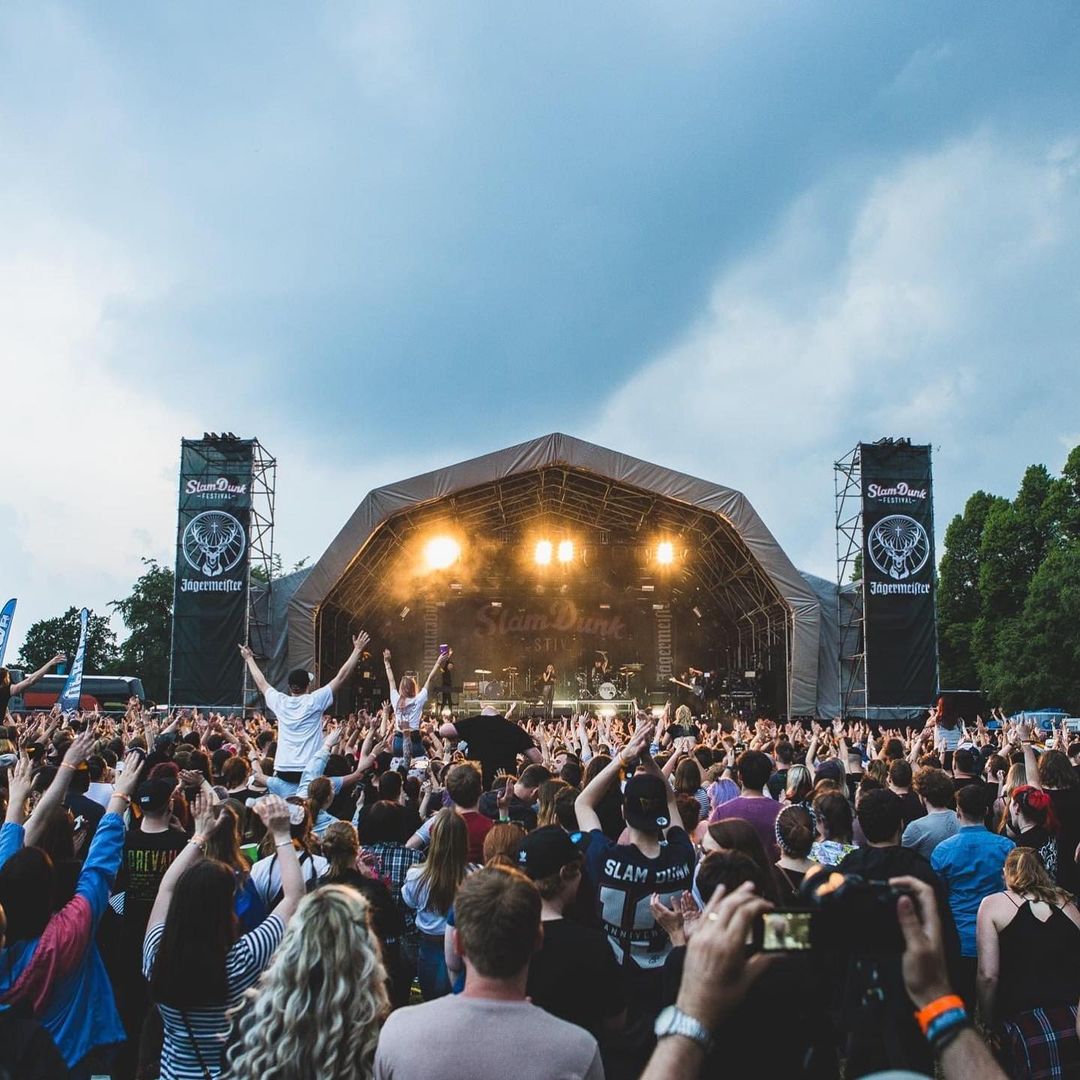 Slam Dunk, a huge rock and punk festival, has issued a statement apologising to fans for 'issues' on site.
Festival organisers address a range of problems at the site – which takes place simultaneously in both Temple Newsam in Leeds and Hatfield – ranging from traffic flow, car parking, food vendors, toilets, accessibility and queues.
The lengthy statement said that the Slam Dunk team would 'conducting a thorough investigation, whilst working extremely hard to rectify all problems for future events'.
It comes after hundreds of festival-goers complained of poor organisation and 'overcrowding' at both sites – though Slam Dunk has sought to assure people that it was not oversold, The Hoot Leeds reports.
A common complaint amongst fans was the huge waits for food traders, with many reporting that they gave up and didn't eat.
This year's festival was headlined by Enter Shikari, The Offspring, and Billy Talent, drawing in thousands of music fans from across the north.
One person said: "Had a great day today at @SlamDunkMusic but definitely lessons to be learned – queues everywhere were a joke (1hour+ minimum) and people were going hungry and without water or drinks because of it. Got to be sorted out for next year."
Someone else posted: "Three hour wait for food so we abandoned the queue. Now queueing for ice cream as a meal substitute while only hearing Flogging Molly. Got us trapped here all day with not enough of anything: water points, food, toilets, routes in&out. F*cking sh*te."
One festival goer commented on Slam Dunk's Instagram page: "I've been going to SlamDunk for years now but this year has to have been the worst! And might have possibly put me off for ever returning. It's amazing seeing the festival grow, but when it reaches the point where people's safety it as risk it might be worth reconsidering everything."
Others followed with similar comments like "Luckily we left early because we were starving, the amount of people I've seen that have been complaining about waiting 2-3 hours to get out of the carpark or waiting 2 hours for a taxi is shocking. This used to be my favourite festival of the year, it's my 6th slam dunk and now I'm having serious doubts of ever coming again just due to how poorly organised it was."
However, there have also been plenty of comments from those that attended the festival highlighting different experiences.
A comment left on Slam Dunk's Instagram statement read: "Bloody great weekend guys. Don't let the internet ruin it".
Slam Dunk's full statement about the 2023 festival
"Slam Dunk Festival would like to address issues which have been raised across the weekend.
"We recognise there were problems and that some customers did not have an experience to the standard which they expected. We would like to apologise for the issues which occurred and reassure our customers that we are committed to improving the event.
"We would like to assure all customers that neither event was oversold, and customer safety is, and always will be, paramount to the festival. Like all other major events, all our event plans were reviewed by local authorities and are in line with industry standards.
"In response to the car parking and traffic issues, as previously highlighted there was an unprecedented number of cars arriving to the festival site who hadn't pre-booked car parking. This alongside other external factors created a traffic flow issue which inevitably caused delays into the festival site. As a measure to combat the traffic flow issue we made the conscious decision to stop checking passes for parking to increase the rate of entry to the car park and to prevent further delays. Keeping this in mind, we have made the decision to no longer provide on the day car parking, from next year only those who have pre-booked their car park tickets will be permitted to park on site, along with other measures we are looking to implement, we believe these will create smoother entry into event.
"We also recognise the issues surrounding food vendors and queues. We were assured that we had an adequate number of food vendors for the expected number of attendees, however, we recognise that this wasn't the case, and we are committed to increasing the number of traders at future events, along with where they are located.
"Similarly, we recognise related issues surrounding toilets and water points. We would like to reassure customers that these facilities are in line with industry recommendations and have been increased from previous years, however this is something which we will increase further for future events.
"We are also aware of access issues, and we will be contacting our access customers directly for their feedback.
"We recognise there are other issues not highlighted in this statement. We will be conducting a thorough investigation, whilst working extremely hard to rectify all problems for future events. We have always been committed to increasing customer experience and we welcome feedback to do this. We encourage customers to complete our post event survey to assist us with this.
"North – https://forms.gle/jPNFE4w2icfGxGtC7
"South – https://forms.gle/3nV9zJQnC4dkhz558
"Slam Dunk Festival 2023 would like to thank everyone who has provided their indispensable feedback so far. If you haven't already, please raise any concerns with us directly through our post-event survey.
"We are sorry about the issues that were encountered over the weekend, we take full accountability, and we are committed to improving our service.
"It is with your feedback, as registered in this survey, that we will be able to consider all concerns when planning future events. We apologise that some of you did not have an experience that was up to the standard you expect when you attend Slam Dunk Festival
"We are listening to you. We will be updating you on our plans to improve Slam Dunk Festival 2024 later this summer once we have collected all of your feedback.
"Team Slam Dunk".
You can leave your feedback for the Slam Dunk North Festival on this Google Form from organisers here.
Read next
Feature Image – Slam Dunk