Eats
Legendary burger joint Almost Famous is selling £6.66 burgers for Halloween
Happy Halloween indeed.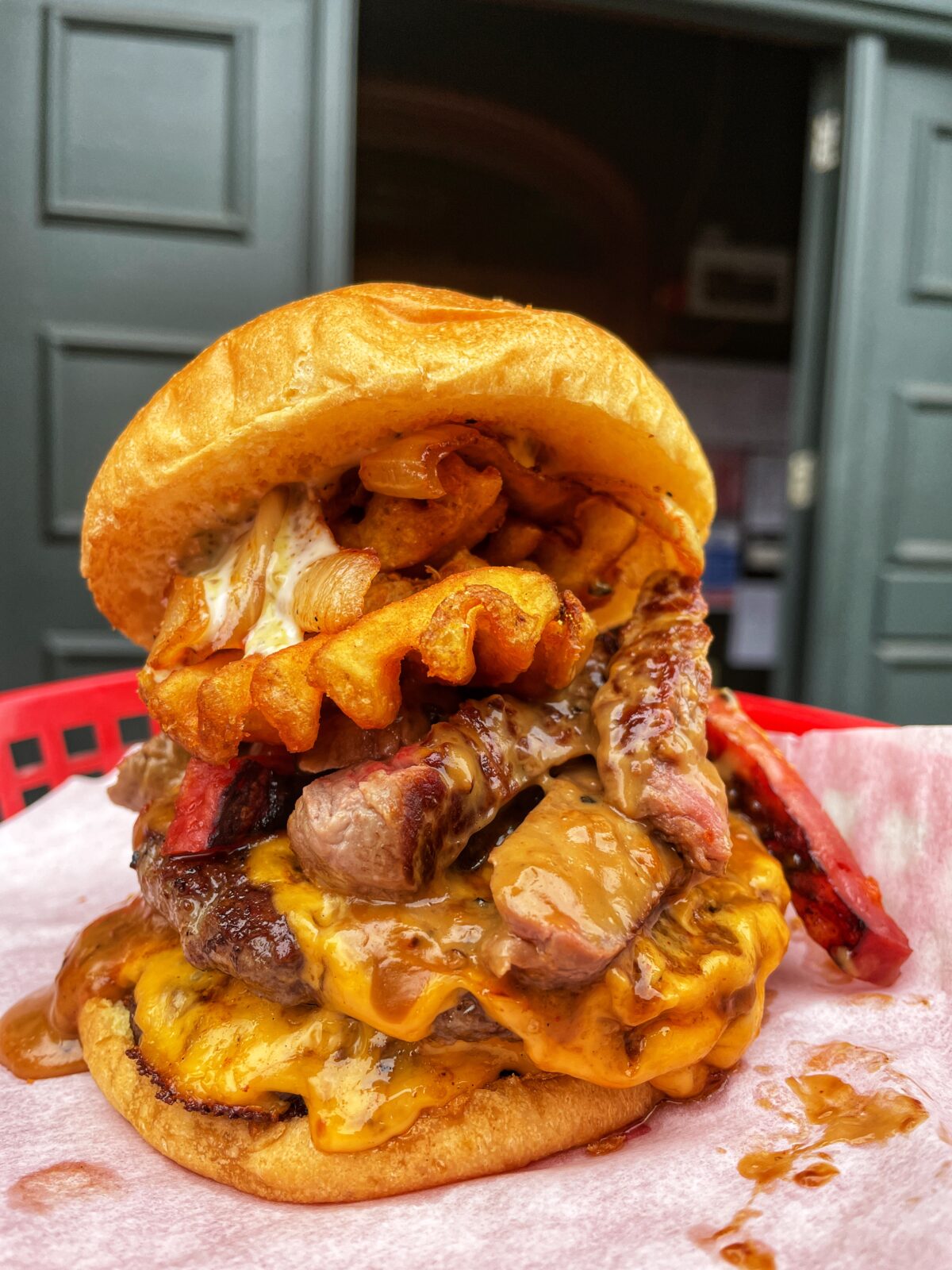 Almost Famous is bringing back its Halloween burger deal for one day only, with prices slashed to just £6.66.
The spooky special offer means that you can save almost 50% on its normal menu prices for its gigantic meat towers.
Almost Famous's burgers are loaded high with ingredients like bacon ketchup, nacho cheese fries, and slow cooked BBQ pork – in other words, pure filth.
The legendary burger joint has been a massive name in Manchester ever since it launched on High Street in 2012, going on to open restaurants in Leeds, Liverpool, and other corners of Greater Manchester.
Its huge burgers are normally priced between £11.50 and £13.95.
But to celebrate Halloween, Almost Famous will slash its prices to £6.66.
There'll be a small £2.50 supplement for some menu items – like their outrageous Blame it on the Whiskey burger, a double cheeseburger topped with wonderdusted waffle fries, chipotle hot honey, BBQ pork, crispy pepperoni, jalapeno and onion, bacon bacon mayo, redneck BBQ, and cholula.
Other 'super hench' burgers that will have an extra £2.50 added on include the Butter Blood + Bleu (featuring wonderbuttered 4oz steak, chorizo, peppercorn sauce, and creamy bleu cheese sauce), the This is Liv, and the Massacre in Miami Crispy.
The offer is available all day on Tuesday 31 October 2023.
Almost Famous said: "£6.66 BURGERS ALL DAY TOMORROW. We're celebrating Halloween and slashing our burgers to £6.66*
"No tricks, just 100% juicy loaded burger treats. Book now to avoid disappointment.
"* This offer is available all day 31st October 2023. There is a £2.50 supplement on our super hench burgers (Awesome HQ, Blame it on the Whiskey, Butter Blood + Bleu, This is Liv, Massacre in Miami Crispy)."
Read more
Featured image: The Manc Group