Eats
Honest Burgers giving away 100 FREE burgers from their Spinningfields site today
With fries, by the way. That's dinner sorted then.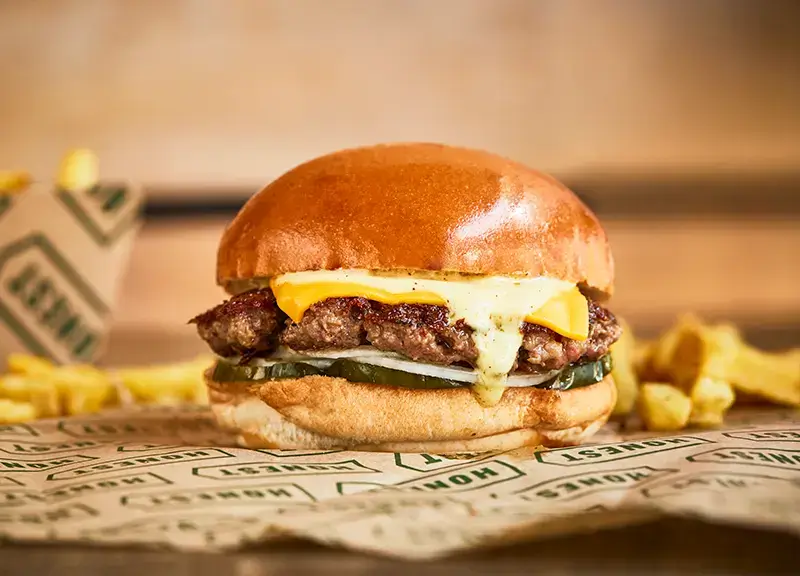 Get ready to race half of Manchester city centre over to Deansgate as Honest Burgers are giving away 100 free burgers from their Spinningfelds location today (Tuesday, 26 September).
As part of a nationwide promotion, the increasingly popular and ever-delicious chain of burger restaurants is handing out 100 complimentary smashed burgers from their 40 different locations around the UK, meaning there's going to be 4,000 free patties flying out the doors this lunchtime.
With fries included. Today is a great day.
Set to run from 11:30am until 2pm this afternoon, Honest Burgers will be welcoming Mancs and people all over the country to queue up outside their city centre spots to try and get their hands on a tasty smash burger and some of their irresistible rosemary salted chips.
The rules are simple: 100 portions of burgers and chips are handed out for free per restaurant and it's first come, first served, so when they're gone, they're gone.
However, the excitement doesn't stop there…
In an incredible twist and bold bit of marketing for the burger joint, one lucky diner will also win a whopping £5,000 worth of Honest Equity Shares and therefore become a co-owner of the Honest Burgers franchise.
Yes, seriously.
Read more:
All you need to do to find out if you've won is check your free burger ticket in their Spinningfields restaurant for details.
Honest Burgers co-founder Tom Barton had this to say on the incredibly generous scheme: "We started in a marquee, in a muddy field, mostly in the rain! It's fair to say, we never dreamed we'd get to where we are today.
"One thing for sure is we wouldn't have got here without our loyal customers. So we wanted to give them the opportunity to become co-owners of the brand as we set up the next chapter in our story…
Nothing says thank you better than a free burger! We've been totally overwhelmed with the response to our crowdfunding campaign and we're super excited that our customers can join us for the next stage of our adventure".
For all the latest news, events and goings on in Greater Manchester, subscribe to The Manc newsletter HERE.
Featured Image — Honest Burgers (via Instagram)