Eats
Manchester's Madre launches Mexican Sunday feast, with a whole pig's head 
Had a staring contest with my dinner today wbu?
Madre, that exceptional Mexican restaurant at Kampus, has just launched a new Sunday feasting menu with an usual star attraction.
Diners at the Manchester restaurant can now tuck in to a whole pig's head, served to the table with ears, teeth and snout still in tact.
It's not every week you sit down to eat your Sunday dinner and realise your dinner is looking back at you – but here we are.
It's nose-to-tail dining in the most literal, perfect sense, and if your dinner arriving with a face freaks you out, there are plenty of other options.
One is that the restaurant will actually just carve your pork cut in the kitchen and bring it to you ready to eat.
And there are plenty of other mains too, like a whole chicken cooked on an open grill, a Cochinita Pil Bil (pig shoulder), and spit-grilled cauliflower.
For us, it has to be that pig head special. A slightly shocked-looking pig is surrounded on our table by a whole host of Mexican sides and trimmings.
There are crispy fried potatoes, with slithers of spud so skinny they end up like crisps, or chip chop scraps.
Elote – corn on the cob smothered in chipotle mayo, lime and queso fresco – is a sweet and fresh antidote to that ultra-rich pork.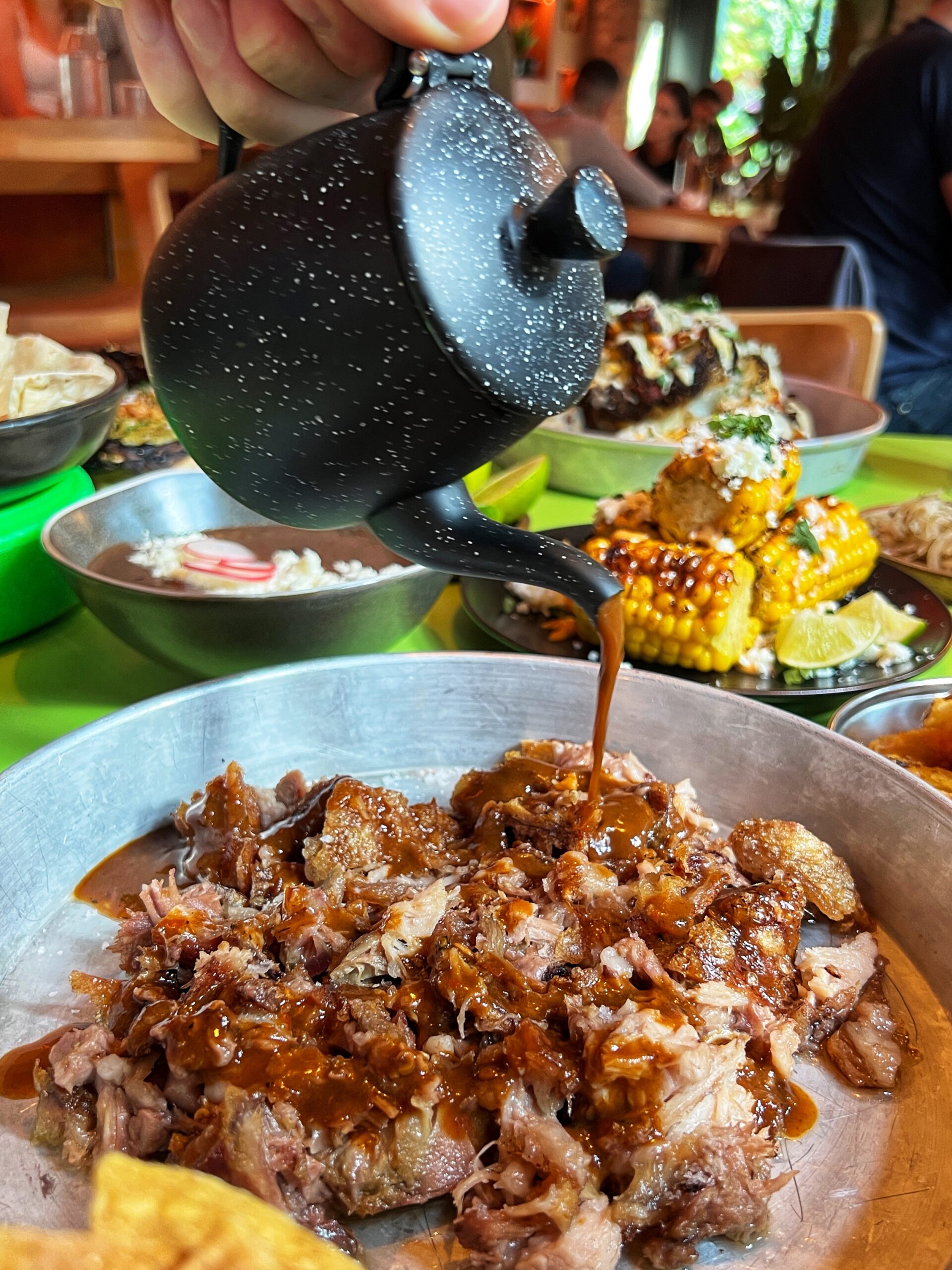 So too are the pickled slices of onion and jalapeno, ready to lay down on top of the corn and wheat tortillas.
There's a pot of refried beans with a twinge of heat throughout, topped with a sprinkling of feta.
Cabbage is carved in half then grilled so its edges blacken, before it's topped with a spread of pistachio pepian, where nuts and spices are blended into an earthy and vibrant sauce.
And in place of Yorkshire puds and gravy, you'll get fresh tortilla and a pot of Birria jus.
Once you get over the novelty of your meat maintaining better eye contact than your Tinder date, you'll have some very happy feasting indeed.
The Madre Sunday feast is £24 per person and available at their Kampus restaurant from now.
Read more
Featured image: The Manc Group