Eats
The top 25 places for the best breakfast and brunch in Manchester
From bacon naan rolls, to your classic loaded avocado smash, full English fry ups and more, these are some of Manchester's best breakfast and brunch spots.
It's often called the 'most important meal of the day', and we'd have to agree, especially when Manchester has some of the best breakfast and brunch spots around. Yeah, you heard us.
Whether you're an early morning riser in need of a hangover cure in the form of a full English, or just want a fun, filling brunch date, your belly's guttural call for some proper decent scran is not to be ignored.
That said, the breakfast debate can be a heated one; sugary pancakes versus a big, greasy fry-up, or even a simple but refreshing granola with yoghurt, fruit and a glass of OJ?
No matter which camp you fall into, this list of the best places for breakfast and brunch in Manchester has a little of everything, meaning you don't have to pick sides — unless if by sides, you're referring to an extra portion of hash browns. Anyway, let's stop messing about, we're starving. In no particular order…
The best Manchester brunch and breakfast spots
1. Federal — Northern Quarter, Deansgate and Oxford Road
A Manc favourite and multiple-time winner at the Manchester Food and Drink Awards, Federal always provides top-quality coffee and delicious Aussie-inspired food from its NQ, Deansgate and Circle Square sites. Listen, we know those queues can be crazy sometimes, but so is that absolutely class bagel and a brew deal. Don't even get us started on the steak and eggs.
2. Another Heart To Feed — NQ and Burton Road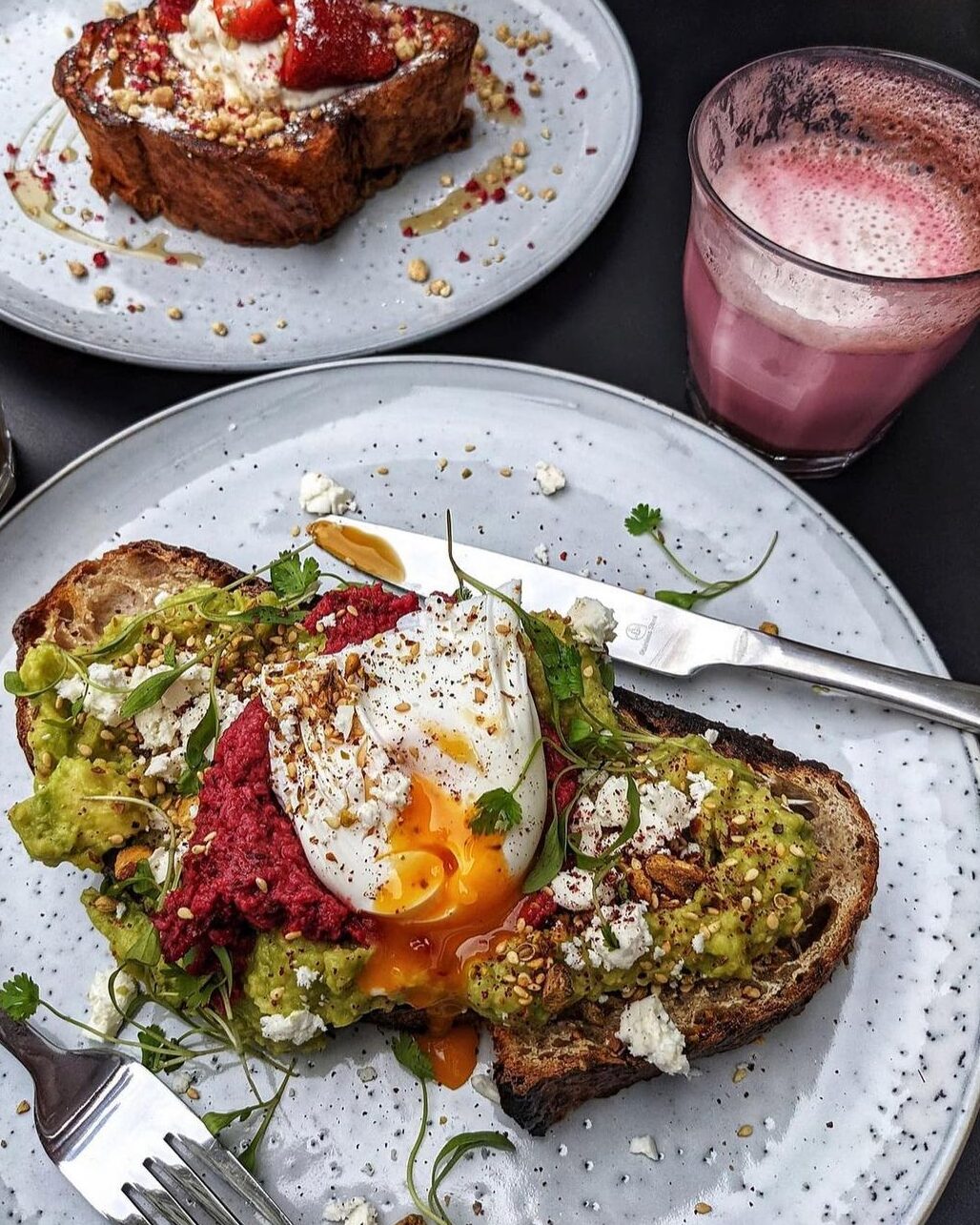 Strictly walk-ins only, Another Heart To Feed has two locations: one in the NQ and one on Burton Road in Didsbury, but both are just as good as each other. Not only is it another Antipodean offering but the smashed avocado, feta, and beetroot hummus is the stuff of legend and probably one of the most Instagrammed brunches in Manchester. The Turkish eggs with dill labneh on sourdough are unreal.
3. Dishoom — Spinningfields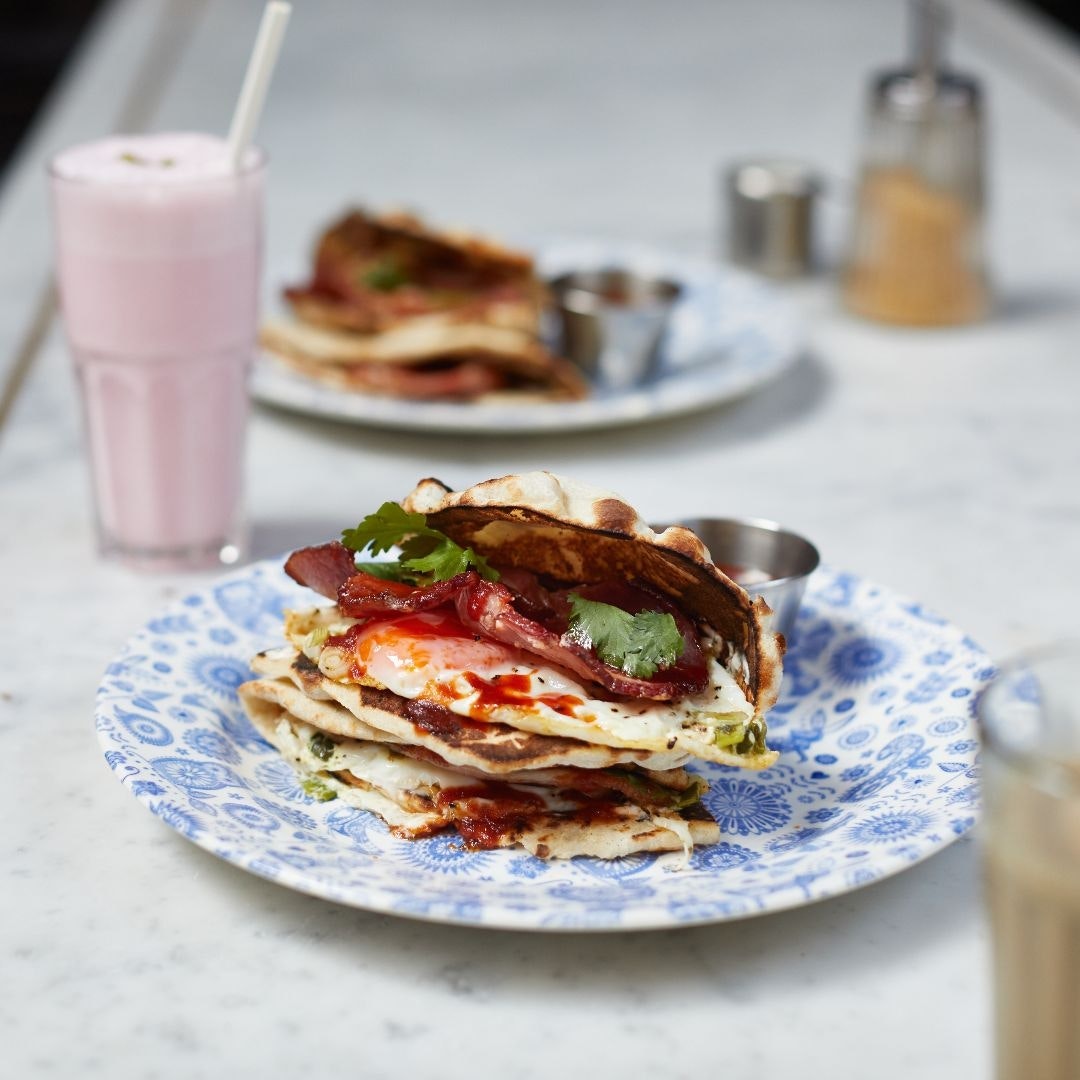 Well, of course, Dishoom was always going to be on the list of the best breakfasts in Manchester because it's literally god-tier. From their epic bacon naan rolls to spicy scrambled eggs and chilli cheese toast, Dishoom's breakfast menu takes inspiration from Irani cafes and plonks it right in the middle of one of the city's most beautiful settings: the old Masons' building alongside Manchester Hall.
4. Fress — NQ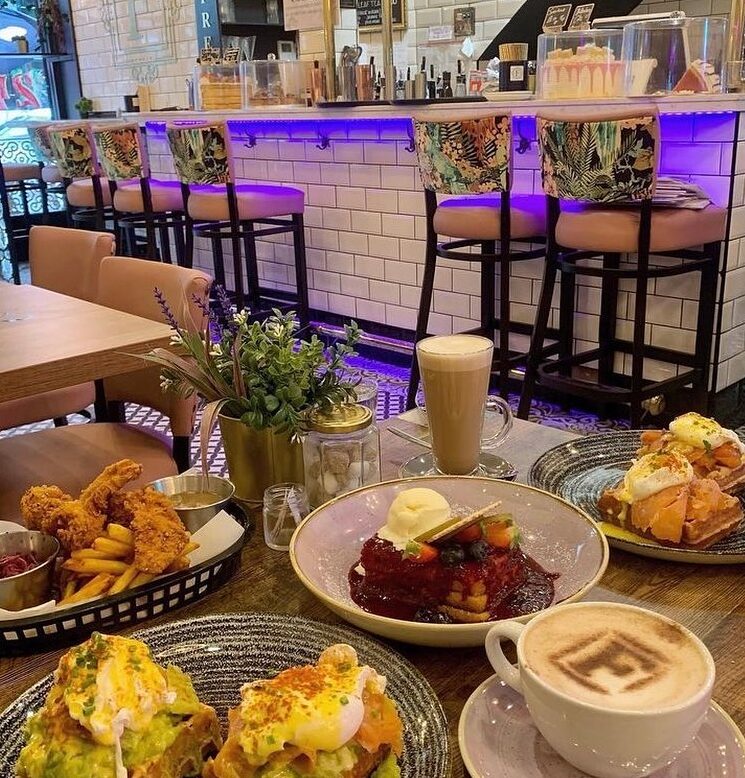 An incredibly popular place for breakfast and brunch in Manchester, dishes at Fress are served from 9am-4pm and it's strictly walk-ins only. The Brekkie Beast, Posh Beans on Toast, Dunkin' Brekkie Tacos' and 'What Hangover', Chicken Waffles are our top picks, and, if you're feeling boozy, you can make it a bottomless one for 90 minutes — but that's a whole other list entirely.
5. Evelyn's — NQ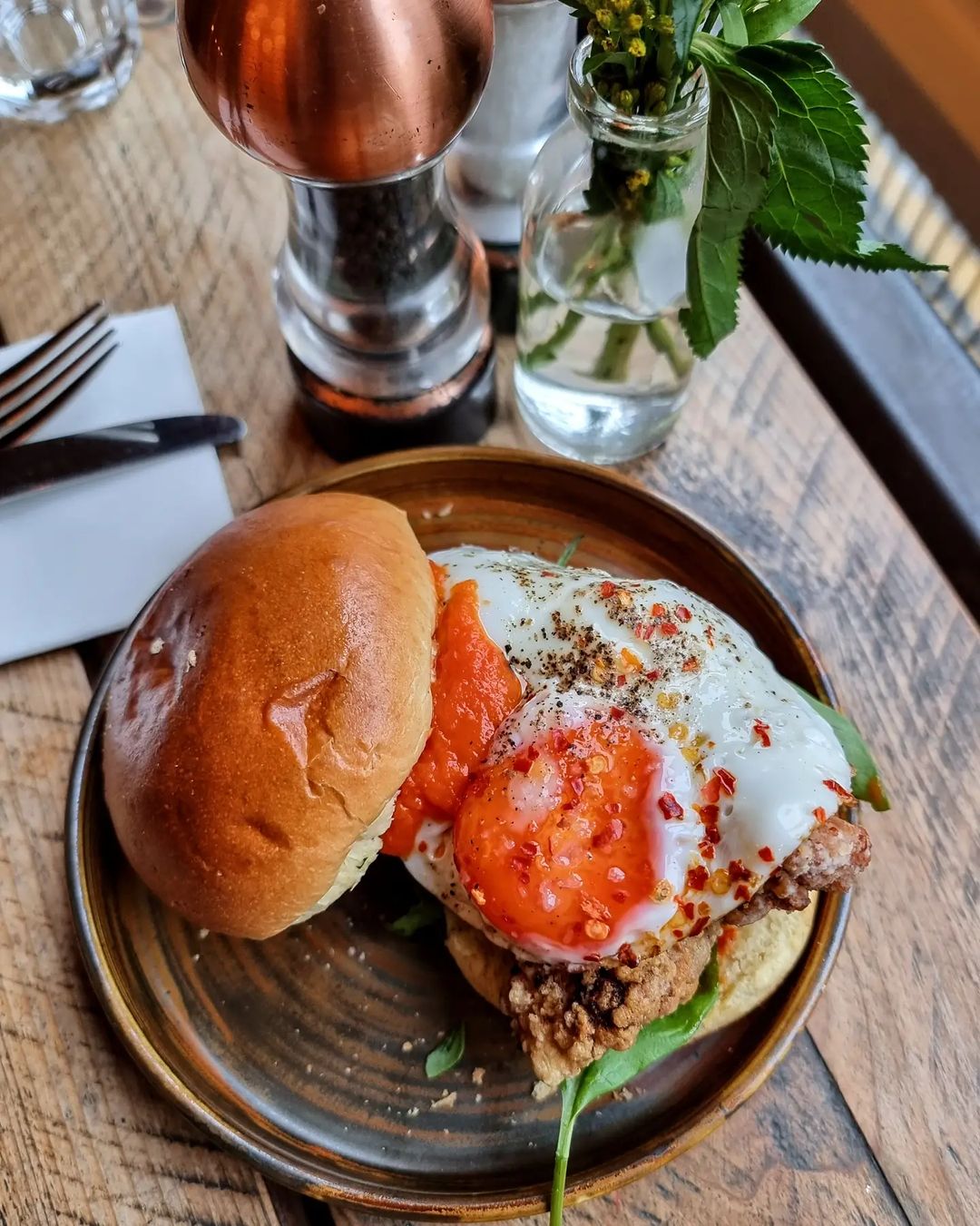 A strong NQ favourite, Evelyn's is a great place to go with family and friends for a cosy and relaxed morning. Open from 10am in the week and 9 on weekends, brunch here is served right up until 5pm, so you've plenty of time to enjoy. You can't go wrong with the shakshuka or buttermilk pancakes, but the more adventurous small plates like pineapple-cured seatrout and Taiwanese fried chicken are also dynamite. Better still, you can always come back in the evening for a nice date night at The Daisy.
6. Pot Kettle Black — Barton Arcade and Angel Gardens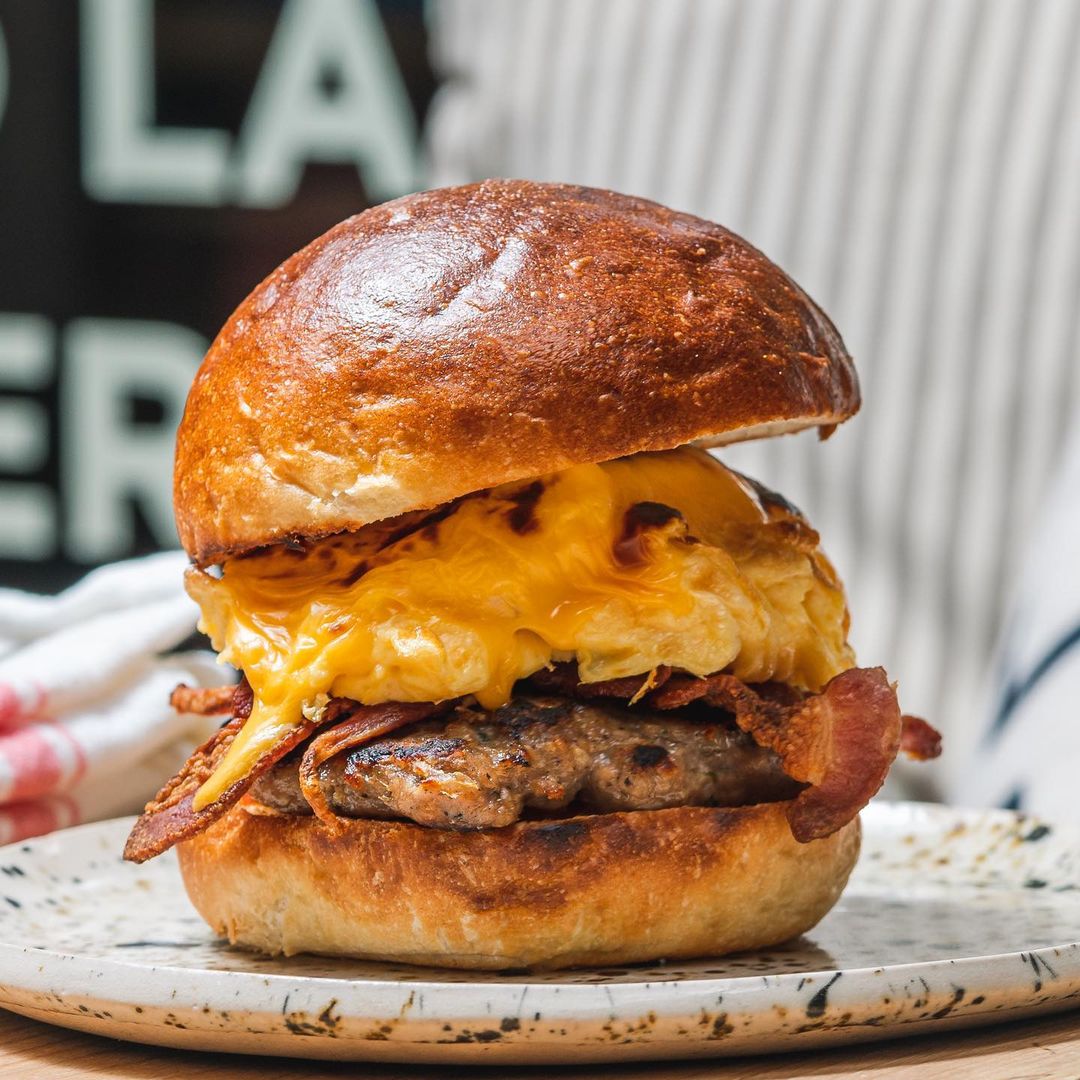 Originally a coffee bar, Pot Kettle Black also has its own micro-bakery which provides all the tasty cakes, pretzel buns and more that you can enjoy on their menu. Brunch is served here from 8am-3pm with their brekkie buns and the Monte Cristo cheese toasties being two of the biggest staples. PKB also serves a cracking vegan brunch featuring bircher muesli, coconut porridge, chai-soaked fruit and Asian scrambled tofu on sourdough toast. Another Australsian-inspired and all-time classy spot, this one.
7. The Koffee Pot — NQ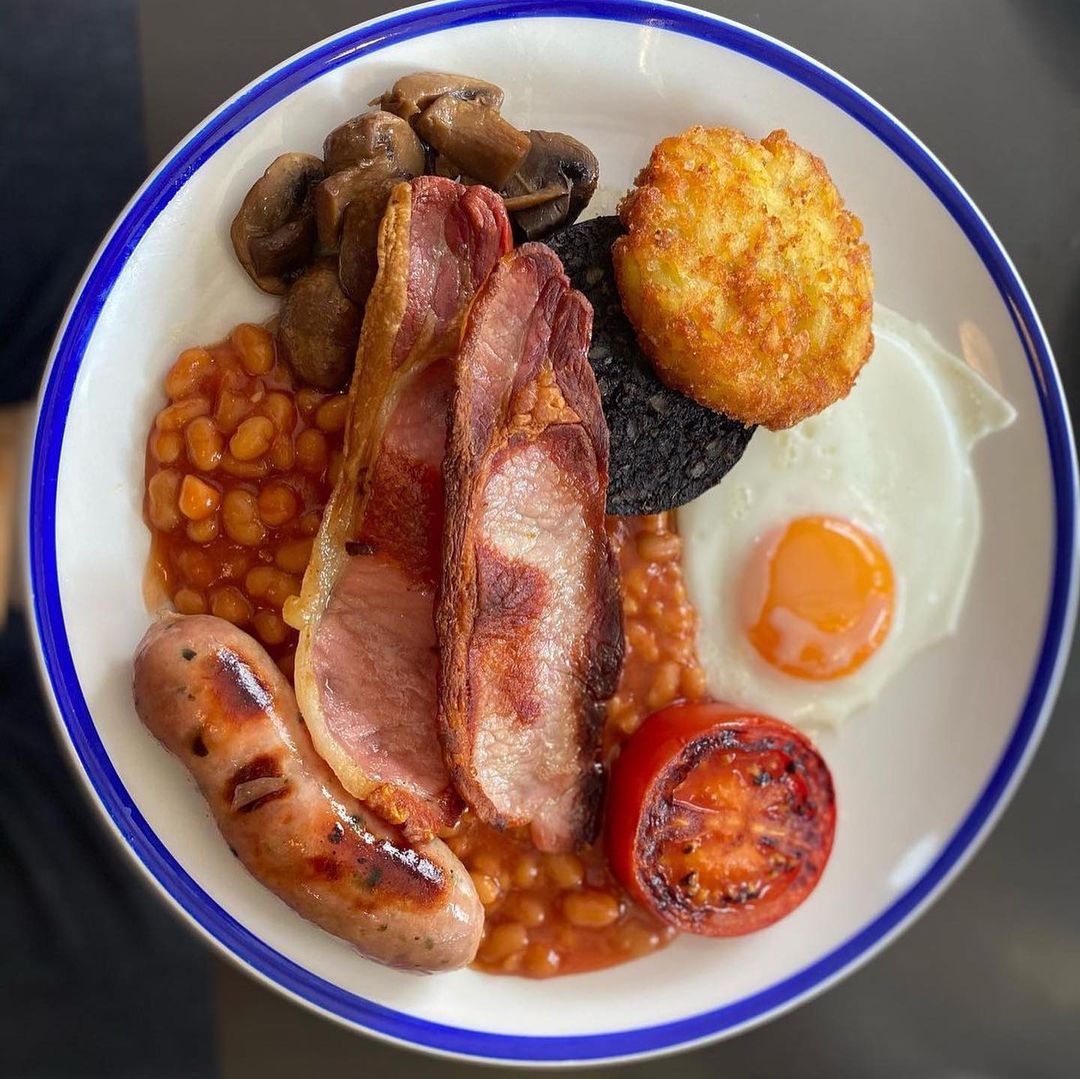 Shoutout to all the greasy spoon lovers, this is your haven. Koffee Pot has been proudly "creating and curing hangovers since 1978". For full English lovers, vegan breakfasters, veggie fanatics, pancake connoisseurs and eggs benny bros, this is your spot. Proper, proper scran and easily one of the best breakfast places in Manchester.
8. Idle Hands — NQ
For our money, Idle Hands is comfortably up there with one of the best breakfast and brunch places in Manchester. In fact, our very own Sophey picked this as her absolute favourite. The 'Cowboy Beans' have ruined all other beans for us, the 'Divorce Eggs' tacos are as tasty as they are amusingly named, not to mention there are always banging cakes on offer if you want dessert for breakfast.
9. Takk — NQ, Hatch, University Green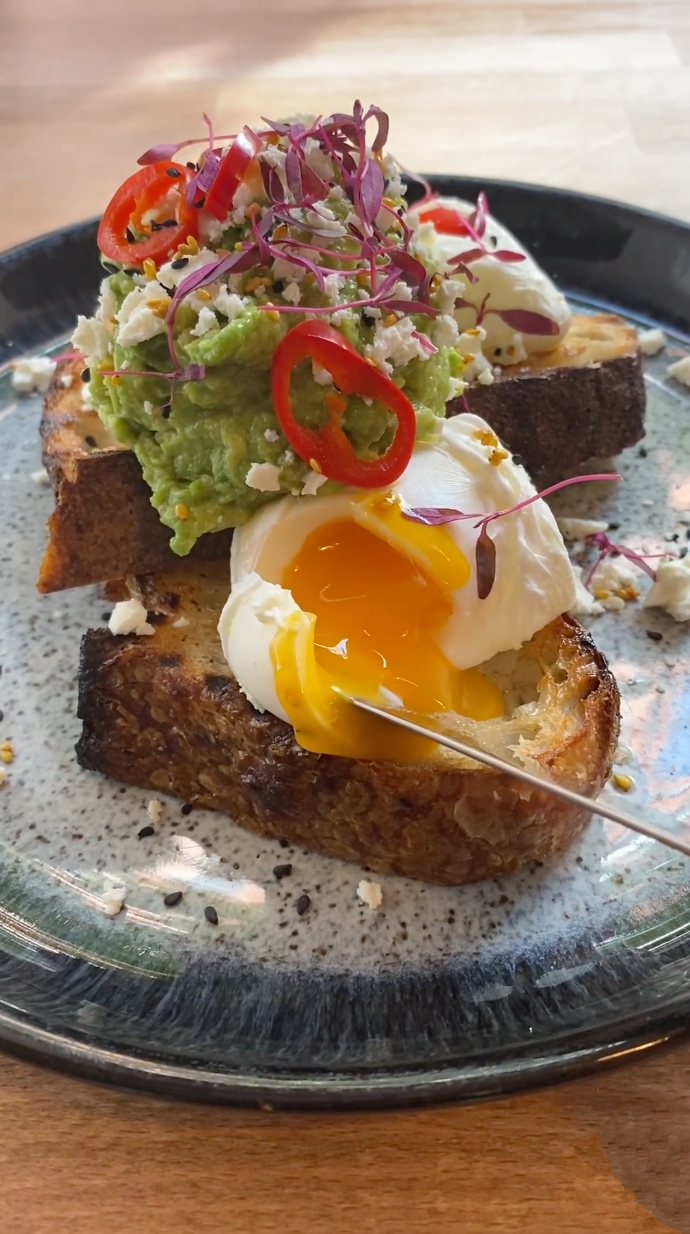 Next up is Takk, one you'll be plenty familiar with if you're a student or spent any time in Hatch over the past few years. Known for top-quality coffee, solid cakes and baked goods, as well as some tasty butties over at the Dale Street venue, there's plenty to like about this place but, if we had to pick a favourite, it'd have to be the honey glazed oregano chicken sandwich served on Uni Green. My goodness.
10. Kong's — NQ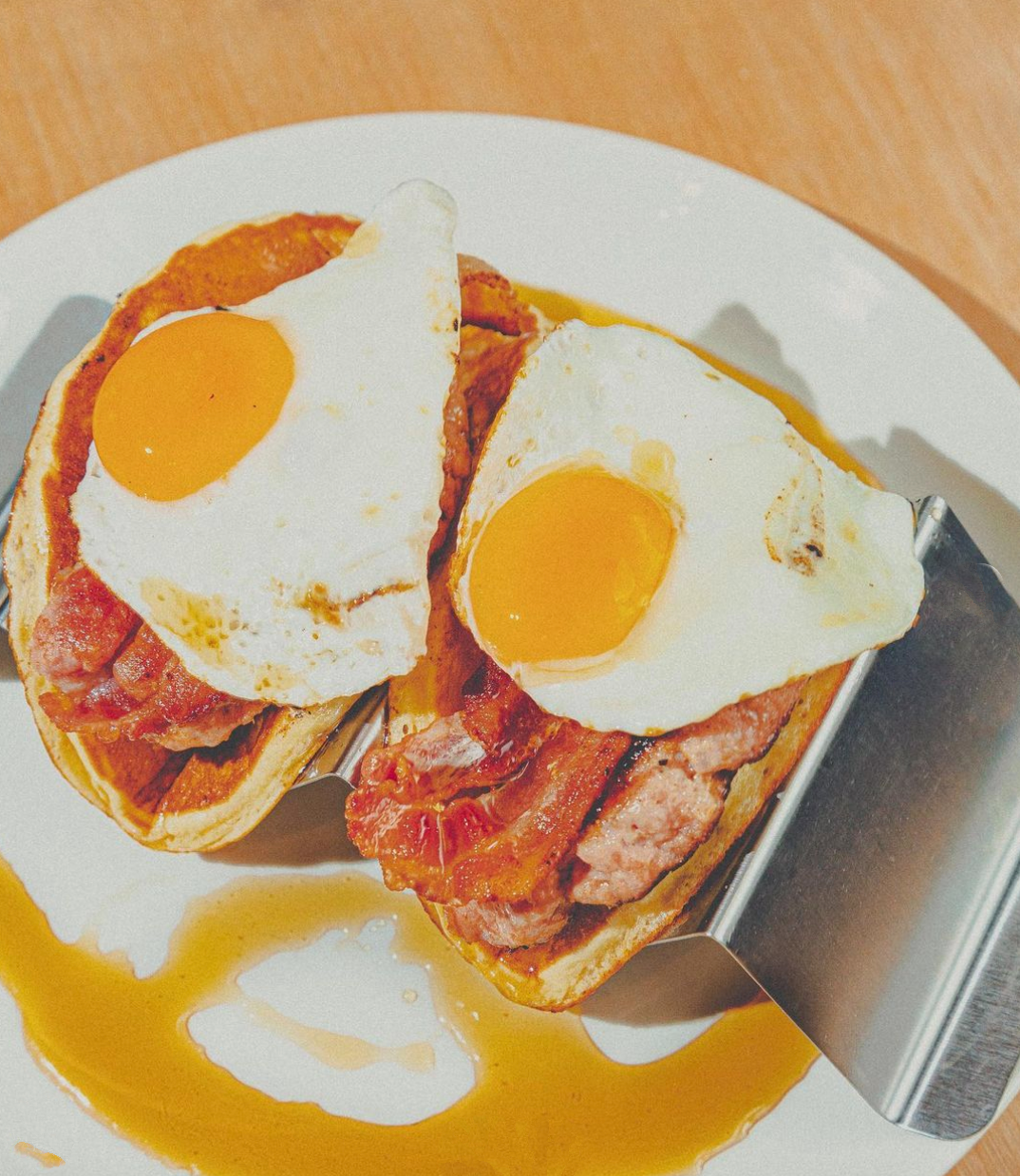 It was a bittersweet moment saying goodbye to CBRB earlier this year, as although we lost one of Manchester's best ramen and restaurants, in general, it did give way to the latest iteration of Kong's Kitchen. Known for popping up in the likes of Hatch and Dog Bowl, they've gone from making mint sandwiches to pancake tacos (yes, you heard us) and fried chicken French toast. Every cloud…
11. Ezra and Gil — NQ and Peter Street
Comfortably one of the best Manchester brunch, breakfast and food spots full stop, Ezra and Gil's consistent quality and ever-improving menus saw them open up a second location on Peter St not long ago and they're now bigger than ever. We'd happily eat here any time but from brekkie, it's got to be the 'nduja scrambled eggs or the brioche french toast for us. This just so happens to be Bella's fave too:
12. Elnecot — Ancoats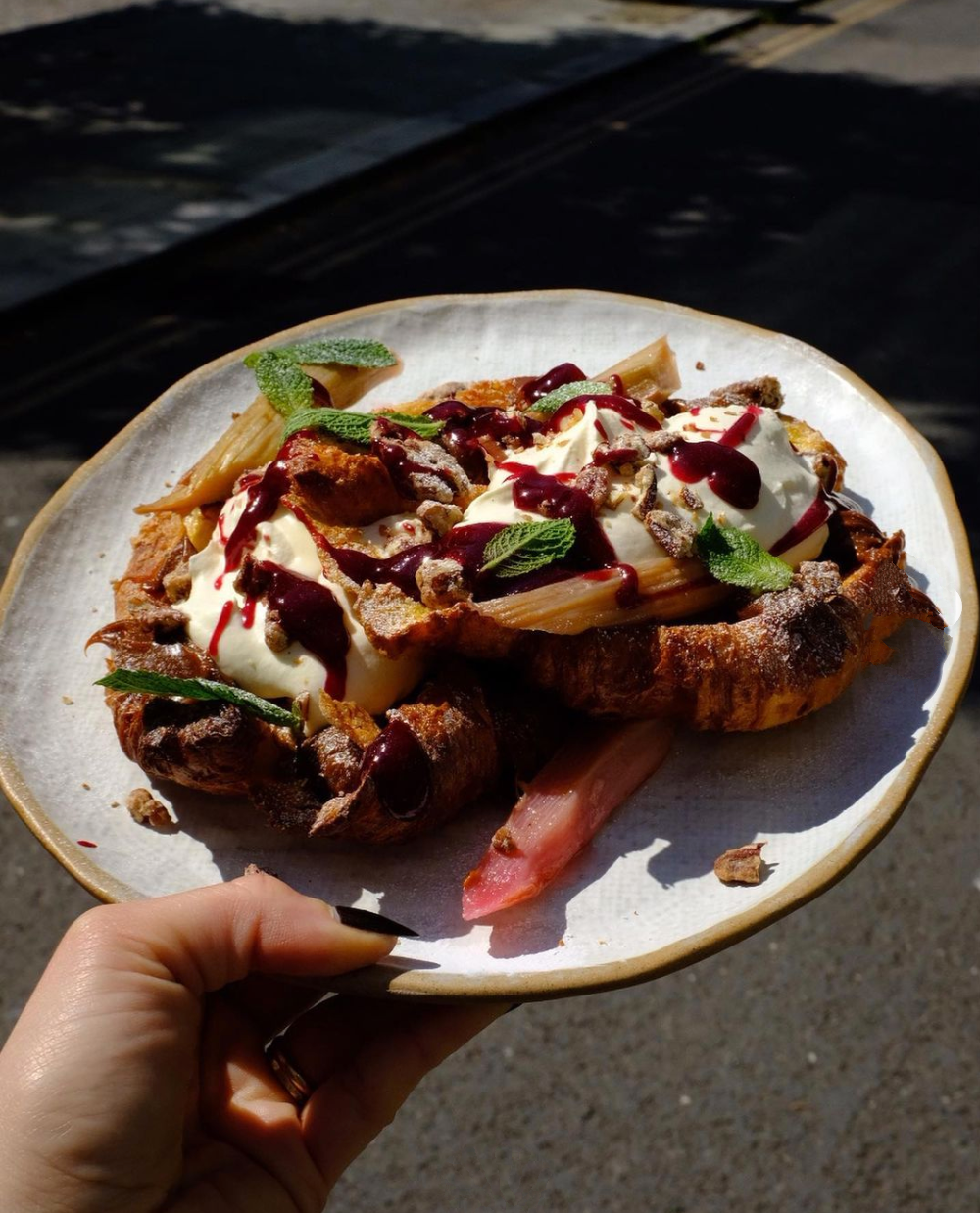 Again, when you ask someone to tell you the best places for brunch in Manchester, the answer is quite often Elnecot. Boasting a brilliant evening reputation as it is, this Ancoats go-to also makes for a great late-morning/early-afternoon eating experience, and they also do it differently than most other spots. We're talking crispy pork belly, hash browns and kimchi, pulled harissa lamb shoulder with goats curd, slow-cooked coconut seasonal greens in white miso, potato brioche breakfast buns and so much more.
13. Pollen — New Islington and Kampus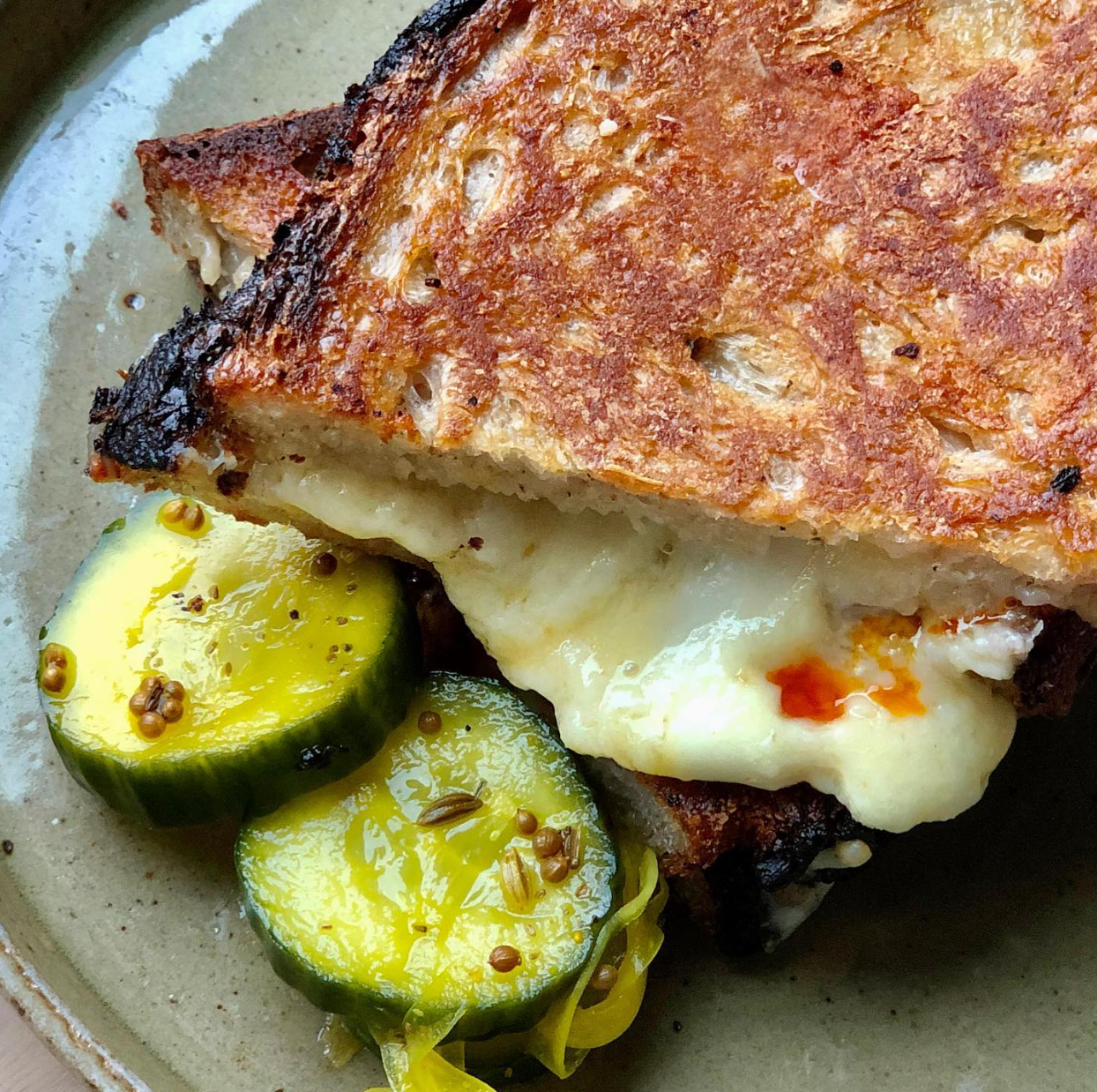 From a slightly bougie pick to a vibe that we simply can't find any faults with, it's Pollen. We feel like we're saying this a lot already, but not only is it one of the best Manchester brunch spots around but the bakery itself has quickly become iconic. It's no wonder they've expanded into Kampus and as for what to eat, we'd seriously vouch for it all, just make sure you go on a Saturday and grab a cruffin for the road. If there's any left, that is.
14. Fig and Sparrow — NQ
Along Oldham Street in the Northern Quarter, you'll find the cutest little caff called the Fig + Sparrow and if, for some reason, you've never had the urge to nip for a coffee or sit outside with a breakfast butty, then you haven't truly lived a Manchester experience in our books. All that being said, you have to order the beans on toast, simply because it comes with a tiny little cheese grater. Adorable.
15. Trove — Ancoats, Levenshulme and Central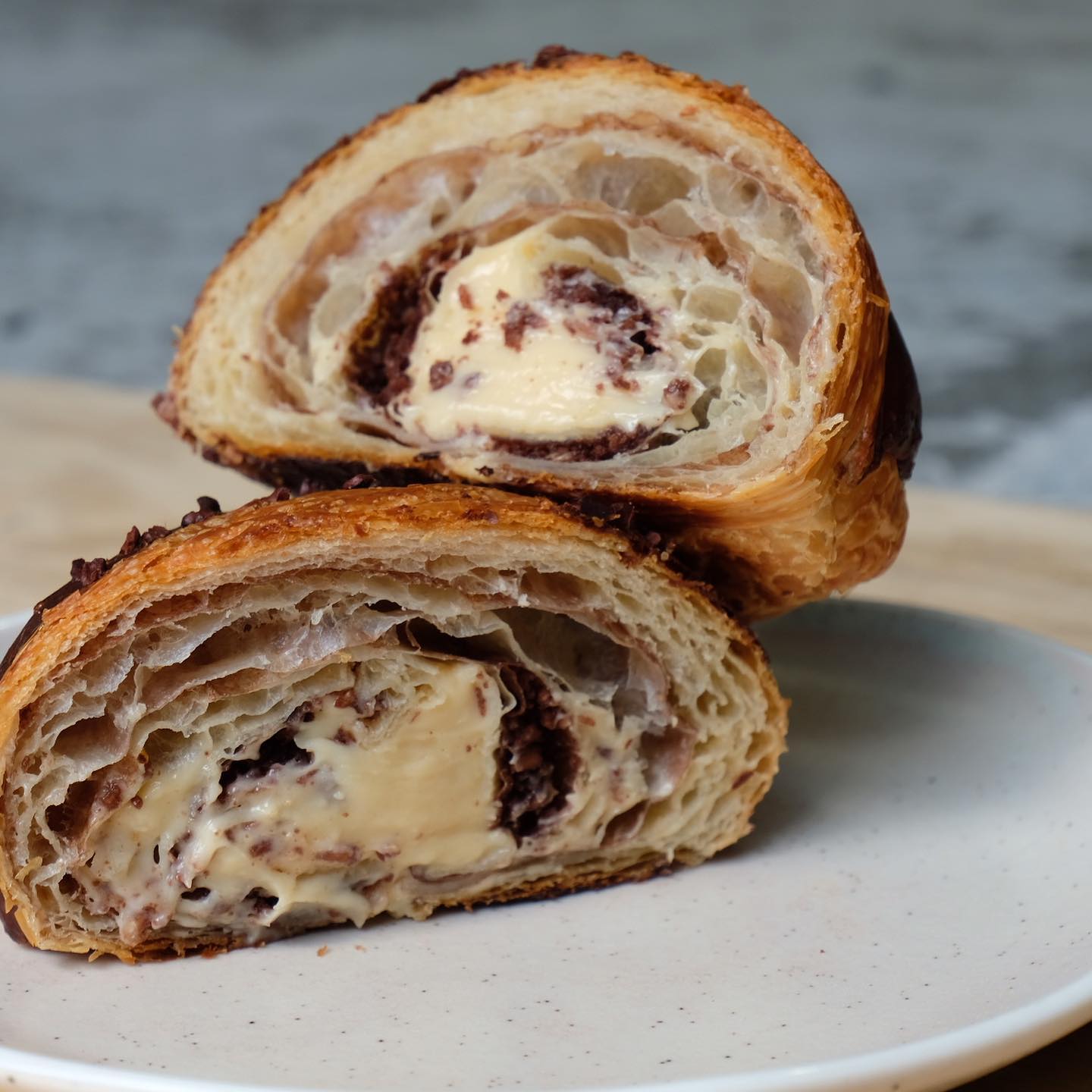 Yet another beloved Manc institution, Trove has gone from a small little bakery in Leve to an Ancoats staple and trendy city centre choice out of its newest home in Bloc on Marble Street. All the classics are here — eggs benedict, bagels and bacon butties and so on — but the ever-changing seasonal dishes are where this place shines. They do some damn good cocktails too.
16. Dragon Oriental — Chinatown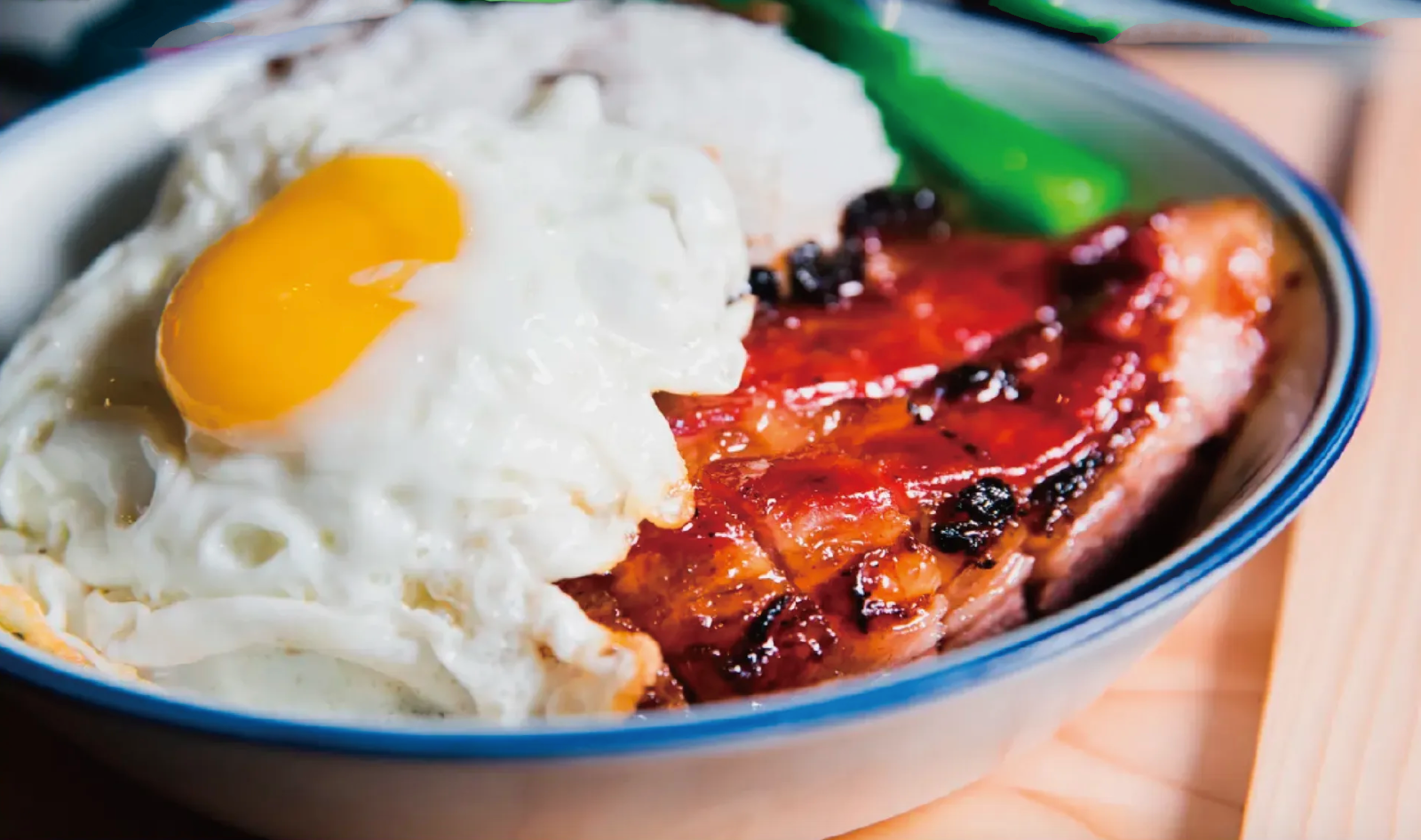 Let's mix things up. For those of you who haven't had Hong Kong-style breakfast before, let alone knew there was even a place in Manchester to do so, let us clue you in. Hong Kong-style French toast is gorgeous, they do spam and eggs that would make your grandparents proud and their all-day breakfast option comes with tea, toast and… noodles. Trust us, it works — it all works.
17. Moose Coffee — Piccadilly and Central
From an out-of-the-box option to something so familiar and reliable it's been just as good when we've had it in Leeds and Liverpool, Moose Coffee is one of the best when it comes to Manchester breakfast. Bringing Canadian breakfast to Mancs right on the doorstep of Piccadilly Station and over on York St, it is literally impossible for us to tell you just one thing you should eat here. There's simply so much on the menu and it's all so different — just be glad we sent you there.
18. BQ Bitesize Cafe — NQ
A lesser-known spot of sorts as we continue to find people who didn't get the memo, this little artisan café is from meat masters, The Butcher's Quarter, and is based out of the Manchester Craft and Design Centre on Oak St. Breakfast butties on Holy Grain! buns and fresh pastries in the morning; hot roast sandwiches, soups, charcuterie boards and cocktails in the afternoon. You best find this hidden gem like yesterday.
19. Albert's Schloss — Deansgate
Now, no list of the best Manchester breakfast and brunch places is complete with the old faithful, Albert's Schloss. We're usually drunk when we're in this place but we promise, before the bottomless part starts and the usual late-night drinking and dancing on benches begins, they serve up some of the best pancakes, filled croissants, sausages and some absolutely addictive spritzes.
20. Katsouris Deli — Deansgate and Bury
Arguably the greatest and certainly the busiest lunchtime spot of all time, Katsouris' legacy is unparalleled. Starting out over in Bury all the way back in 1969 and going on to become one of the most legendary locations for all things breakfast and brunch, it etched itself into the best of Manchester's food history a long time ago. Grab yourself a breakfast ciabatta or one of their massive fry-ups and then come back later for your dinner. We can't tell you how many times we've done that and left no room for tea.
21. Trof — NQ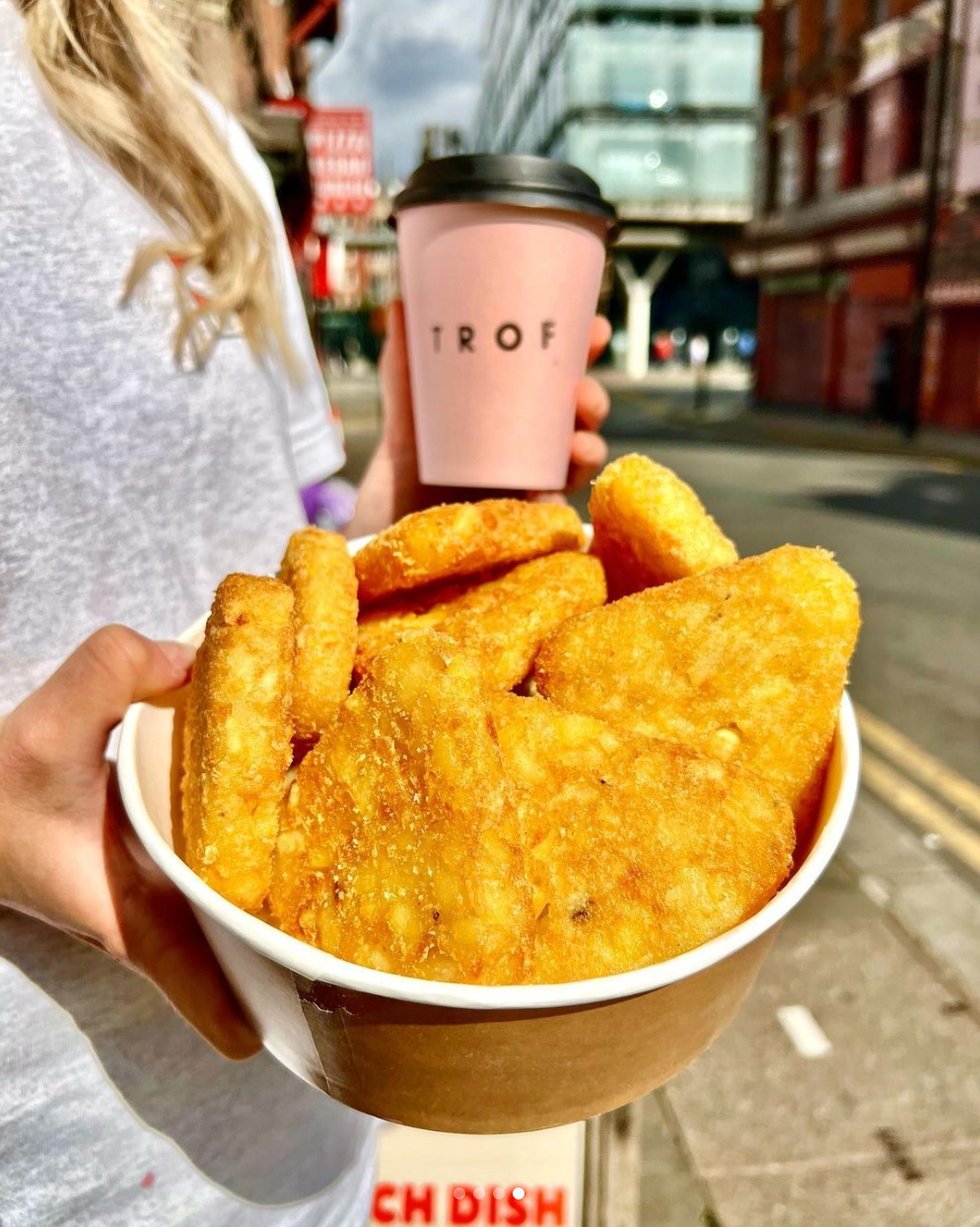 We will never stop loving Trof and it serves up some of the best breakfast and brunch items in town from 9am to 3pm. It's got all the usual suspects — breakfast baps, eggs your way, avo on toast etc. — but it's also a serious contender for one our favourite brunches in Manchester city centre. The weekly brunch club where you can grab a coffee and a butty from £7 from 9am-12 noon speaks for itself.
22. Cafe North — Shudehill
Heading just up the road to the edge of the Northern Quarter and onto Shudehill, you'll find Cafe North, an independent spot that's been serving up some of the best full English breakfasts in Manchester, fresh sarnies and salads, various loose-leaf teas and much more for ages now. Gun to our head, though, we'd have to pick the Oreo French toast and we could probably eat two lots of it. Yum.
23. 19 Cafe Bar — NQ
We're getting to the tail-end of things now but the hotspots just keep coming. As you wander back into NQ, you'll stumble upon the somewhat unassuming 19 Cafe Bar, just next to Chapter One Books (also a lovely little cafe, by the way). Head inside, however, and you'll find amazing pancakes, more sumptuous French toast and one of the best Irish breakfasts you'll find in Manchester. It's always the quiet ones.
24. Acai & the Tribe — Deansgate Mews
It's the penultimate stop on our tour of the best breakfast and brunch places in Manchester, and we've found ourselves up on the Deansgate Mews and Acai and the Tribe, i.e. a breakfast spot that doesn't leave you feeling like you've doubled in size on the way out. Beyond the obvious health bowls of acai, porridge, granola and so on, their smoothies are next level and, try as we might, we don't think we'll ever bake anything as good as their chocolate banana loaf.
25. Feel Good Club — NQ
Last but not least, we have one of the most uplifting local hospitality stories. Feel Good Club looked like it might close before it even got going during covid but has since expanded and looks set to stay for good. This place wears its positive physical and mental health ethos on its sleeve, with £2 ginger shots, a hugely popular vegan selection and this slice of heaven called mac and cheese on garlic toast. Oh. My. Days. That dish alone makes it one of the best breakfast places in Manchester.
Despite suffering yet another setback after being broken into last year, this place just keeps getting stronger and more popular by the day. It also doesn't hurt that we really like the merch, not that we just fill our wardrobes with garms from random food spots in town or anything… You always feel good after you've eaten here and you're part of the club you second you step in the door. It's a lifestyle, not a brand.
Read more:
And that's it, that's your lot: those were our best breakfast and brunch places in Manchester and although there were obviously too many to put in order (we're not that good at playing favourites), that should be more than enough for you and you to get started.
It goes without saying that there are countless other great spots all around the city and across Greater Manchester, but we just simply couldn't include them all otherwise we'd be here all day — this is already a long enough list as it is.
Now, go away and have the best weekend full of breakfast, brunch and good vibes.
For all the latest news, events and goings on in Greater Manchester, subscribe to The Manc newsletter HERE.
Featured Image — Another Heart to Feed/Koffee Pot/Dishoom (via Instagram)