Eats
Beer gardens in Manchester where you might actually get a seat
Summer has finally arrived and with temperatures set to soar in Manchester, people will be flocking outside to beer gardens.
With a heatwave on the horizon, the city's streets will likely be packed with revellers sipping on cocktails and drinking pints out in the fresh air.
We all know the pain of walking pub-to-pub trying to find a seat on a sunny and/or warm Manchester day, so we're rounding up the best beer gardens in the city to get a seat.
Some of them are massive, some of them are overlooked, but either way, you might actually stand a chance at getting a seat in one of these – if you're quick enough, that is.
Thomas Street, Edge Street and Stevenson Square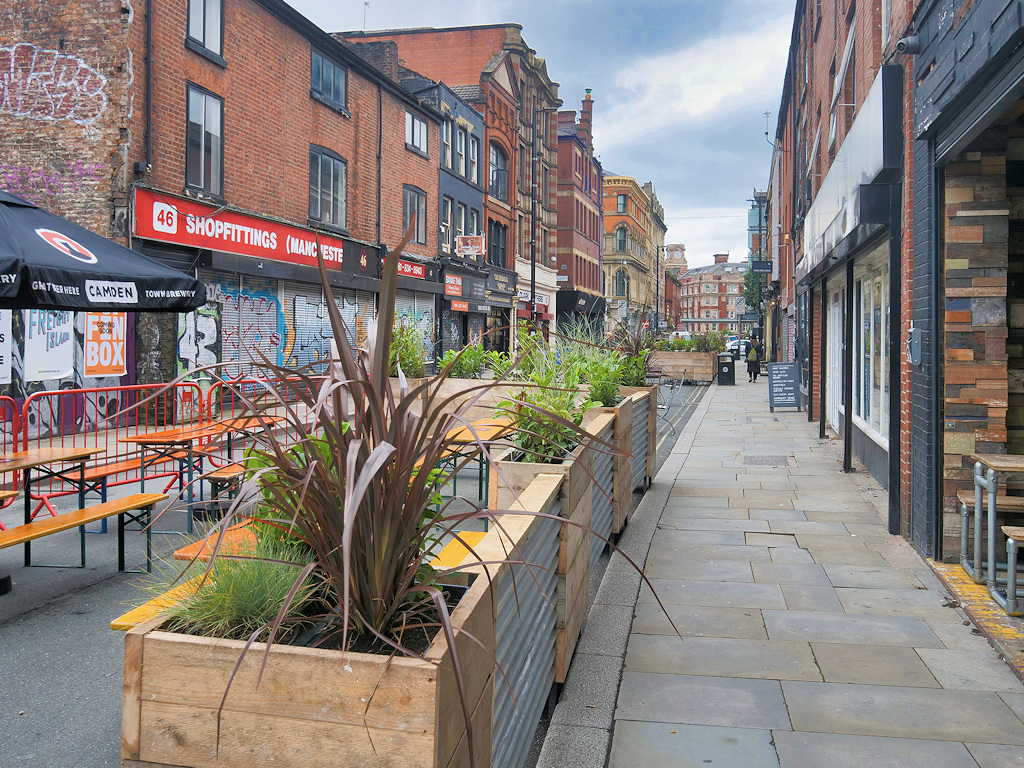 This was one of the few positives to come out of the pandemic – removing vehicles from a back-to-back stretch of the Northern Quarter.
It means that the bars along Thomas Street, Stevenson Square and Edge Street can now fill the roads with tables and chairs in one giant beer garden.
You'll find the likes of Common, Flok, Terrace, Smithfield Social, the Bay Horse Tavern and Wolf At The Door all being given the al fresco treatment.
The Mews
Wine and charcuterie bar The Mews sites on the often-forgot Deansgate Mews walkway, wedged between the tail end of Deansgate and the Great Northern Warehouse.
Its large, secluded outdoor area is the perfect place to try when everywhere seems full – as this hidden gem delivers in spades on food, drink, and sunshine too.
Up here you'll also find the likes of Siam Smiles cafe, Whistlepunks, Another Hand and Lion's Den.
Crazy Pedros, Bridge Street
Drenched in sun for the best part of the day, the beer garden at Crazy Pedro's also happens to be huge – having benefited from a pavement extension thanks to Covid.
You can drink margaritas and enjoy slices of pizza all day here whilst soaking up the rays, but we do recommend trying for a table early – it does tend to get pretty packed come the late afternoon / evening.
Castlefield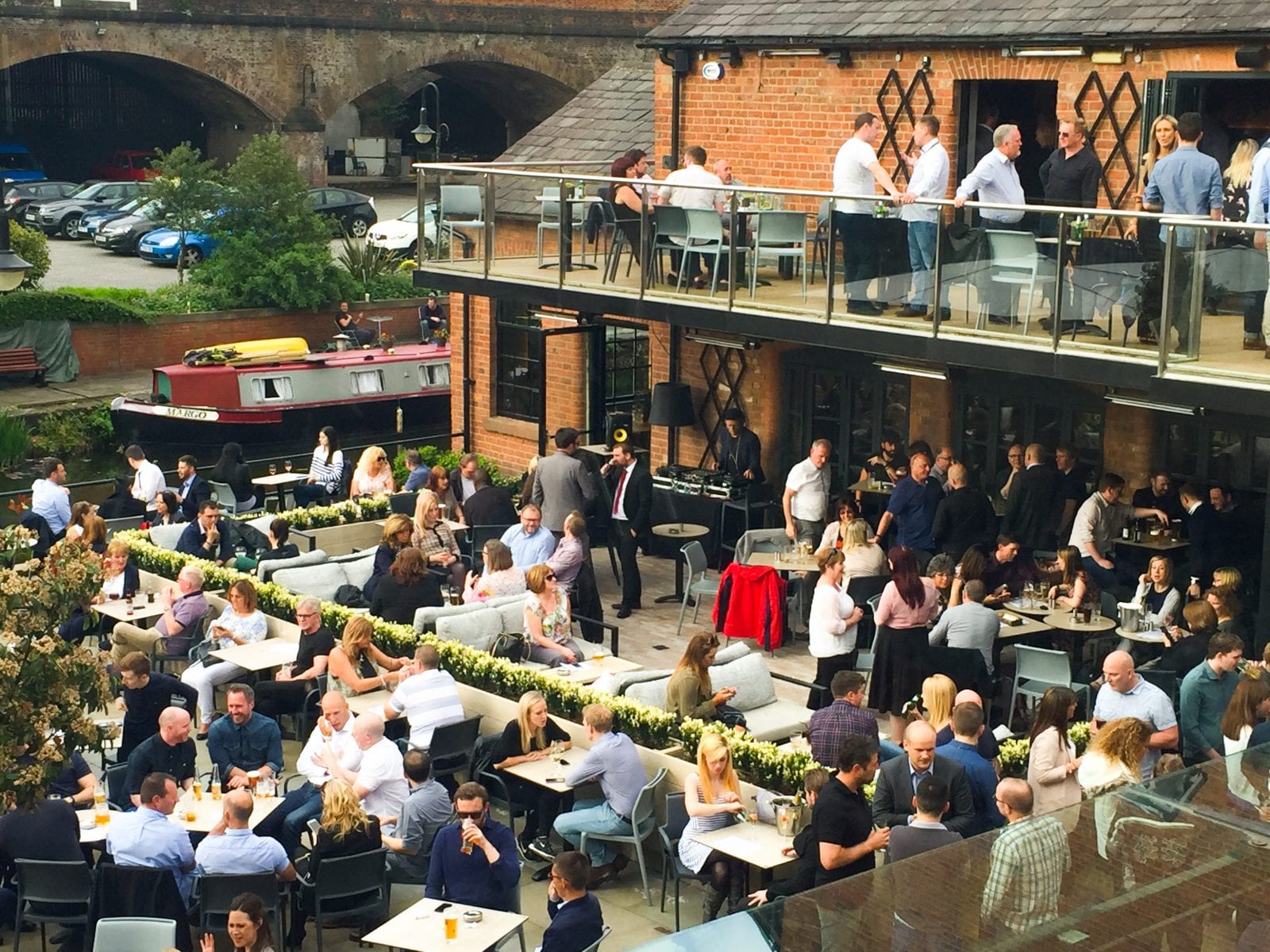 Two beer garden institutions both stand in the canal-side setting of Castlefield.
Both The Wharf and Dukes 92 are stuffed to the brim with pub-goers in spring and summer, thanks to their massive terraces – with the terrace at Atlas Bar also a good consideration, being somewhat hidden at the back of the bar, it's often overlooked by sun seekers.
It always helps that Castlefield is one of the prettiest spots in the city centre, too.
Escape to Freight Island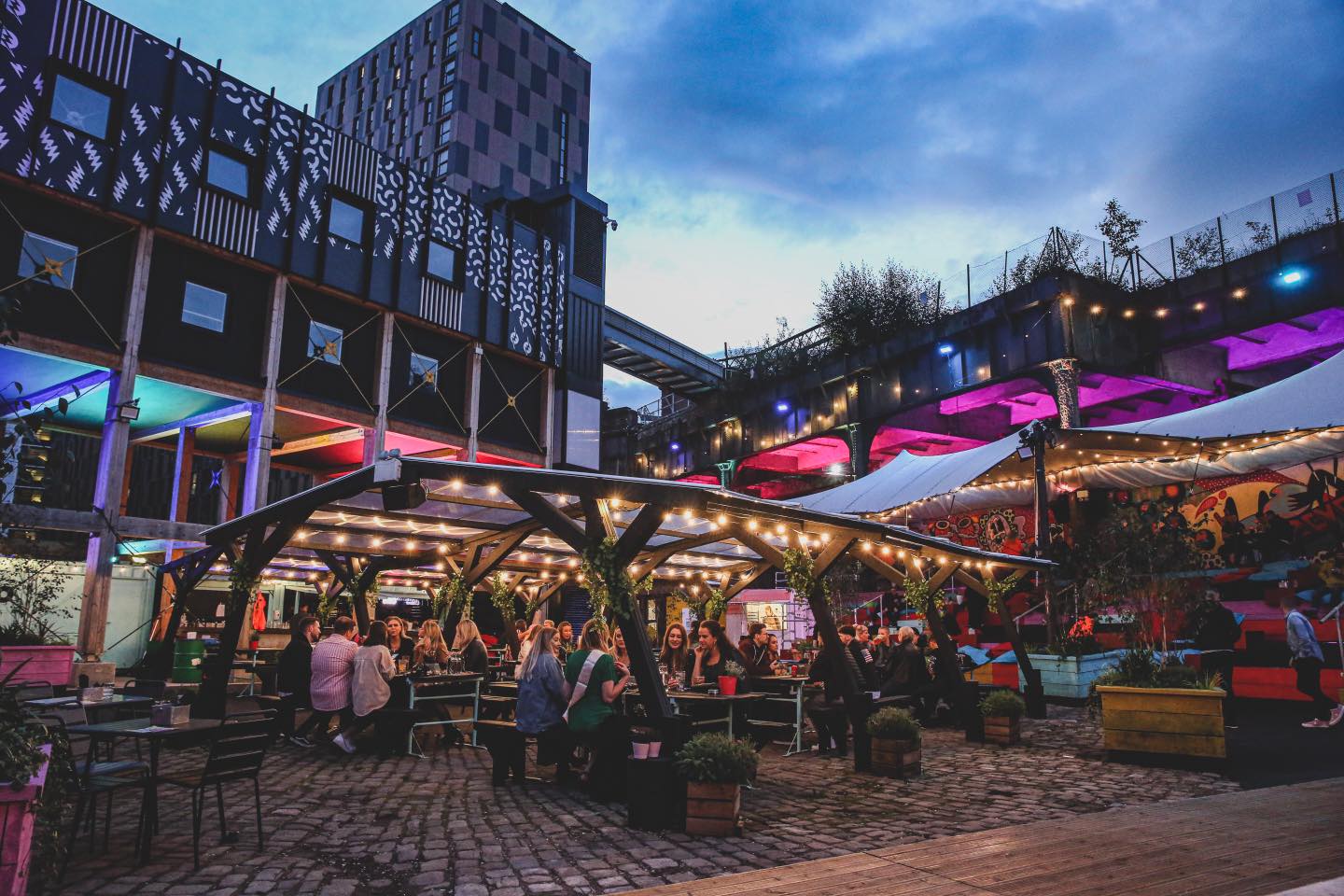 This hospitality giant was initially purpose-built with social distancing in mind (wasn't 2020 a wild ride?!), leading to a seriously roomy outdoor space.
While the bulk of the action has now shifted indoors to the Ticket Hall, Freight Island's colourful outdoor space is back in its element – now open seven days a week.
You'll find street food traders like One Star Doner Bar, Madre tacos, Batard, Voodoo Ray's pizza, Burgerism and Mi & Pho all trading here, on this formerly-forgotten patch near Manchester Piccadilly.
The Oast House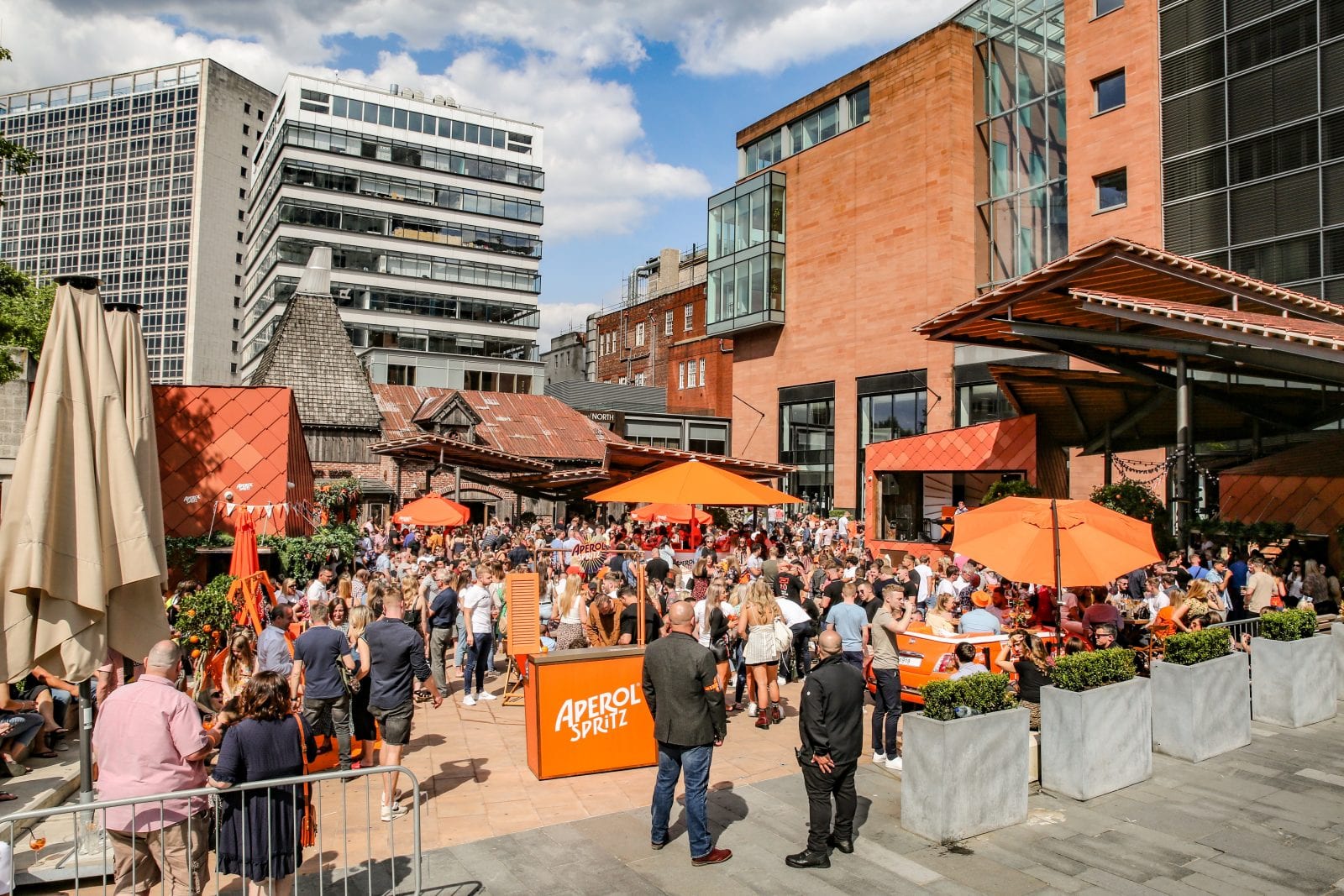 Beer gardens seem to be everywhere in Manchester these days, which is of course a good thing, but we still have a soft spot for the original outdoor watering hole.
Cast your mind back a few years and The Oast House (and its grassy Spinningfields counterpart The Lawn Club) was one of the few venues that really focused on an open-air offering.
It's still the same today – masses of tables in the heart of Spinningfields, with live entertainment and a belting Aperol Spritz too.
Hatch
Hatch's little village of shipping containers, each one home to an independent business (from food and drink to retail), is a true all-weather venue.
Part of it is sheltered by the Mancunian Way that soars overhead, other parts are heated by patio heaters, and parts are left in optimum position for soaking up some sunshine.
The rooftop terrace that overlooks the whole space is our personal favourite.
Read more: There's a huge beach, live music, a fun fair, and more coming to Manchester next month
Mala
This 'secret garden' bar opened right in the heart of the Northern Quarter last year.
Tucked behind those big mint-green wooden boards on Dale Street is a cluster of picnic tables and wooden huts festooned with fairy lights and plants.
It might not be the tropics, but they've got the cocktails to trick your tastebuds into thinking it is – we're talking frozen strawberry daiquiris and frozen pina coladas. Oh, and there's beer too.
The Corn Exchange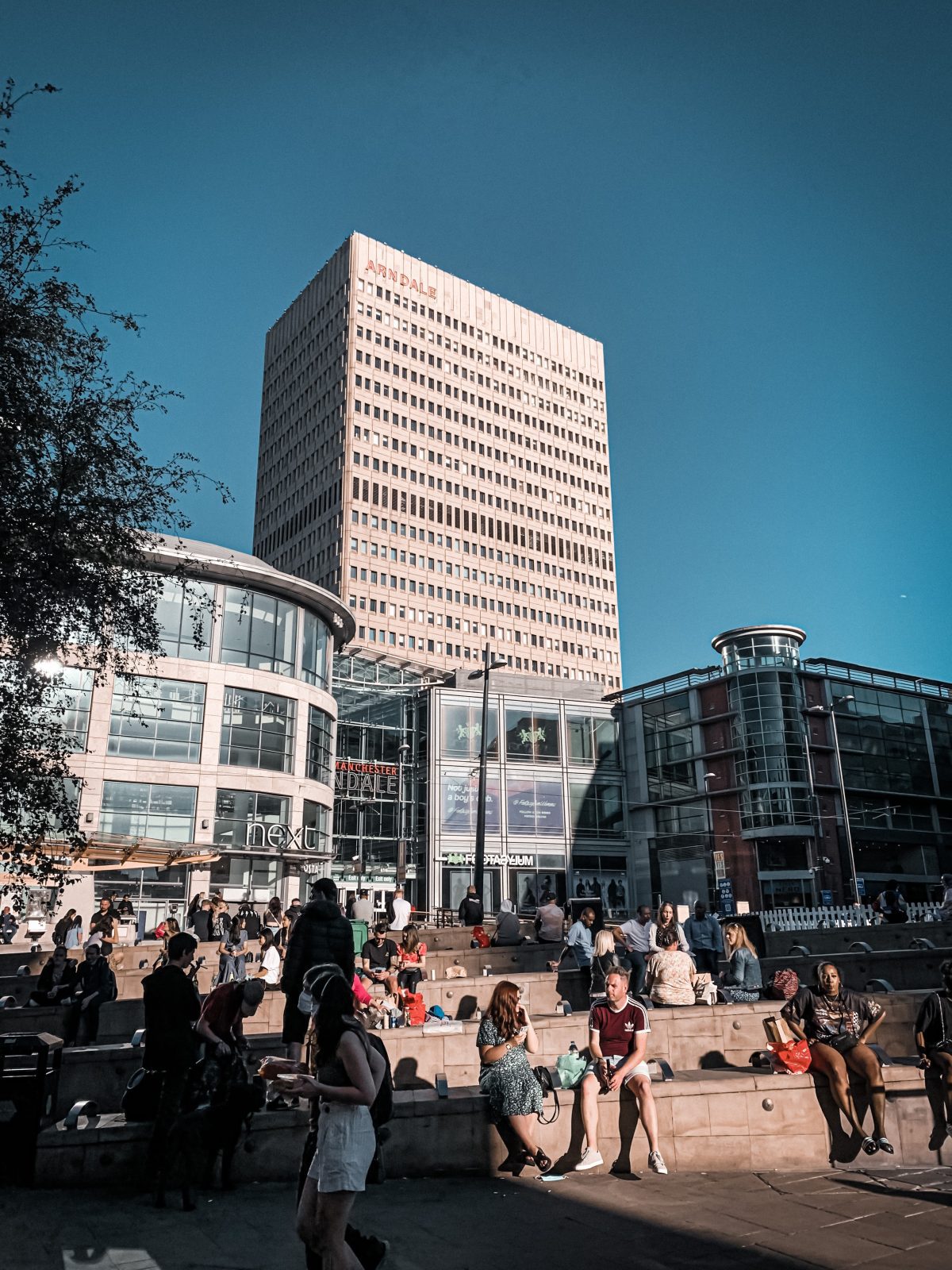 Another corner of the city where bars and restaurants spill outside alongside one another is the Corn Exchange.
Its residents – including Salvi's, Banyan and Cosy Club – almost all have their own terraces, but it's the ones on the Exchange Square side who get the most sunshine.
You might have to queue a little while, but with so much seating, you'll be sipping a drink in the sun before you know it.
Featured image: Escape to Freight Island