Feature
Someone has created a hilarious Twitter thread of the best waves on 'Who Wants To Be A Millionaire?'
Feature
From musician to Manchester's world-famous physicist | Brian Cox – Manc of the Month September 2022

Danny Jones
You could see his distinct and unshakeable smile from space and recognise that softly-spoken voice anywhere. September's Manc of the Month is none of other than Oldham's very own Brian Cox.
The world-renowned physicist is the proud holder of an MBE and an acclaimed member of the Royal Society Fellowship whose fascinating but accessible work in science and particle physics, specifically, has seen him become a beloved TV personality and pop-culture icon.
Brian Cox: the physicist and celebrity astronomer
He's been a familiar face on our TV screens for over a decade now. From Wonders of the Universe and Wonders of Life to Forces of Nature, Stargazing Live and more, Brian Cox has helped bring the world of science to millions watching at home.
His TV appearances aren't just limited to documentaries though. He's been on everything from late-night talk shows and Dr Who to becoming one of the very few Brits to appear on the controversial Joe Rogan's podcast. He truly is the Carl Sagan of the 21st century.
The 54-year-old might share his name with another familiar TV face, but there's no mistaking his quiet yet captivating ruminations for anyone else. Have you ever ever heard him explain time?
Speaking of podcasts, his award-winning show, The Infinite Monkey Cage Podcast – co-hosted by comedian Robin Ince – is now into its 24th series and has become one of the most successful audio series not just in the UK but on podcast platforms across the globe.
The informative but entertaining concept has become a live show and has featured special guests such as astronomy colleague Neil deGrasse Tyson, Sarah Pascoe, Eric Idle and many, many more.
The former musician
Though many people will have seen his face on the box or heard him on the radio in the past decade or so, there are plenty that are still unaware he has been on the airwaves long before he was the science guy.
Yes, that's right, before he was Britain's favourite brainbox, Mr Brian Cox was a rather successful musician in not one but two bands throughout the mid to late 80s and well into the 90s.
First came Dare, a rock band formed in his native town of Oldham by former Thin Lizzy keyboardist, Darren Wharton; they went on to record two albums during his time in the band. Look out for the guy in the back.
Beginning his studies shortly after, he then took another run at music fame by joining pop-rock and dance outfit D:Ream in 1993. Having contributed on two albums, the group eventually disbanded in 1997 playing with them until 1997 and he began his journey to becoming an instantly recognisable pop physicist.
Cox had already secured a first in physics from his alma mater back in 1995 and in 1998, not long after leaving the music biz, he got his PhD in High Energy Particle Physics for his work at the Hadron Elektron Ring Anlage (HERA) in Hamburg.
An academic through and through
All that being said, his various entertainment exploits have never stopped him from making a direct impact on the world of academia, as he remains a Professor of Particle Physics in the School of Physics and Astronomy at the University of Manchester, running courses every year.
During the pandemic, specifically, he also did his part to keep students, kids and those stuck at home in general engaged with his Lockdown Learning and Lecture series. Very cool and very digestible; we might be back to walking free and learning normally but they're still well worth giving a watch.
Just a year before he was made a lecturer at UoM in 2005, Brian even had the privilege of working on the Large Hadron Collider at CERN in Switzerland (you know, the Big Bang machine), acting as a senior physicist and co-spokesperson for a key research and development project between 2004 and 2009.
He played an important role in the ATLAS experiment which is still running and investigating everything from the Higgs Boson particle discovered in 2012, to dark matter and even alternate dimensions. In case it wasn't abundantly clear at this point, the bloke is very smart.
In fact, Cox's influence on the UK's intellectual reputation across the globe and efforts to improve interest in subjects like physics is so strong that in 2016, he was recognised by the Royal Society and named the Professor for Public Engagement in Science.
Still making moves in Manchester
It's not an exaggeration when we say Brian has already done a lot for both UK and global science, especially in helping bring it further into the public eye. But more importantly for us Mancunians, he's continued to be an active and important presence in the 0161 area.
As well as continuing to lecture hundreds of domestic students at the university that helped launch his career, his international and celebrity appeal draws thousands of applicants from all over the world to the Russell Group institution every year.
Moreover, his 'Brian Cox: Horizons' World Tour – which expands on his intellectual, highly entertaining and often comedic lecture format with an immersive audio-visual experience – came to Manchester earlier this week, much to the delight of his fans.
Read more:
Taking the stage in front of thousands of people at massive arenas like the AO, he and podcast partner Ince dive deeper into astronomy and cosmology in a way that brings you closer to some of the most mind-boggling concepts in the universe.
Better still, even amidst a world tour, he somehow managed to find the time to speak to global news outlets on the biggest news in science, such as the stunning new images captured by the James Webb Space Telescope.
He is a jack of all trades, absolutely everywhere and best of all, he's been helping put smart Mancs on the map for years now.
It may be long overdue but Brian Cox, you are our Manc of the Month.
Feature
Siam Smiles, the authentic Thai cafe on a Manchester backstreet

Georgina Pellant
When Siam Smiles was still a little cafe in a Chinatown supermarket it received serious rave reviews. Since moving up to Deansgate Mews, however, it seems to have been forgotten about a little.
Most famously described as "the most exciting thing to happen since the days of the Hacienda" by Marina O'Loughlin in a 2014 review for The Guardian, owner May also made headlines for teaching herself to cook on Youtube after her chef left the business one month after opening.
National critics, like O'Loughin and others, were seemingly drawn in by the cafe's novelty – not one review missed the opportunity to mention the supermarket, or tell you how the ingredients in the dishes were often the same as the ones on the shelves.
But since it has moved over to The Mews, an oft-forgotten back street within the Great Northern Warehouse complex, the reviews have gone suspiciously quiet – so we thought we'd pop in to see if it's all still up to scratch.
Spoiler alert, it definitely is.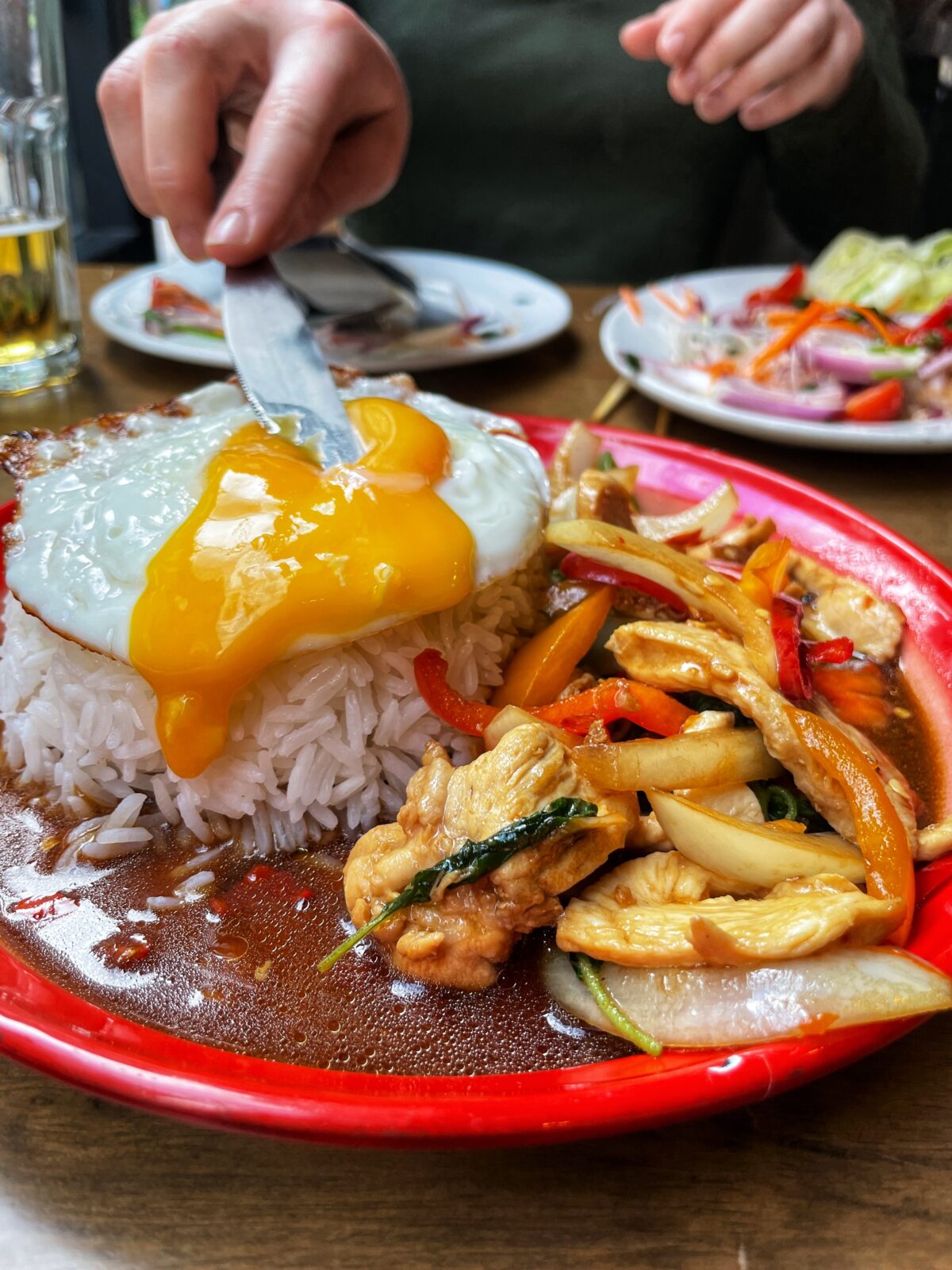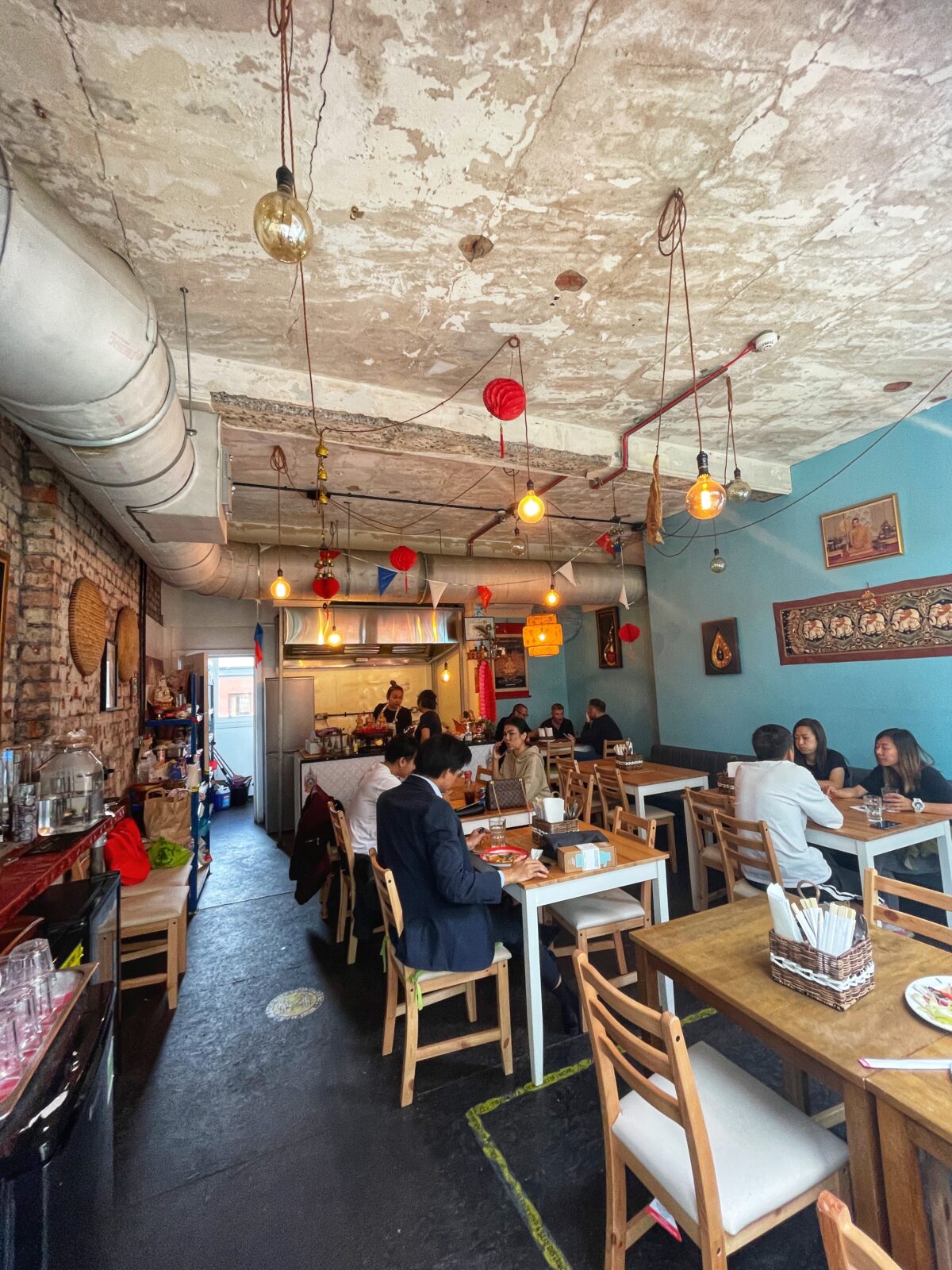 Two years after that rave review from O'Loughlin, rising bills forced the cafe to close – but with a little help, May reopened in 2016 at the Great Northern Warehouse. It's here that you'll still find her cooking up a storm today.
With bills firmly on the rise once again, we thought we'd pop in to shine a light on this longstanding Mancunian gem and are happy to report her food hasn't faltered one iota.
We went for stir fried chicken Pad Ka Paow with jasmine rice and a fried egg, and a steaming bowl of KuiiTiwe Moo Nam Tok with fresh egg noodles and roasted duck breast, with two glasses of Singha on the side.
Read more: The swanky new Manchester cocktail bar housed in an old bank vault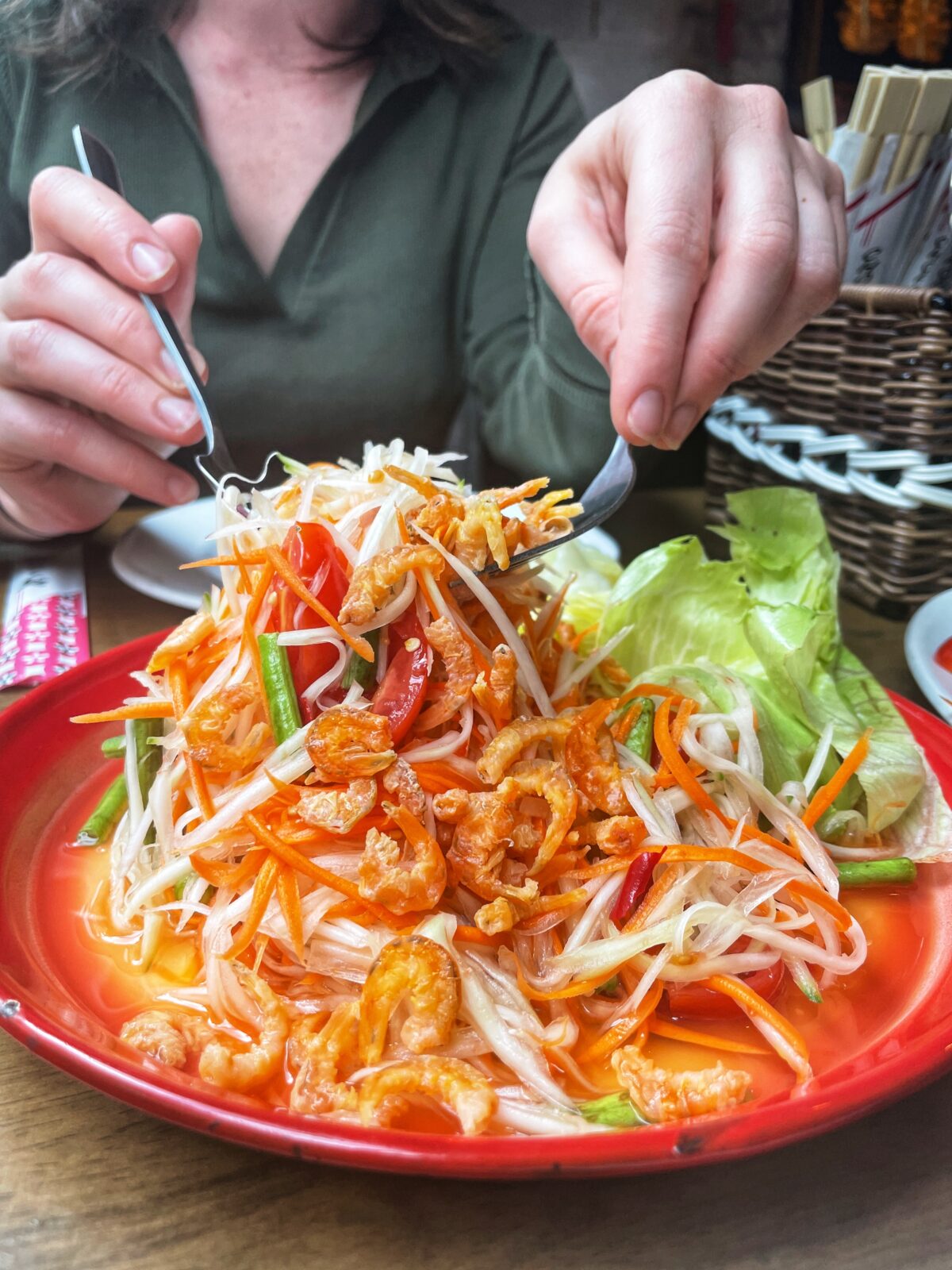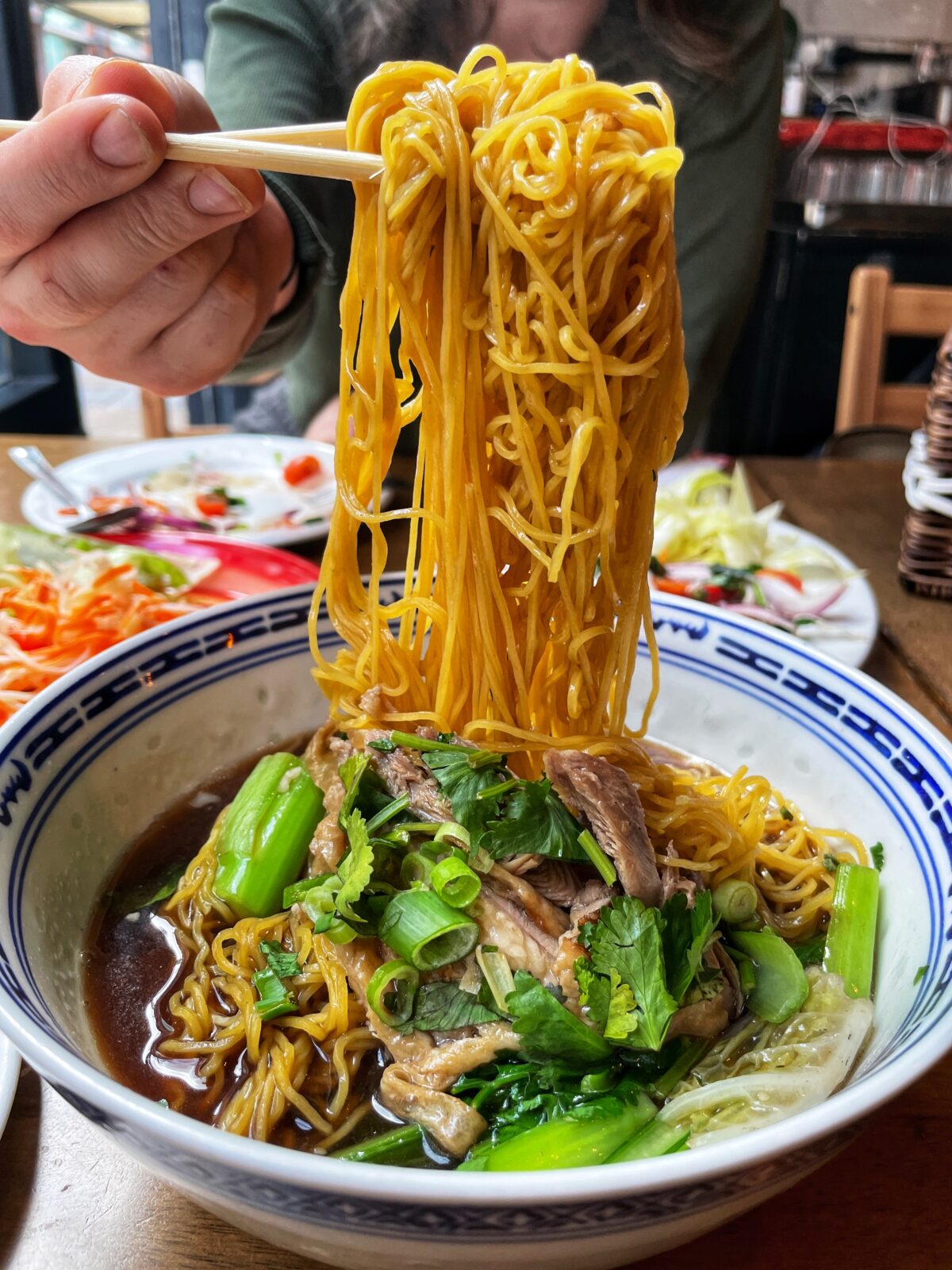 We also couldn't help but opt for a hearty portion of green papaya salad with dried shrimps, a dish that's hard to find but something of a speciality here, as well as a second glass noodle salad with plump prawns and minced pork.
The dressings, always made by May herself, completely hit the spot with their balance of hot, sour, salty and sweet.
Read more: 'We are facing extreme economical pain' – District suggests it could be closing
We strongly recommend you pop in and show Siam Smiles some love. It's not all just about the shiny new restaurants, after all. We need to treasure the veterans too – and this is one we need to protect at all costs.
Find the cafe on Deansgate Mews Unit G Upper Level ,Great Northern, 253, Deansgate, Manchester M3 4EN.
Feature image – The Manc Eats