Feature
How a Moss Side community transformed an 'anti-social' alley into a neighbourhood hub
This incredible transformation was supported by We Love MCR Charity's 'Stronger Communities Fund'.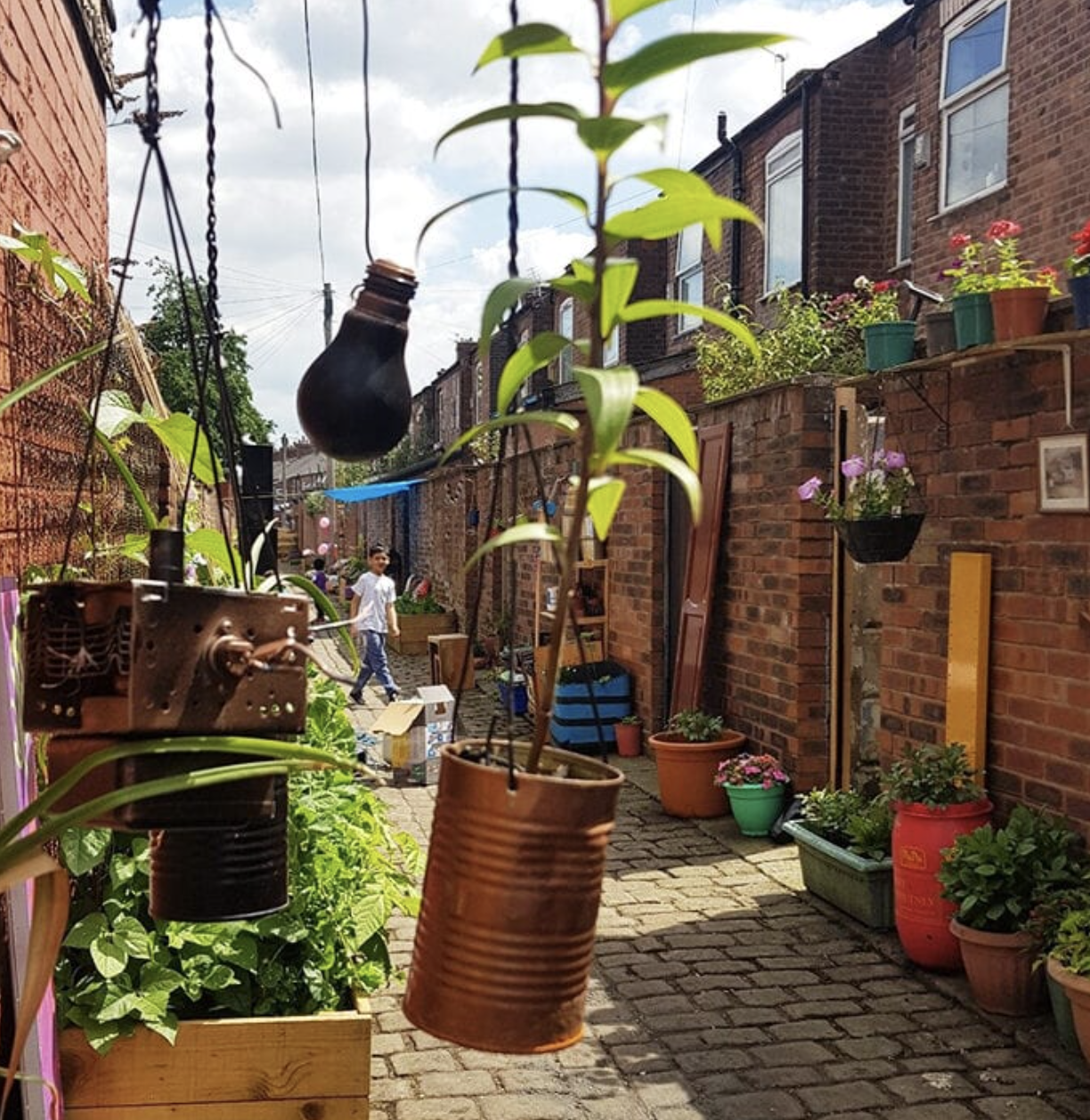 The Sunny Alley never used to quite live up to its name.
You wouldn't think it today, but only a couple of years ago, this back alleyway – or whatever you prefer to call them – was known by the people of the inner-city area of Moss Side as a hotspot for the region's growing fly-tipping problem, drug use and just general "anti-social activity".
It eventually became so undesirable that the residents of the houses backing onto the alley were afraid to venture out to use the communal bins – and this is when they decided that something needed to change.
Now, it's a different story.
With the support of Upping It – an initiative that aims to "restore civic pride in the Edwardian streets and alleys of Moss Side and Rusholme" and provide "local belief in what communities can do together" by helping neighbourhoods to clean and green alleys, reduce fly-tipping and rubbish, increase recycling, and improve the environment – and the We Love MCR Charity, the residents transformed the alleyway into a safe, secure and clean place where families and neighbours could get together and children could play safely.
Aside from the visual transformation of the alley itself, the residents admitted that their proudest achievement with the project has been encouraging links forged between neighbours, who previously had lived side by side for years and had never spoken.
So, how did they do it then?
While the Sunny Alley transformation was the brainchild of Upping It and the residents themselves, they couldn't have done it without the support from the 'Stronger Communities Fund' by one of Manchester's most iconic organisations, the We Love MCR Charity.
The 'Stronger Communities Fund' is one of the charity's most successful programmes to date and one it's "immensely proud" of after having supported over 100 local groups and charities to deliver great work in Manchester's unbeatable communities throughout the last 10 years.
We Love MCR Charity supported Upping It to further the transformation of Sunny Alley from a place that felt unsafe, into one that "brings people together with a sense of pride and achievement" by funding equipment to build planters, and a play area for children with hopscotch, snakes and ladders, and a mud kitchen, as well as contributing funding towards adding solar lighting, decking and a 'swap box' for local residents to use, plus painting fences and adding benches.
The end result is one that leaves a lasting legacy.
And now, the We Love MCR Charity is keen to help leave more lasting legacies after re-launching the 'Stronger Communities Fund' for 2021 last week.
Alongside assisting Manchester in its recovery from the coronavirus (COVID-19) pandemic, the re-launch of the 'Stronger Communities Fund' includes two other new developments – the maximum grant value is increasing from £2,000 to £5,000, and also the two-year time limit after a successful grant application is being scrapped.
As We Love MCR Charity believes in "funding great ideas whenever a community is ready to get started on their project", these two new developments mean that community groups, charities and initiatives are now able to re-apply to the 'Stronger Communities Fund' just 12 months after a successful award from We Love MCR Charity, as opposed to previously being required to wait two years.
And if that wasn't brilliant enough as it is, We Love MCR Charity is also pledging a healthy £215,000 to the fund from 1st April 2021 to reinforce its "commitment to Manchester's people and communities".
Do you know an amazing community group or charity that does fantastic work for your area in Manchester and could benefit from the 'Stronger Communities Fund'?
Then now is your chance to tell We Love MCR Charity all about them.
The fund welcomes applications across four broad themes:
Helping in the Early Years
Combating Loneliness and Social Exclusion
Protecting and Improving our Open Spaces
Offering Positive Youth Activities
To nominate a community group or charity in your area, all you need to do is head on over to We Love MCR Charity's social media platforms – Facebook, Twitter and Instagram – to give them a shout out, and then visit We Love MCR Charity's website here to make an application and find out more information.
Or you can email the charity today at [email protected] with your ideas and questions.
We Love MCR Charity's Trustees meet monthly to consider applications and to award grants, with the next deadline to submit applications for funding being 2nd April.
Keen to donate to We Love MCR Charity? You can also do that here.