Feature
Great independent cafes to try in Manchester this weekend
We're spoiled for choice when it comes to local coffee shops in Manchester - and you can show your support by heading down to visit this weekend.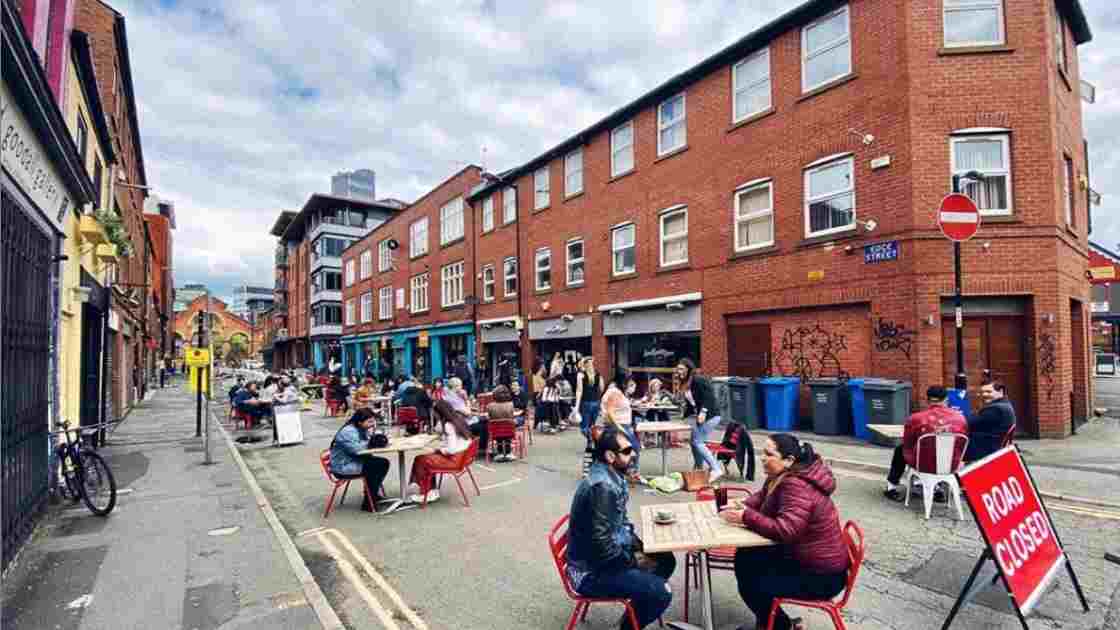 Manchester businesses have been opening their doors and welcoming back customers for long-awaited lattes and fantastic filter brews; which is welcome news after 14 weeks of sipping instant coffee.
Costa Coffee recently made headlines for giving all their coffee club members 300 points – the equivalent of £3 – as a "welcome back" token for customers. But the luxury of being able to provide free drinks simply isn't possible for smaller businesses who have been struggling to keep their heads above water during lockdown.
We're spoiled for choice when it comes to local coffee shops in Manchester – and you can show your support by heading down to visit some this weekend.
Here are a few ideas…
Soul Coffee
Northern Quarter is renowned for its alternative and independent stores. But their cafes are second to none.
One perfect case in point is Soul Coffee.
Situated on Great Ancoats Street, Soul Coffee is a unique coffee and gelato bar serving speciality blend drinks, handmade Italian Gelato and some disco dancer brunch & dessert items.
The headliners of the menu are the decadent desserts all whimsically named after popular soul songs, from 'Just to keep you satisfied' french toast stack to their 'I heard it through the grapevine' Lotus Biscoff Milky Shake.
Soul Coffee is the only place in Manchester which offers true Italian Gelato in multiple forms from a sweet Affogato to a classic scoop on cone. With more hot weather on the way, it could be worth ducking in.
Idle Hands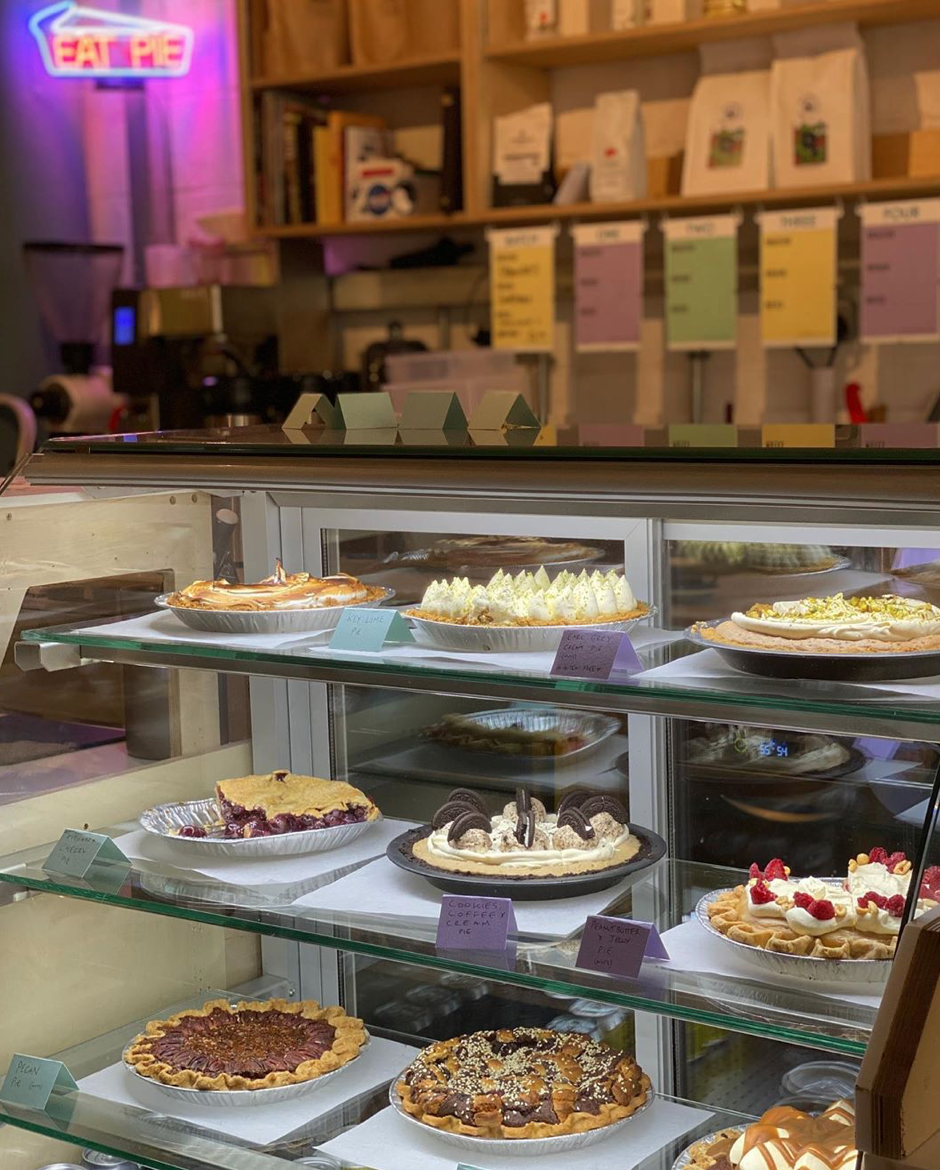 Idle Hands is the place to go for a piece of pie and a cuppa.
The venue excels in pastry-making; baking all kinds of exciting flavours and creations from coffee, cookies and cream to sticky toffee pudding!
Aside from pie, you can also enjoy a lovely lunch menu and treat yourself to a cheeky glass of vino whilst you're at it.
You can order and collect online or go in as normal – but it's worth noting that opening times are subject to change as they adjust to the new climate.
Head over to their website to find out more.
Vienna Coffee House
Vienna Coffee serve everything from breakfast (named after areas in Manchester like 'Deansgate' and Castlefield') to Sunday roasts or quaint afternoon tea.
This family-run business is located nearby to St Peter's Square, serving up a wide variety of delicious dishes.
But as good as the food might be, the clue's in the name. Customers just can't get enough of that coffee.
Vienna have their own amazing blend; Guatemalan, Indonesian and Rwandan beans, freshly roasted which they create into a classic Viennese coffee.
Incredible.
Learn more online.
ManCoCo
ManCoCo is a hidden roastery and café tucked beneath the arches of Hewitt Street in the ever-evolving neighbourhood of Castlefield.
Selling, ethically-sourced coffee from single origin farms and estates, ManCoCo hand-roast the beans right here in Manchester – serving them in fresh cups of coffee or grounded powder to go.
They've also got a wide range of organic, artisan teas available, along with own range of cool branded cups.
If you've had a bit of a heavy night and need a little pick-me-up for the morning, ManCoCo is the perfect place to visit and get your hands on a strong Mancunian coffee.
Discover more on their website.
Federal
Federal has proven so popular they've had to branch out.
Now, the popular cafe has two spots in town – one in Deansgate and another in Northern Quarter.
Federal prides itself on "Antipodean happiness" in Manchester, serving food and drink that has seen customers coming back in through their doors since 2014.
Both cafes are open for walk-ins only; serving breakfast, all day brunch, lunch options, coffee and cocktails!
They regularly run enticing deals on their socials – including a bagel and coffee for £5.
Keep up to date by following their Instagram page.
Seed & Cherry
Seed and Cherry is another independent cafe in the quirky Northern Quarter region of Manchester city centre.
This venue specialises in artisan ingredients but remains hugely down-to-earth; with a crackling atmosphere and dog-friendly policy.
Their coffees are exquisite, as they use a blend of artisan 'speciality grade' coffee beans (you get to choose which beans you'd like when ordering).
The food menu has European and Mediterranean-inspired small plates – meaning you can save room for their famous French toast.
Learn more online.
Ezra & Gil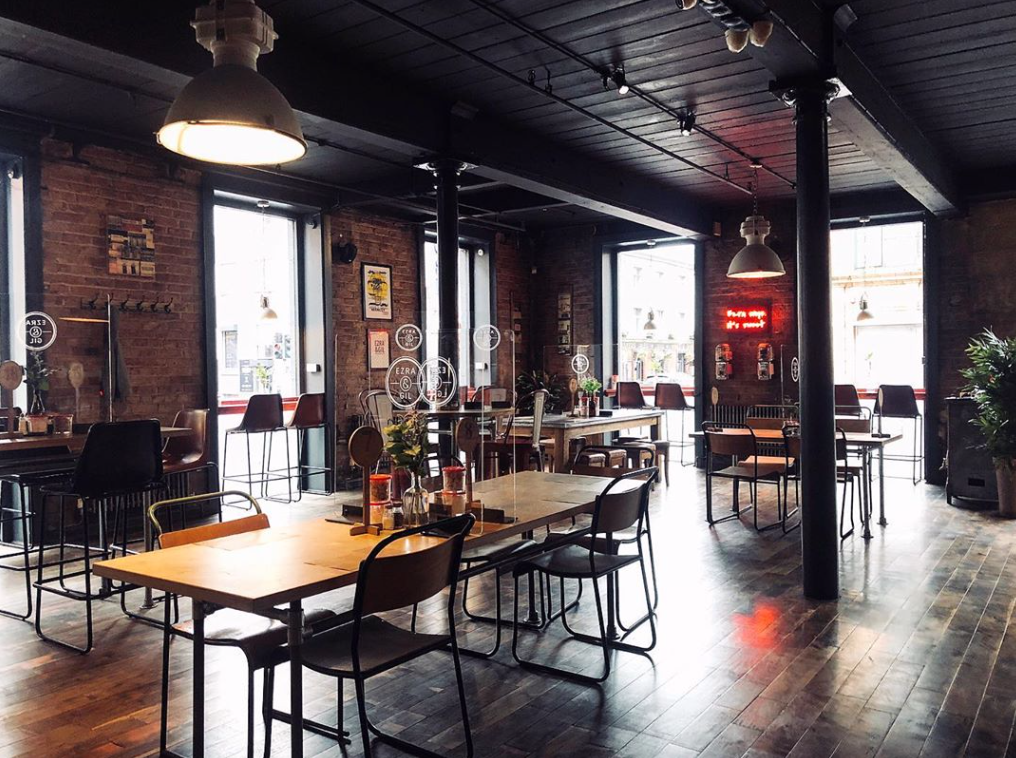 Another caffeine pit stop in the Northern Quarter is Ezra & Gil; Ezra meaning 'Helper' and Gil meaning 'Happiness'.
E&G was wildly popular before lockdown and nothing has changed in that respect – although the look is a little different with perspex screens and a new ordering system in place.
Known for eclectic coffees from white chocolate matcha lattes to a range of fun iced drinks, Ezra & Gil even has its own an app where customers can click and collect if you prefer.
They're also open for visitors to sit in or take away.
Siop Shop
An ultra cool cafe tucked away down Tib Street is Siop Shop.
This lovely little venue specialises in amazing baked goods – especially their beautiful and indulgent doughnuts!
As well as doughnuts, you can take your pick from a number of exciting savoury options which are updated regularly, including sausage rolls, snickerdoodle cookies, and salted caramel brownies.
You can follow your nose or find them on Tib Street NQ.
Visit their website to find out more.
Just Between Friends
Further down Tib Street is another top cafe called Just Between Friends – which also has another location in Beehive Mill, Ancoats.
JBF serve an amazing variety of freshly-baked pastries, coffee and tasty sandwiches.
If you've got a sweet tooth, there's more than a few chocolate-dunked treats up for grabs, too.
Feast your eyes on their food via their Instagram channel.
Home Sweet Home
Home Sweet Home have won the outdoor seating game in Manchester – creating a European-style continental alfresco section that spreads right through Edge Street.
While dining outdoors you can scoff down some decadent cakes, sip shakes and tuck into a range of breakfast, lunch and dinner options.
A crowd favourite is the pancakes. Order them and you'll quickly find out why.
Ultimately, Home Sweet Home is the place to be if you want to soak up some Manchester atmosphere (and hopefully sunshine) whilst chomping on a large wedge of cake!
Find out more online.
Chapter One Books
Chapter One Books is a quirky cafe and bookstore where you can read to your heart's content in the centre of the city whilst sipping on fresh coffee and munching a slice of homemade cake.
The Lemon Drizzle and Earl Grey comes highly recommended, and the coffee is cracking, too – making Chapter One an ideal spot to curl up with good book.
Top tip: Make sure you arrive early.
It can be tough to get a seat, sometimes; such is the popularity of the place.
Head over to their website to read more on this NQ hotspot.
Pot Kettle Black
Up next, we have Pot Kettle Black aka PKB Coffee.
This stylish coffee house has two sites in Manchester: one in Barton Arcade and the other in Spinningfields.
Currently, they have only reopened their Barton Arcade cafe where you can either book a slot or just drop in.
PKB serve coffee with a twist, taking inspiration from Antipodean culture to bring customers flavours from all the way across the globe.
Flour from Manchester mills, butter from Normandy, pistachios from Iran and chocolate from Belgium. PKB take influence from everywhere.
Visit their website to learn more.
Tea Hive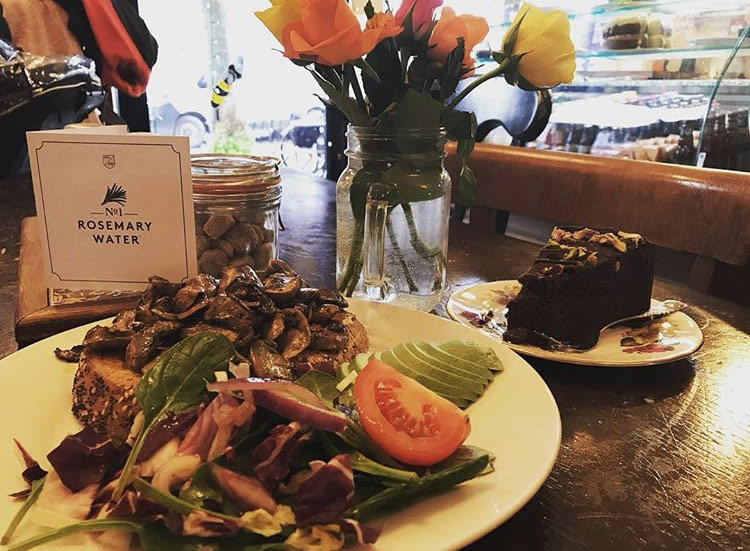 Outside of the city centre is a beautiful tearoom in Chorlton.
Tea Hive takes inspiration from our Mancunian worker bee and serves hearty brunch and lunch dishes alongside mouthwatering cakes! They use loose leaf tea and artisan coffee so it's a real treat to go in and enjoy not only the atmosphere but the amazing quality of food and drink.
The most popular choice amongst locals is their Sautéed Mushroom on toast (vegetarian & vegan) – washed down with one of their 10 different types of hot chocolate.
That will definitely hit the spot.
The Manc is supporting Manchester's independent businesses with the hashtag #buzzingtobeback so if you fancy exploring more of what the city has to offer. Let's continue supporting local independents to get the region buzzing once more!
Read more about what we're doing for the industry here.
Read more about eats in Manchester here.