Feature
The best vegetarian and vegan food at the Manchester Christmas Markets 2021
Think fried camembert and port chutney bagels, stuffed arancini balls, not one but TWO vegan bratwurst stalls, plus cheese-filled Korean potato hot dogs and loads more.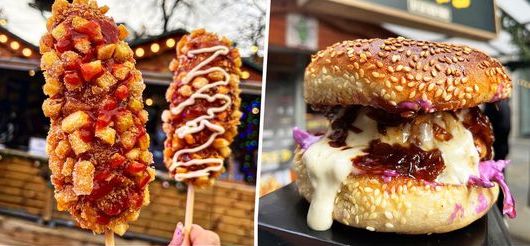 Now it's getting chillier it's definitely starting to feel a lot more Christmassy in town. The markets have arrived, there's the faint whiff of bratwursts grilling in the air – and for the first time, they are vegan.
Ok, admittedly they're not all vegan, but we've found two stalls selling plant-based sausage alternatives and we have to say, overall we're pretty impressed with the increase in both vegetarian and vegan offerings this year.
From cheese-filled Korean potato hot dogs to multicoloured burgers and Biscoff cookie pies, there's certainly a lot more options for non-meat eaters at the Manchester Christmas markets this year.
That said, we know that some of Manchester's vegans are fuming as the cookie dough stall, which usually has a vegan option, has taken it off the menu this year. Scandalous behaviour.
Keep reading to discover all of the best veggie and vegan food at Manchester's Christmas markets this year.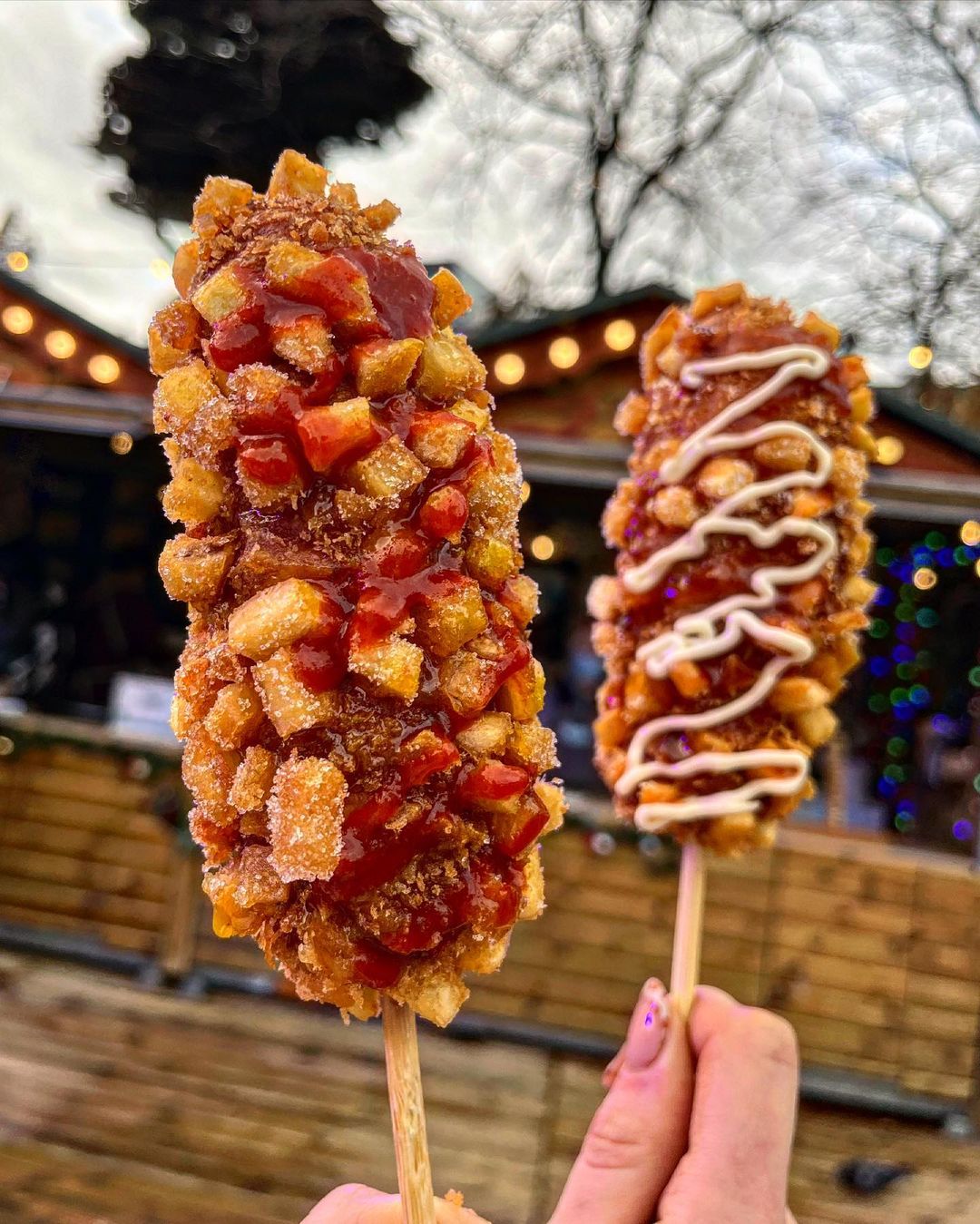 Piccadilly Gardens
Home to cheese-filled, potato-waffle coated Korean hot dogs (£5.50) and not one but two vegan bratwurst stands, this year Piccadilly Gardens has to be at the top of your list.
The controversial public space has its drawbacks, sure, but solid veggie and vegan street food options are definitely not one of them this year.
Find the Korean hot dogs at Crunch on Piccadilly's Winter Gardens. A vegetarian-friendly version filled with cheese is wrapped in a potato waffle coating, deep fried, and then rolled in sugar for a naughty twist.
There's also S'mores churros sandwiches (£6.50) from Loop Churros, and vegan brattys available at Vertigo and Panc.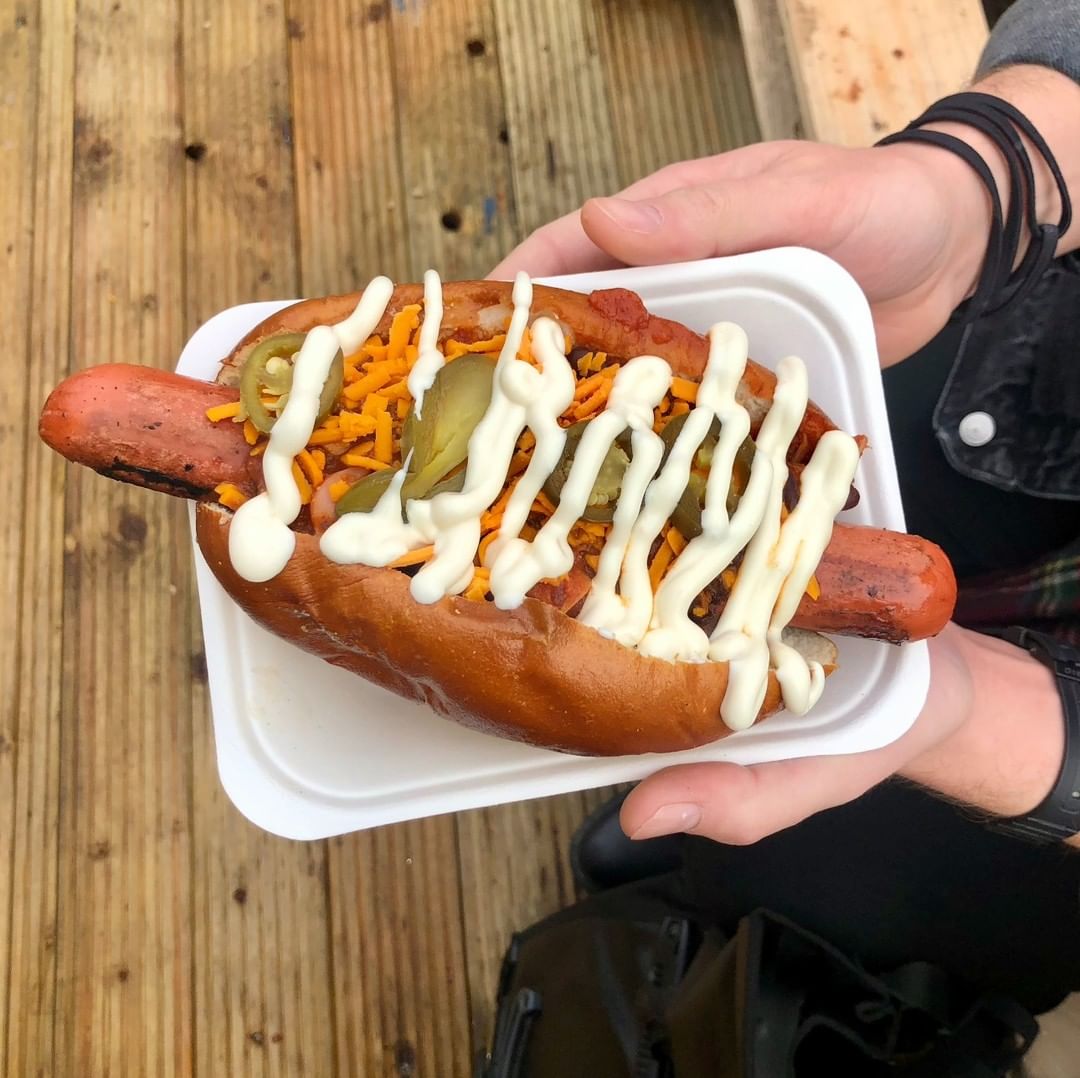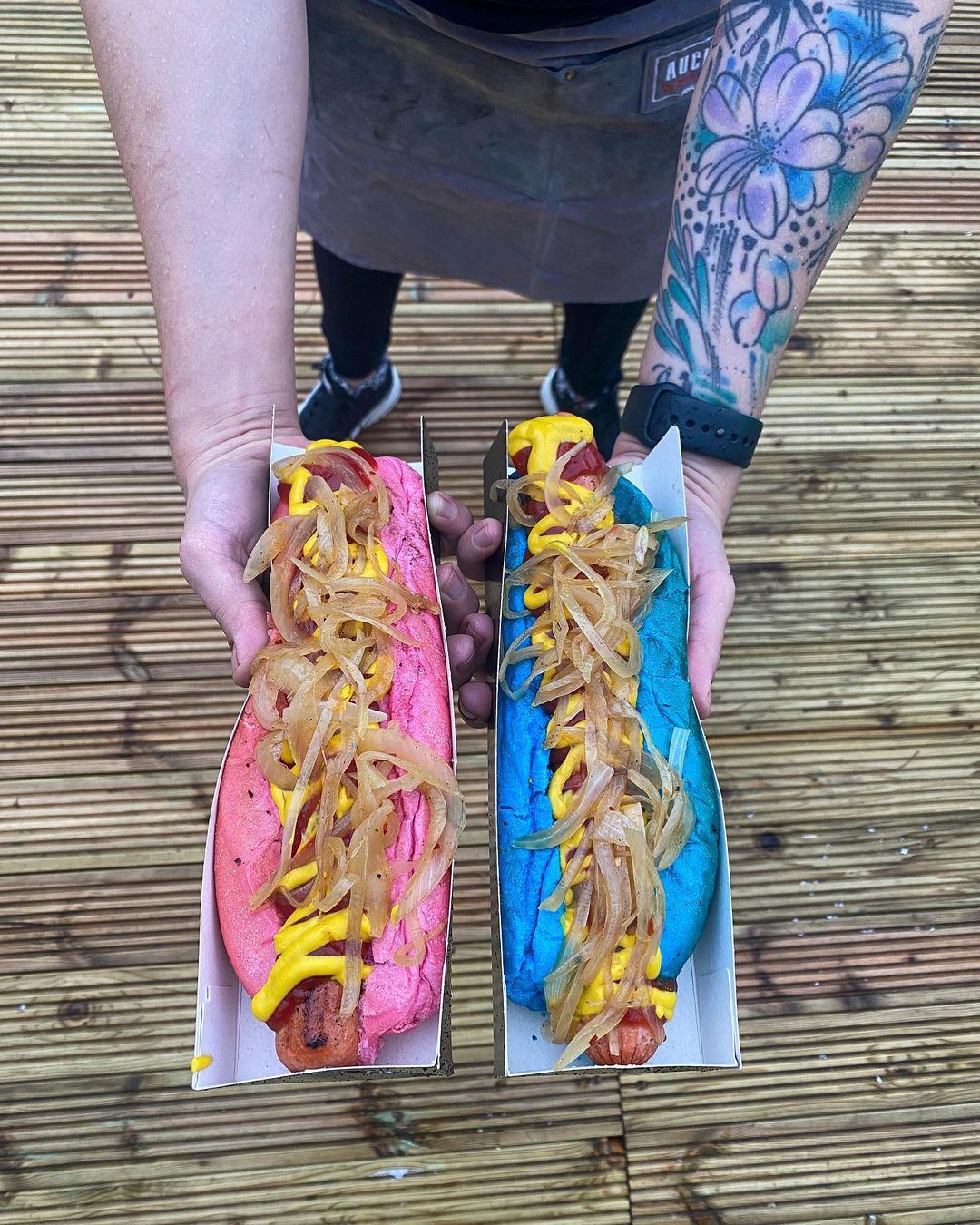 Over at Vertigo's stall, you'll find a big selection of vegan-friendly hot dogs including a katsu curry wurst and a chilli cheeze dog.
Then across the way at Panc, there's more vegan dogs (£5 – £6) to get stuck into as well as thirteen different plant-based burgers (£5 – £9); fried chick'n wraps (£12), goujons (£5), loaded fries and chick'n poppers (£6.50 – £7.50); and a vegan shawarma kebab topped with lettuce, red onion, tomato, cucumber, chillies, guindilla peppers and Panc garlic sauce (£9).
Drinks-wise, think plenty of beer, ale and gluhwein, plus glasses of shimmering prosecco and steaming mugs of hot Vimto (full dislosure, we can't say if any of the alcohol is veggie or vegan friendly, but we're pretty sure the Vimto is a safe bet).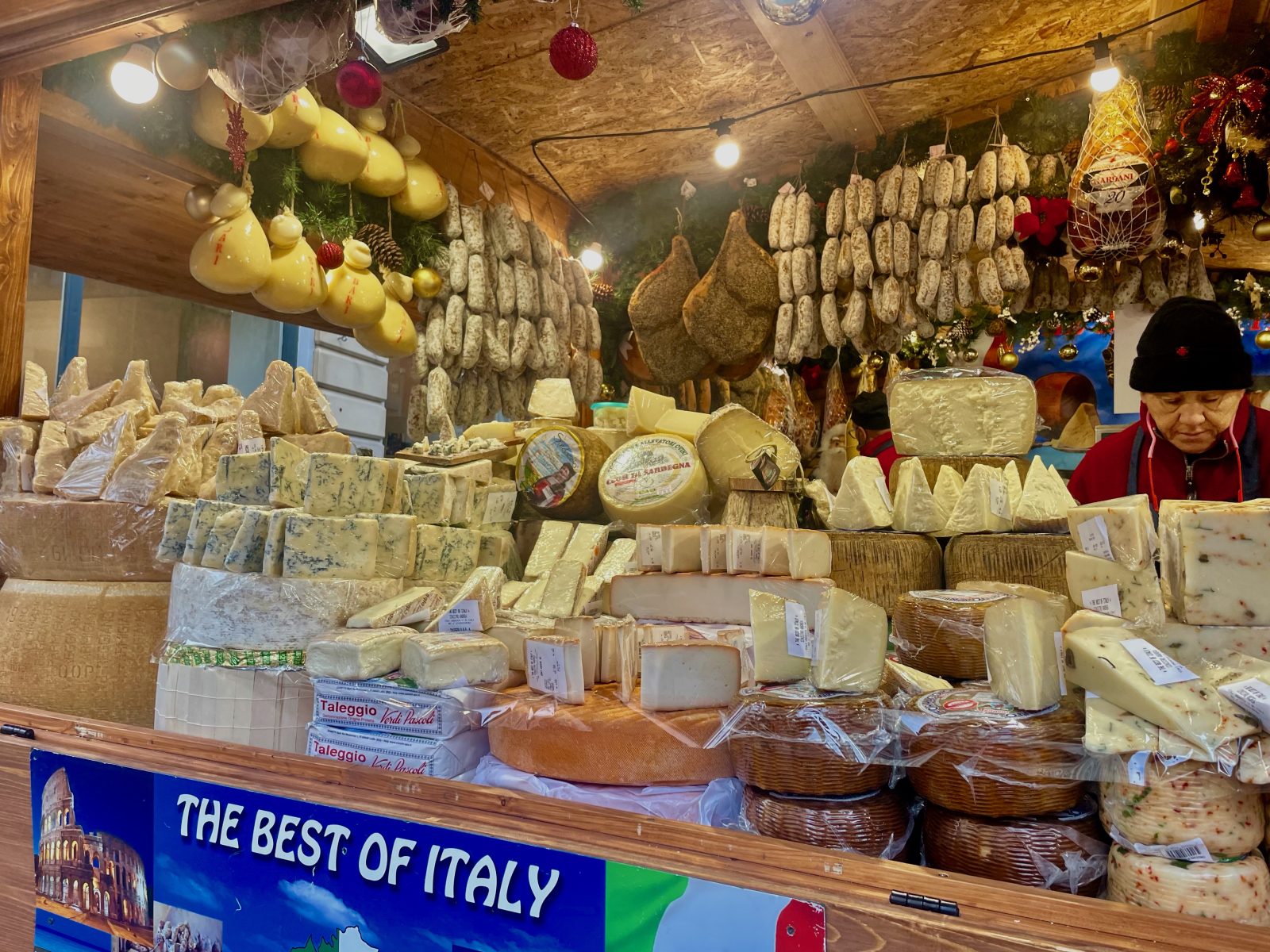 King Street
The wonderful Italian cheese and meat stall that sits on the border of King street and Deansgate has returned for 2021, we're happy to confirm, selling a whole host of cheesy delights including taleggio and coor da Sardegna.
Veggies can also get that go-to bratwurst here, with cheese sausages on sale for just £5.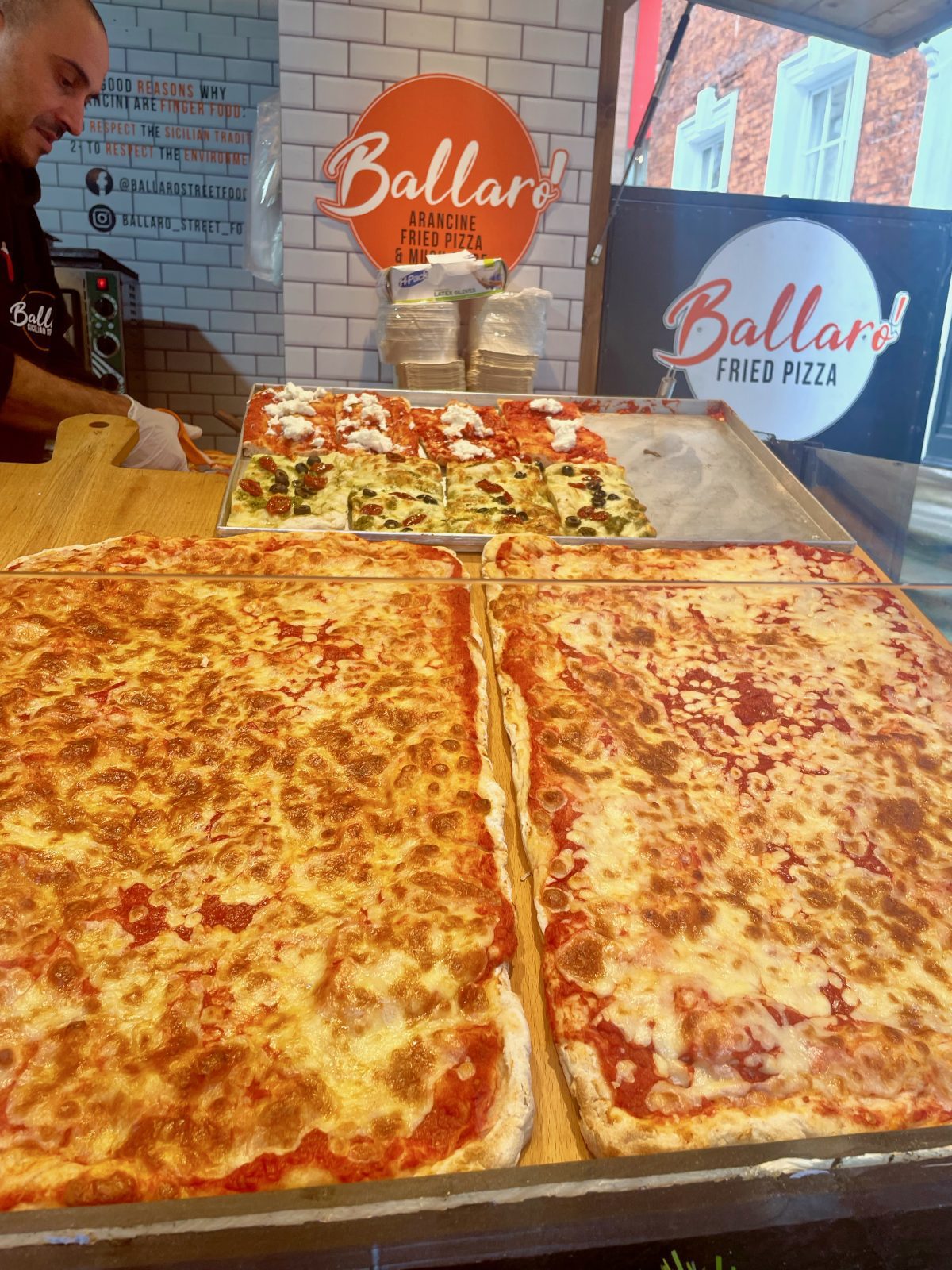 A Sicilian street food stall has lots of veggie options, with cheesy spinach, aubergine and mushroom arancini on sale (£3.90) alongside margherita, bianca and bufalina pizza slices. There's a good vegan slice too: a 'Vegana' topped with grilled artichokes, mushrooms, olives and tomato sauce (£3.50).
And over at Eat Greek, there's halloumi and jackfruit pittas, halloumi fries, greek fries seasoned with oregano and served with salad and tzaziiki, and a loaded fries option with the option to add either halloumi or jackfruit.
Cathedral Gardens
The first Christmas markets to open this year, the offering here is pretty simple with a collection of bars selling mulled wine and cider, and wooden huts selling dutch mini pancakes, sugar waffles and more.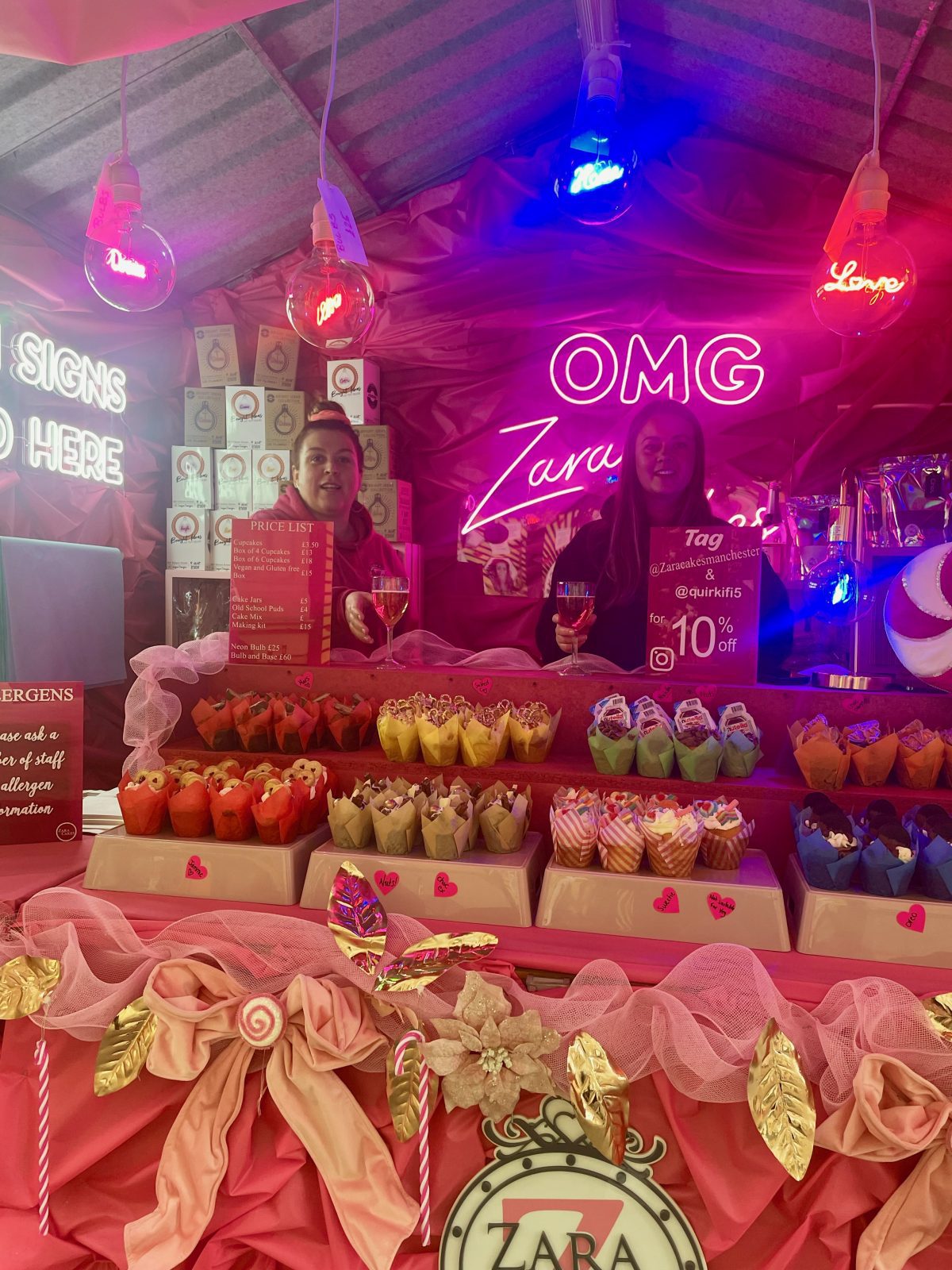 The Corn Exchange
Veggie-friendly Jammy Dodger-loaded cupcakes, Nutella-topped confections, and more covered with pick and mix sweeties, chocolate Oreos, and golden pretzels can be found at Zara's Cupcakes market stall, priced at £3.50 each or £13 for four.
There are also cake jars, old-school puds, and cake mix-making kits to be found here.
Also at the Corn Exchange is a pie stall from The Crusty Pie Company selling a veggie-friendly broccoli and stilton pie, gorgeous homemade chutneys in flavours like apricot and ginger, cranberry and pot, and 'flaming hot', plus onion bhajis and vegetable samosas.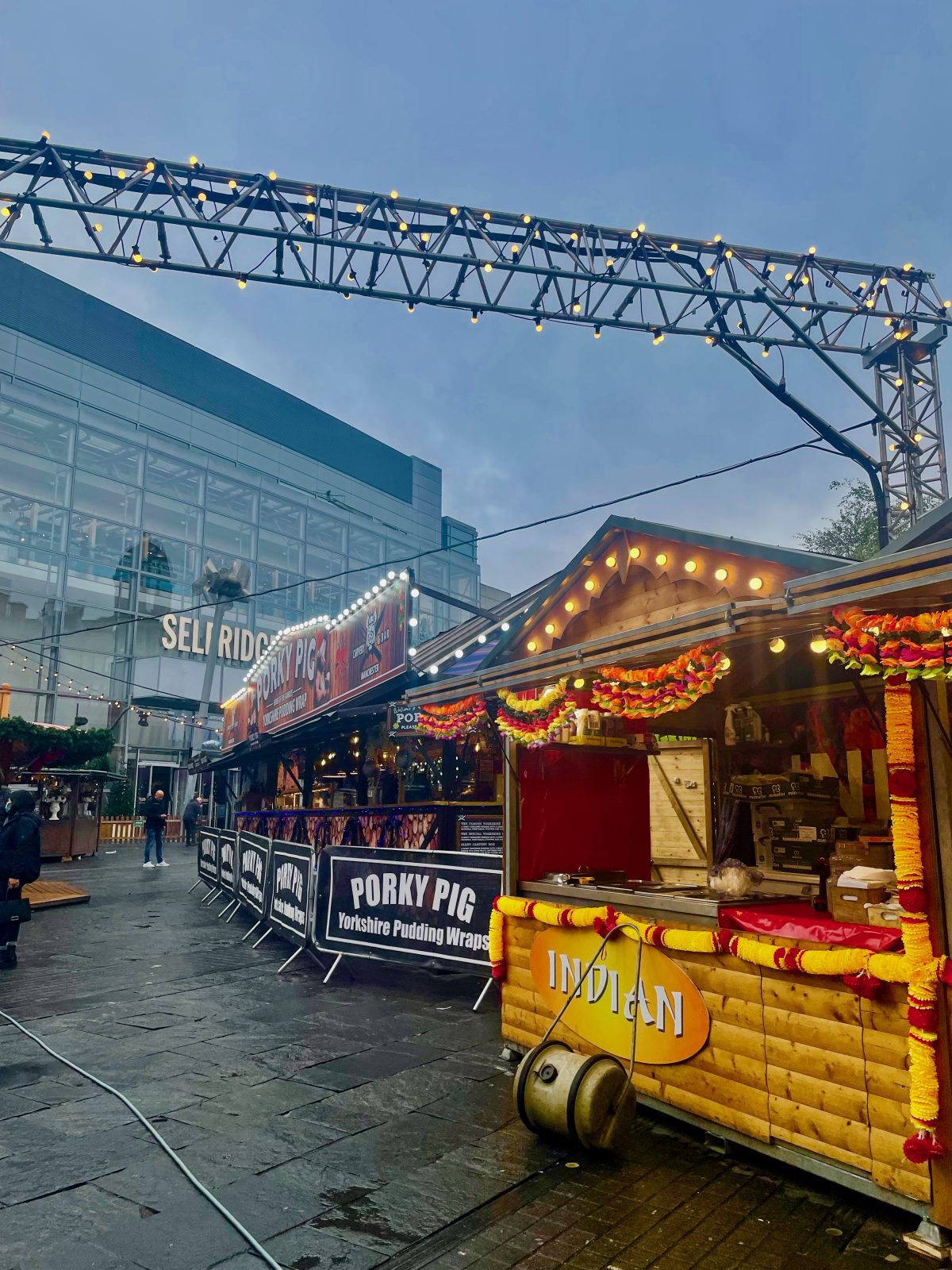 Exchange Square
Exchange Square might be known as the home of the Porky Pig wrap, but you'll be pleased to hear that it has some great veggie and vegan options for non-meat eaters too.
Even Porky Pig is getting in on the plant-powered trend, selling giant veggie Yorkshire puddings filled with veggie sausages, seasonal veg, stuffing and veggie gravy (£&) alongside a vegan box with vegetable sausage, more veg, stuffing and vegan gravy (£7),
Here you'll find an Indian street food stall selling charcoal grill paneer tikka wraps, Matar paneer curry, samosas, and traditional snacks like papri chaat (chickpea, yoghurt, Indian mix) and pani puri. Going all out? Opt for rice and / or khuboos bread (a sort of Arabic pitta) on the side.
The Dutch Fries company is here too with standard portions (from £5) alongside specials like parmesan and truffle (£8) or Dutch satay sauce (£6.50), as is a Dutch Mini Pancakes stall with 13 loaded pancake and sugar waffle options (from £4.50).
As for drinks, think classic mulled wine, caramel cider and an alcohol-free vat of hot ginger and honey – plus plenty of beers, wines and spirits.
Market Street
There's not much to report food-wise, with the majority of stalls focusing on selling gifts and other trinkets. We did spy a massive stall selling pick and mix, though, for those who haven't yet got over the closure of Woolworth's.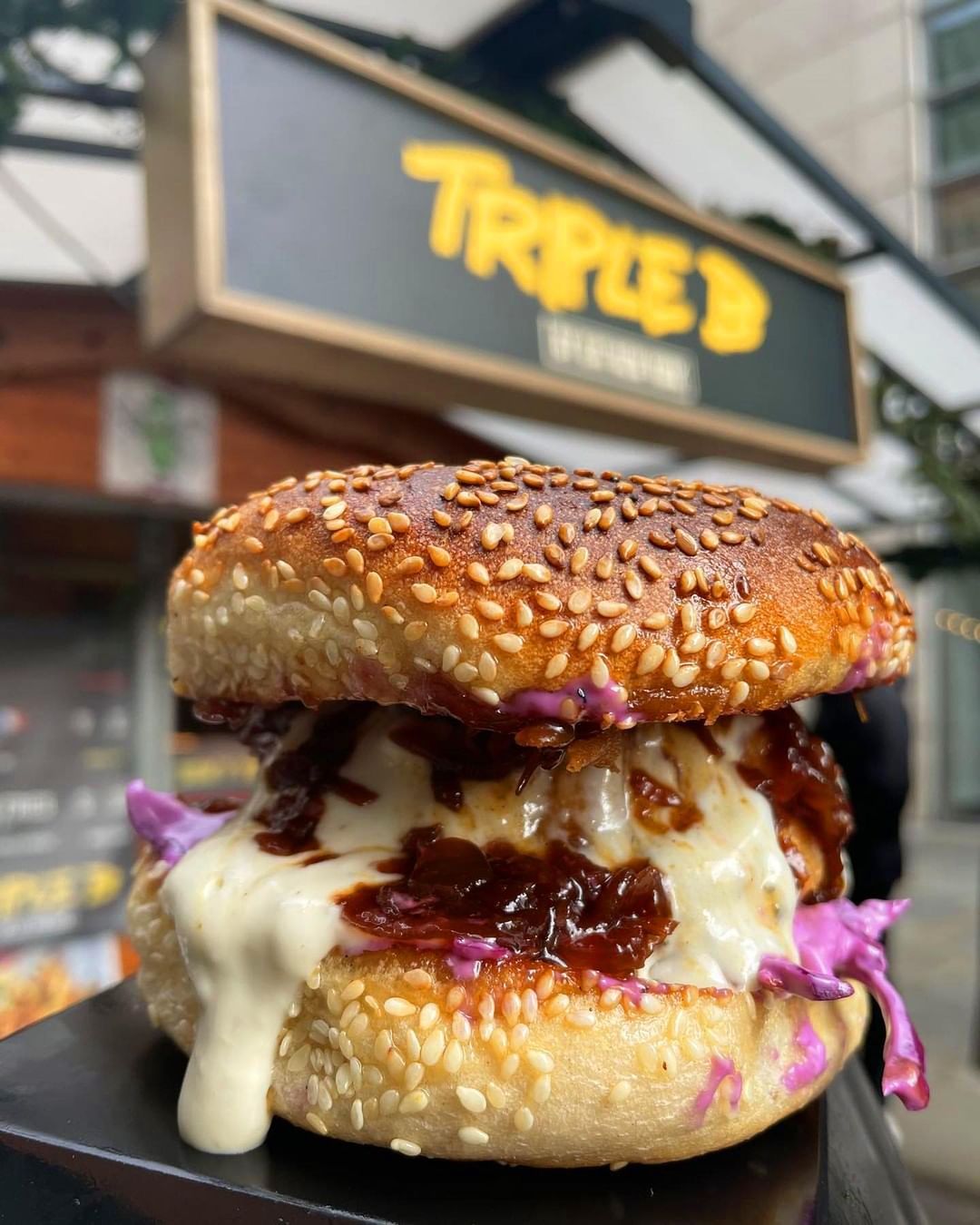 Exchange Street
With a big focus on beer and wine, Exchange street is dominated by bars selling all the usual suspects – plus Baileys, boozy coffees, gin and tonics, and other spirit mixers.
Prestwich restaurant Triple B also has a stall down here selling a fried camembert bagel with port chutney, tomato sauce and winter slaw (£8) and a 'Vegan Stocking Filler' burger with vegan burger patty, cheeze, stuffing, cranberry and Russian dressing (£8).
Across the way, you'll also find Wrap Up selling a 'Herbie's Halloumi' wrap with grilled mixed peppers, sour cream, jalapenos, freshly-mae salsa and aromatic rice (£9), and veggie and vegan 5 bean chilli – both with butternurt squash, rice, salsa and jalapenos (£8 – £8.50), with additional sour cream and cheese for those who take dairy.
Opposite Zara, the big sausage stall by Witch House also has a veggie cheese sausage on sale with onions for just £5.
St Ann's Square
Head to St Ann's Square for square margherita pizzas, Yard and Coop fries loaded with pulled sriracha jackfruit (£9), big trays of cake from Ridiculous Rich, and Spanish nibbles like olives, sundried tomatoes and manchego at the Spanish KItchen Tapas stall.
There's also some great-looking strudel dishes to discover here, in either apple of cherry flavour, alongside scrambled panckaes topped with your choice of apple, cherry or plum compote, chocolate-cream or custard.
Elsewhere, you'll find indulgent cookie pies in flavours like Lotus Biscoff, chocolate and caramel and more (£4), alongside Bailey's cream and chocolate truffles disguised as Christmas puddings at Gingerbread House Confections.
Feature image – EATMCR / The Manc Eats