News
A huge mural of The Buzzcock's Pete Shelley has appeared in Leigh
Initiated by The Pete Shelley Memorial Campaign, the new 200msq mural sits at the heart of the late punk rocker's hometown.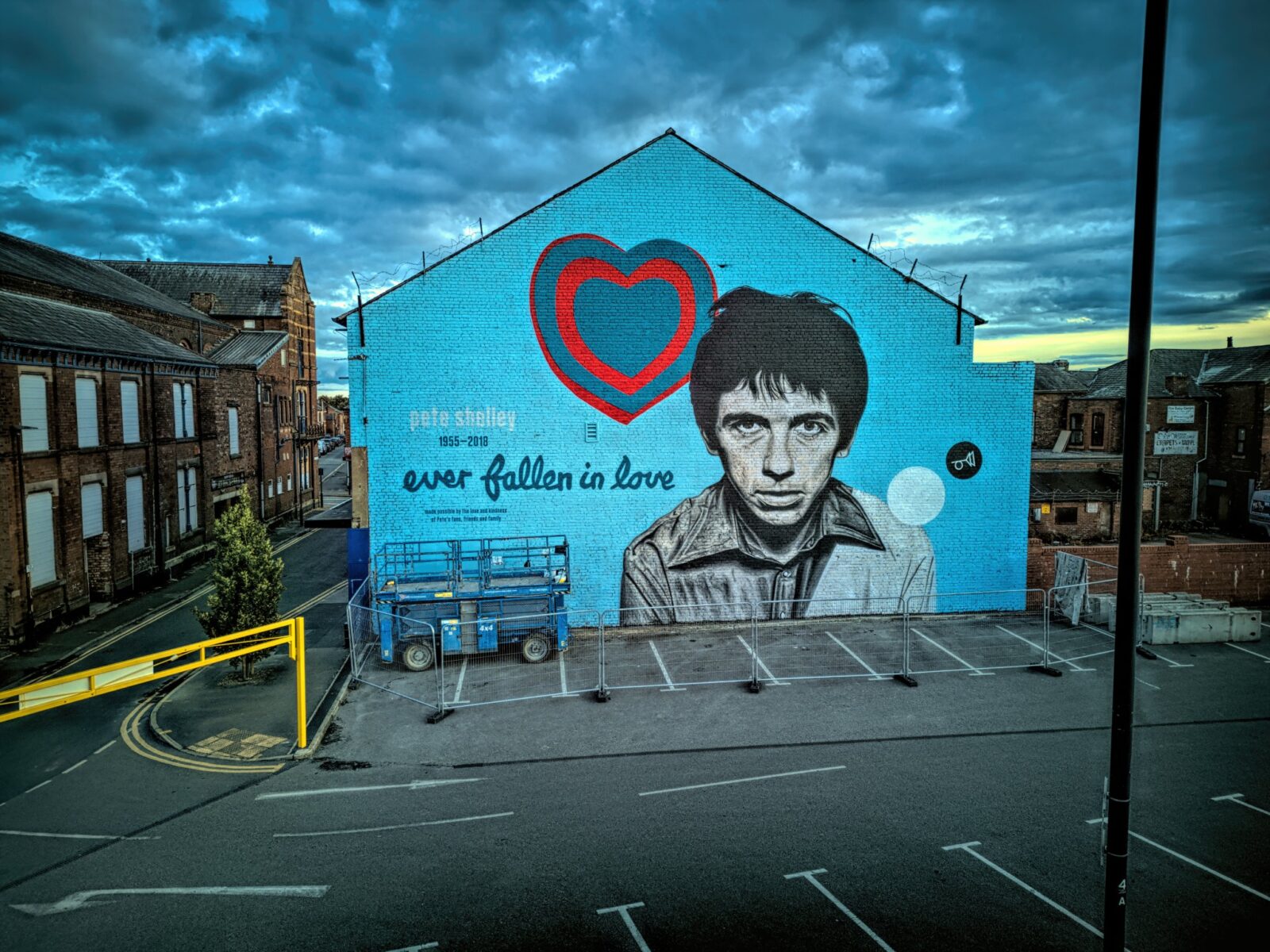 A huge new mural of punk rock singer and guitarist Pete Shelley has appeared in Leigh, Greater Manchester, this afternoon.
Created in tribute to the late punk rock icon, it sits in the heart of the community where he was born and grew up and still has family today.
Based on the cover of The Buzzcocks' 1978 single Ever Fallen In Love and a portrait of Shelley, created by artist Chris Gabrin in the same year, it's been designed by artists Malcolm Garrett and Akse P19.
The latter is well known in the city for his photo-realistic portraits of pop culture icons, and his work is often seen popping up in prime locations across Manchester.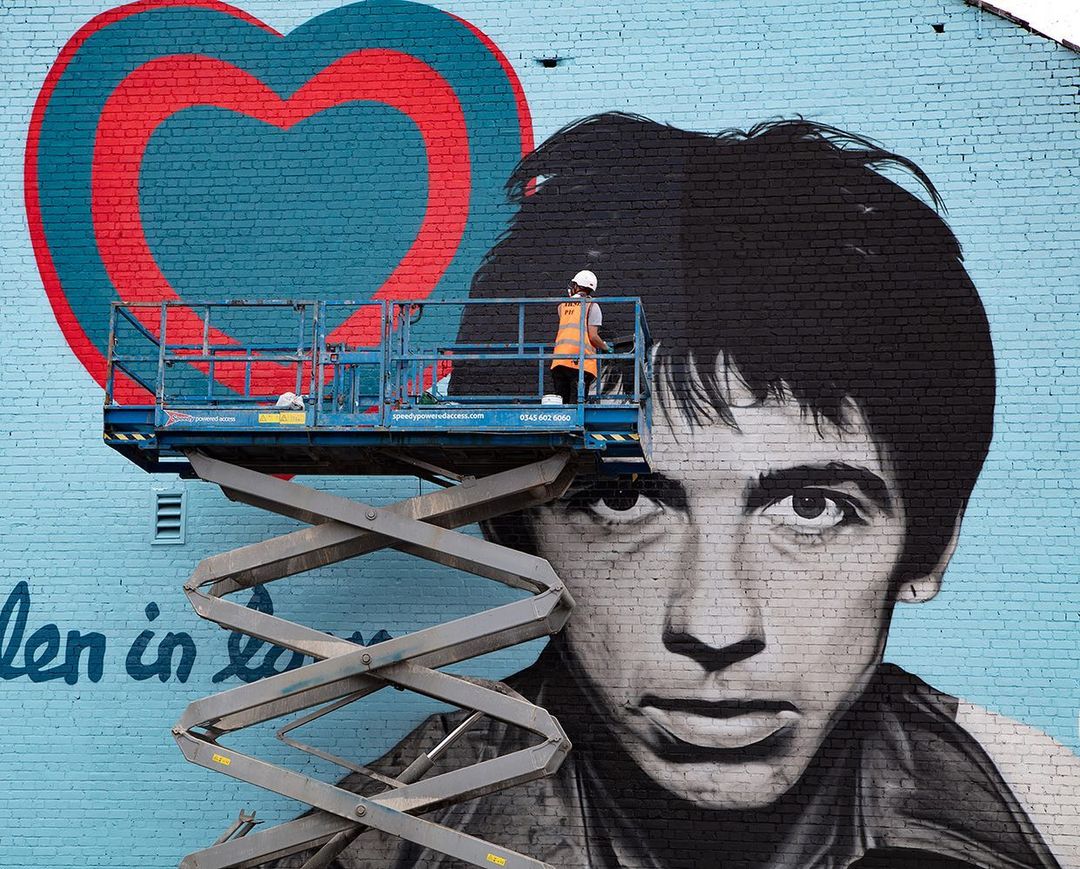 Situated close to Leigh Town Hall and the historic Turnpike Centre, the new mural is Akse's biggest yet – sitting smack bang in the heart of Leigh. Initiated by The Pete Shelley Memorial Campaign, it has taken over three years of fundraising in order to complete the project.
At a whopping 200 meters squared, it's not an easy one to miss if you're in the area and has taken around a week to complete – with the finishing touches, including a final coat of protective varnish, being applied by the street artist this afternoon.
Whilst the artwork has been unfolding over the past week, locals have had some fun trying to guess who it might be – with Akse posting a range of updates to his social media showing the piece at various stages of completion.
Sharing an image of the mural with just the hair, background and outline complete, he asked: "Slow progress, can you guess who's the subject I'm painting?" – and got some surprising responses.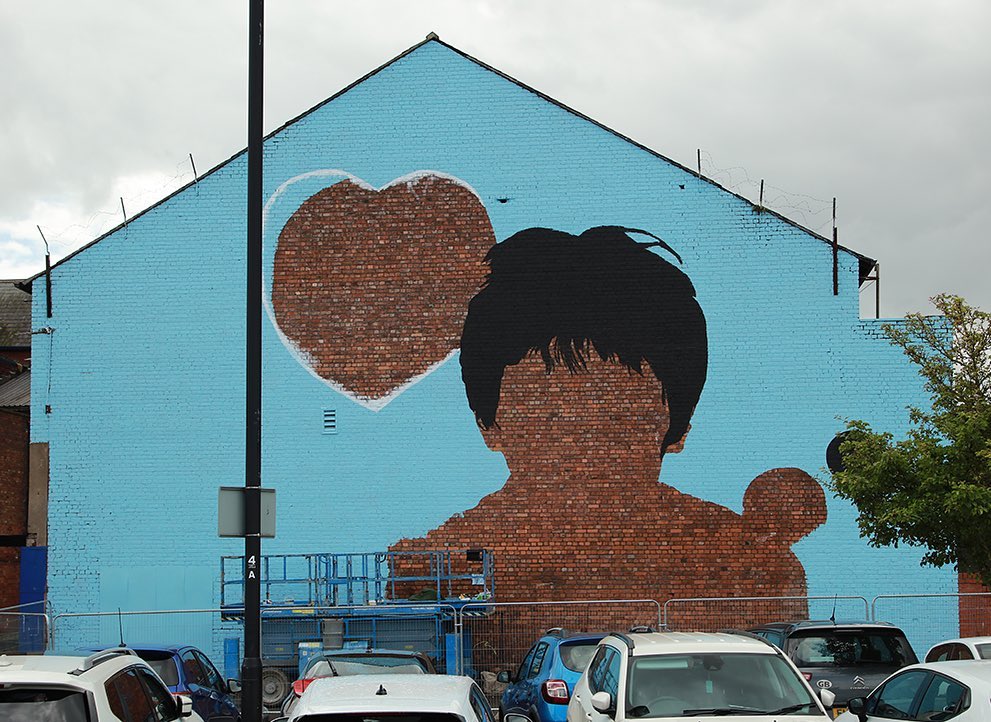 A surprisingly large number thought it could be Ghislaine Maxwell, perhaps created in response to Quebek's recent Prince Andrew mural which appeared in Manchester over the Jubilee weekend.
Others guessed it could be anyone from Hayley Cropper to Bruce Lee, Jonny Marr, or even Liza Minelli.
One person commented: "If it's not Jonny Marr, it's not too late to make it Jonny Marr anyway"
Another said: "With just that hairstyle I'd have to guess any Mancunian man between the ages 35 – 45?"
A third got it spot on, saying: "Pete Shelley but first thought was Liza".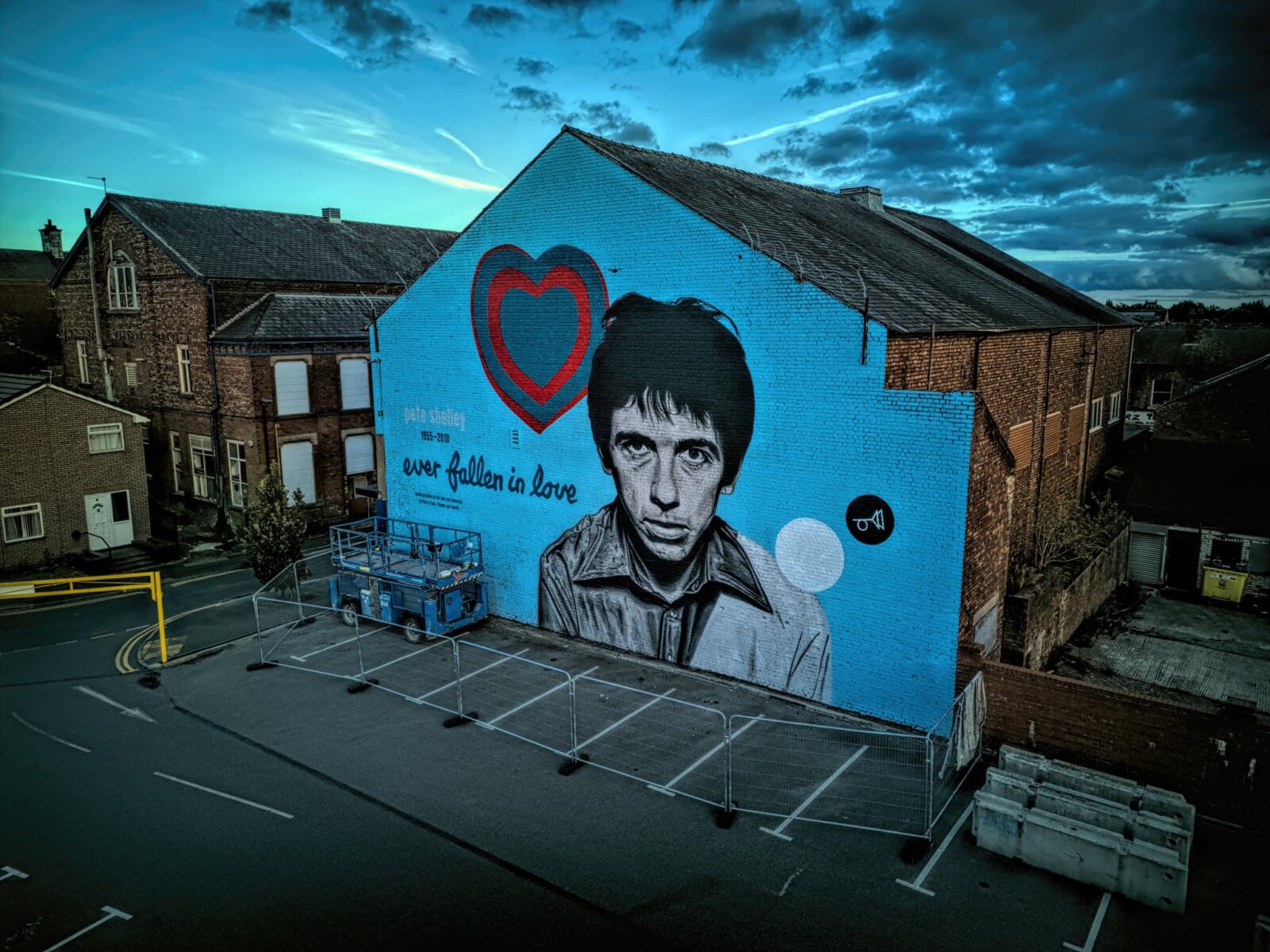 The mural is now complete, to the delight of Shelley's cousins Howard Lycett and Rebecca Hamilton, who still live in the local area.
The pair told Louder Than War: "As a family, we are delighted to have Pete back in his hometown and looking as vibrant as he ever was.
"Pete was always incredibly proud of his northern roots, and we hope that the mural will help Pete's legacy live on and inspire more young artists and musicians to break down barriers and follow their dreams".
Read more: Manchester's street art scene gets its own book
The new mural will officially be revealed on 10 July in Leigh from 12 noon.
Feature image – Facebook, The Pete Shelley Memorial Campaign