News
A new food and drink hall is opening in one of Manchester's most historic buildings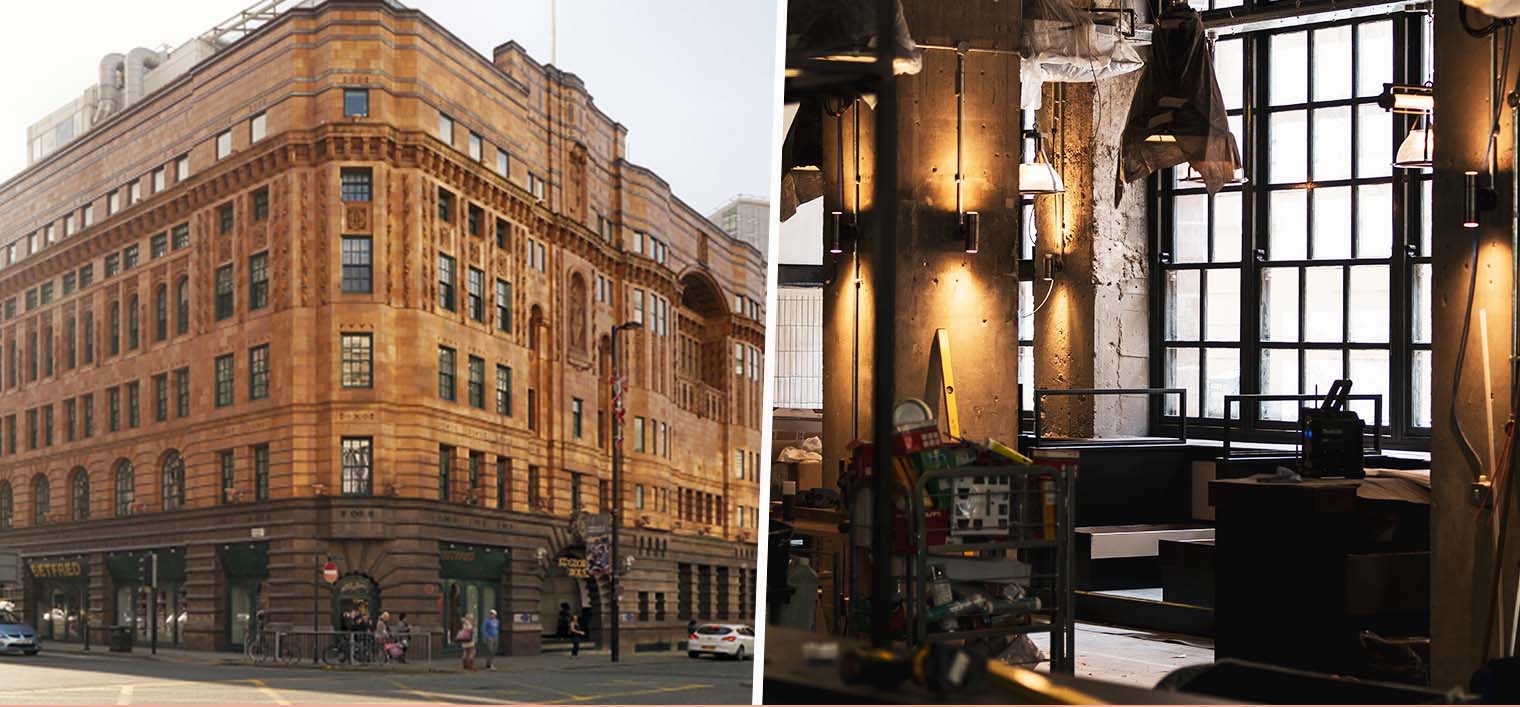 A new food hall concept is opening inside one of Manchester's most historic buildings, taking on a space where the old Natural History Museum once stood.
Brought to life by the team behind Peter Street aperitivo bar Haunt, the new drink and dining hall will sit just around the corner on Museum Street inside the Grade II-listed St George's House building.
Called Exhibition, it will bring together three independent kitchen concepts alongside two different in-house bars managed in-house and (as you might've guessed from the name) a range of dedicated exhibition spaces.
Aiming to push the boundaries of Manchester's vibrant entertainment scene with the addition of changing works from local artists and a theatrical performance element come nightfall, it will sit inside a stunning period building rich with local history.
Interiors have been stripped back to the bone, leaving not much more than an industrial shell of exposed brick and beams behind.
The new 6,000sqft food hall will serve local beers on tap, an extensive wine list and premium spirits, with locally-brewed craft Manchester Union Lager poured straight from a specially-installed tank.
There will also be a second bar dedicated to seasonally-changing cocktails which will celebrate a new spirit every quarter.
Not much has yet been revealed on the food yet, with operators only saying that kitchens will be serving up 'innovative seasonal menus with a refined flair' and offering a mixture of small and large plates.
Then, after dark, the 400-capacity venue will play host to nightly DJs and entertainers, showcasing the very best of Manchester's creative scene.
Owners are keen to embrace the rich history of the site as they breathe new life into it with the opening of Exhibition.
Based within the stunning settings of St George's House, which was built on top of Manchester's old Natural History Museum following its demolishment, this corner of Peter Stret has a significant past.,
As well as once being home to Manchester's Natural History Museum, it sits above the site of the 1817 Peterloo Massacre where hundreds were injured following peaceful protests for parliamentary reform.
And that's not all. It is also the very place where the body of Hannah Beswick, also known as the Manchester Mummy, was found.
A wealthy woman with a pathological fear of premature burial, upon her instructuions following her death her body was embalmed and then kept above ground to be periodically checked for signs of life.
Read more: Charles White: How the Royal Infirmary's founder became the guardian of The Manchester Mummy
It's something the team are keen to celebrate, as they prepare to open Exhibition this Autumn.
Sam Wheatley, Operations Manager said: "We can't wait to start welcoming people to Exhibition this Autumn, and hope to bring something different to Peter Street. It's been a passion project for the whole team, and we can't wait to see this incredible space brought back to life.
"Nurturing local businesses and artists is integral to Exhibition, and we're so excited to share our venue with some of the most talented people from across the region."
Feature image – Geograph / Supplied