News
First look at £250m waterside garden neighbourhood KAMPUS
New images have been revealed of Kampus – the new £250m garden neighbourhood being developed in central Manchester by Capital & Centric and HBD.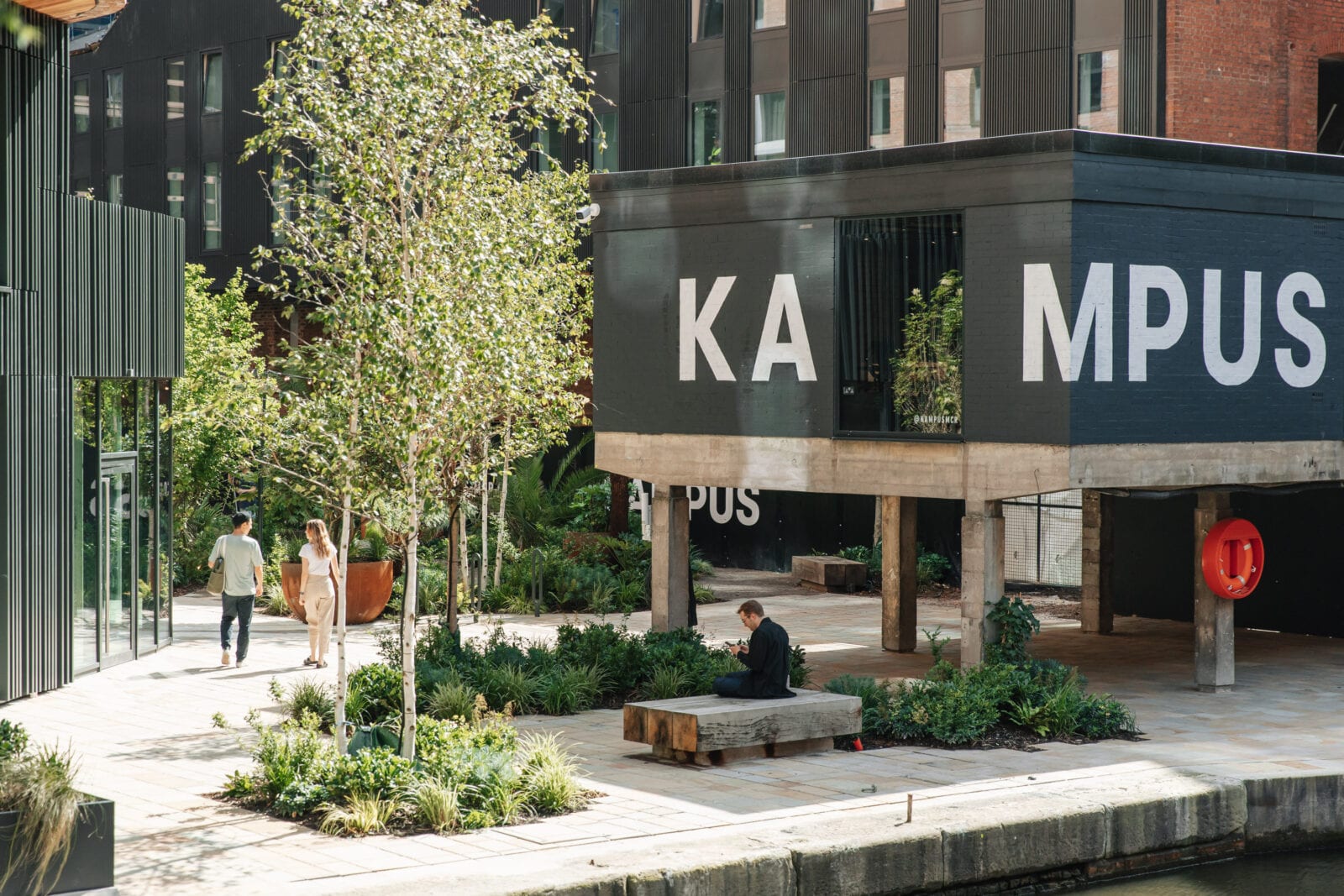 The first images of the brand new £250m waterside garden neighbourhood 'KAMPUS' have been published.
A joint project by Capital & Centric and HBD, the city centre development boasts over 500 fresh apartments – including 1 and 2-beds built with high ceilings, panoramic views across the city and huge suntrap terraces.
Described as a "bold new addition to Manchester's skyline", the KAMPUS North Block has been built with distinctive pixel windows, Lancashire red brick and exposed concrete features.
Interior design work has been crafted by the award-winning YOUTH Studio.
Sat alongside two beautiful Victorian shipping warehouses and a 1960s brutalist tower, the KAMPUS complex is set to become a new home for the city's creatives and independents – featuring two floors of independent bars, restaurants and shops.
A canal-side garden full of trees, plants and flowers sits at its centre.
Residents can access a gym, yoga terrace, private cinema and dining room on site.
KAMPUS also occupies land once owned by the famous 'Spanking Roger Aytoun' – who remains one of Manchester's most peculiar cult characters from history.
Adam Brady, Executive Director at HBD, said that "each building at KAMPUS has its own distinct character".
"Whether you fancy living in a rooftop village with unbeatable views across the city or an exposed brick loft is more your thing, we've got something for everyone," he explained.
"There'll be loads of places for you to meet your neighbours. As KAMPUS grows you'll find independent shops, bars and eateries by the lush garden.
"You can catch a film in the rooftop cinema, host a dinner party or have drinks in the lounge or join in a yoga class on the terrace. We've even got the Bungalow – an ex-security cabin on stilts overlooking the canal which is our village hall."
Liam McGroarty, co-Founder at YOUTH, said his company designed KAMPUS interiors to "make them to feel like home".
"The design is understated with simple details," he explained.
"Wall colours that add warm tones, floor colours that don't dictate what you do with the space, furniture made from natural materials. It's not a white box, but neither is it too much.
"You bring your own style."
KAMPUS apartments are described as having 'no deposit or hidden fees'.
The complex is pet-friendly with a 24-hour on-site team and superfast broadband access.
Tenancies are available from 12 months to 3 years.
Prices begin at £1,125 for a 1-bed apartment and £1,605 for a 2-bed.
Apartments in North Block are available to view from April. To book a viewing visit the Kampus website.