News
Greater Manchester Police speaks out on 'concerns' of crowds gathering at Platt Fields Park
"What might seem like an innocent outdoor gathering, could lead to the spread of the virus".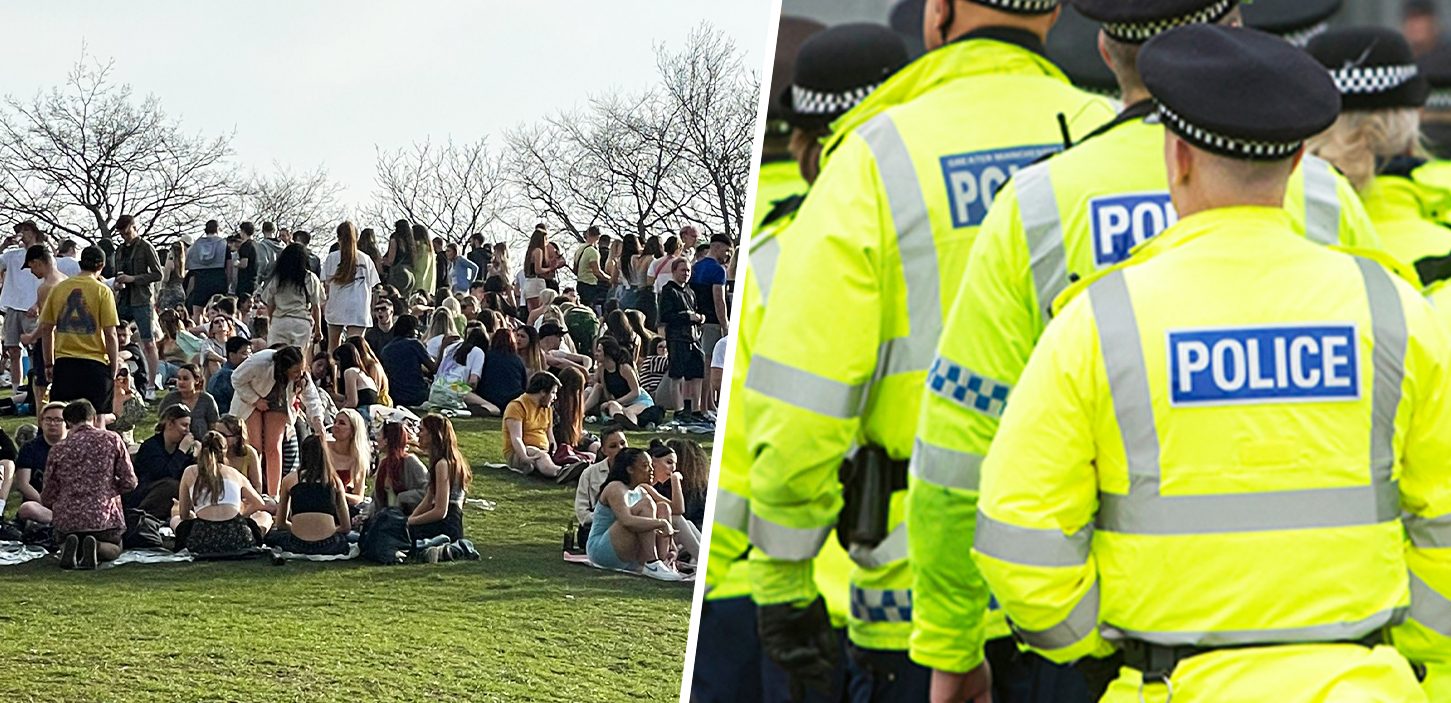 Greater Manchester Police has issued a statement addressing the "concerns" it has around crowds gathering at one of the city's most popular green spaces.
As the region has been blessed with uncharacteristic warm weather over the past couple of days, with the sun shining and temperatures reaching the high teens, people flocked to Platt Fields Park in Fallowfield to make the most of it.
Images of hoards of crowds gathered were seen posted to social media.
Although it still remains unconfirmed, police estimated that up to 3,000 people could have gathered there on just Tuesday alone, as the mini heatwave saw crowds continue to grow throughout the day.
These scenes came after the second phase of 'Step One' in the government's roadmap to lifting England's current national lockdown commenced this Monday – with the end of the 'stay at home' order, the return of the 'rule of six' for outdoor meeting, and the resuming of outdoor sporting activities among the measures introduced.
After images and footage of crowds gathering began to emerge, many local residents took to social media to express their opinions.
Opinions were voiced from a number of perspectives.
While many pointed out that the gathering of socially-distanced groups is permitted now that up to six people from various households can meet outside, others were not suitably satisfied that necessary restrictions were being stuck to.
Most of the complaints and issues voiced by local residents at The Manc audience alike, however, were in relation to the litter strewn across the park that was left behind by revellers.
Amongst the piles of litter were said to be beer bottles, canisters and disposable BBQs.
Now, officers from Greater Manchester Police's Fallowfield, Withington, Levenshulme & Burnage team have spoken out about the concerns raised in a statement issued yesterday afternoon.
Superintendent Richard Timson said: "Following the upturn in weather, we have received reports of large groups of people gathering in Platt Fields Park in Fallowfield.
"We continue to work in line with the 4 Es, so engaged and explained to those who were believed to be in breach of the current COVID restrictions, and no FPN's were issued.
"Despite the easing of rules earlier this week, restrictions remain in place… [and] this is to ensure the reducing infection rate does not, once again, rise and mean that the lockdown period has to be extended further than the dates already provided.
"We understand that people will want to head outdoors to parks and other public spaces to enjoy the weather – especially those that don't have access to a private garden – and that the continuing restrictions can be difficult and discouraging, however, what might seem like an innocent outdoor gathering could lead to the spread of the virus".
He continued: "It is also important to be mindful of those around you, and the local communities.
"We have all sacrificed so much as a result of the restrictions, and we don't want all this to be undone. We want everyone to be able to enjoy the easing of restrictions, but we must do so in line with the current rules, and as not to let those few who have complete disregard for these to ruin it for others.
"Over the coming weeks on warmer days and lighter evenings, please avoid gathering outside in groups of more than six people (from separate households) or two different households (linked households are counted as one).
"Fines are still being issued for people who those that show a blatant disregard for the regulations.
"We'd like to thank the vast majority of people who continue to follow the restrictions in place – it's really important we all continue to work together to keep our communities safe and ensure we can continue with the further easing of the restrictions".
Elsewhere across Manchester, reports of large crowds gathering at Castlefield Bowl in the city centre yesterday evening began emerging, with footage posted to social media showing hoards of people sing and dancing on the concrete steps, while a live DJ and soundsystem played popular dance tunes.
Speaking on social media last night, one local resident said: "There is currently an actual DJ set at Castlefield Bowl. I wish I was joking."
It's believed that around 10.20pm, police began breaking up the party.
Witnesses said the crowd dispersed fairly peacefully, apart from some throwing laughing gas cannisters and shouting insults at the police.
Greater Manchester Police is yet to issue a formal statement on this matter.
___
For the latest information, guidance and support during the coronavirus (COVID-19) pandemic in the UK, please do refer to official sources at gov.uk/coronavirus.

Featured Image – Twitter (@NickGarnettBBC) / Greater Manchester Police