News
Kitten dies after entire litter is dumped in airtight box in Manchester park
They were left crammed into one box with no air holes.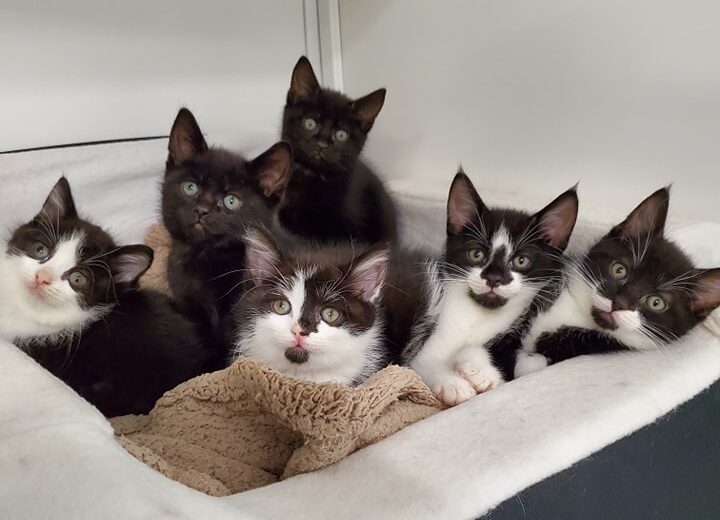 A local animal shelter has shared horrific details of a litter of kittens being dumped in a Manchester park.
The seven tiny cats were left in an airtight plastic box with their mother in Debdale Park, where they were discovered by a dog walker.
Tragically, one of the eight-week-old kittens had to be put down after he started suffering seizures believed to be caused by the lack of oxygen in the container.
The box the animals were dumped in was taped shut, with no holes to breathe.
Millstream Animal Shelter in Oldham named the six remaining kittens after the Game of Thrones dragons – Balerion, Vermax, Syrax, Tessarion, Vermithor and Sunfyre.
Millstream posted on Facebook: "These adorable kittens with their mummy were Dumped in Debdale Park. Hidden in bushes all of them crammed into 1 plastic box with the lid taped down and no holes to breathe. Luckily a kind member of the public found them and brought them straight into us.
Read more: Rashford explains heartbreaking reason behind his celebration after wonder free-kick against Wales
"We assessed them all and unbelievably they were all healthy and in good condition, sadly apart from one little boy who soon after started fitting. We rushed him straight off to the vets, where he had further seizures and heartbreakingly died."
All of them have now found loving new homes.
The shelter also told the Manchester Evening News: "It's awful. The mother was traumatised and needed a lot of love and coaxing when brought to us, and if they hadn't been found they would have all died.
"It's absolutely sickening and needs bringing to attention that people would kill their pets than bring them into shelters."
You can find out more about Millstream Animal Shelter, make a donation or buy items from their Amazon wishlist here.
Featured image: Millstream Animal Shelter
The Debdale Park Dumping
UPDATE
ALL KITTENS ARE NOW RESERVED.

😭
So we've now got these 6 cuties ready for homing Next Weekend.
They are 8 week old.
We have 3 females and 3 males.
Syrax black and white female
Sunfyre black female
Tessarion black and white female
Balerion black male
Vermax black and white male
Vermithor black and white male
They are all confident friendly well handled and socialised
A real sweet lovely cute family of kittens.
They can go in any combination.
Any kitten that goes by themself Must Go where there is an existing friendly cat if Not where someone is home Most of the time.
They should be OK with children 6 years old plus used to cats.
If you think you can give any of them the right home please ONLY Private Message us on here with details of Yourself Family and Home and any other pets you may have.
You Must be ready to adopt Next Weekend and Not Due to Go Away Anytime Soon.
The adoption fee is £70 for one and £120 for a pair Cash Only
They are flead and wormed.
Thanks