News
Manchester Remembers raise over £35,000 for Arena charities thanks to 2023 match
Manchester showed up for their own as they always do and we couldn't be prouder.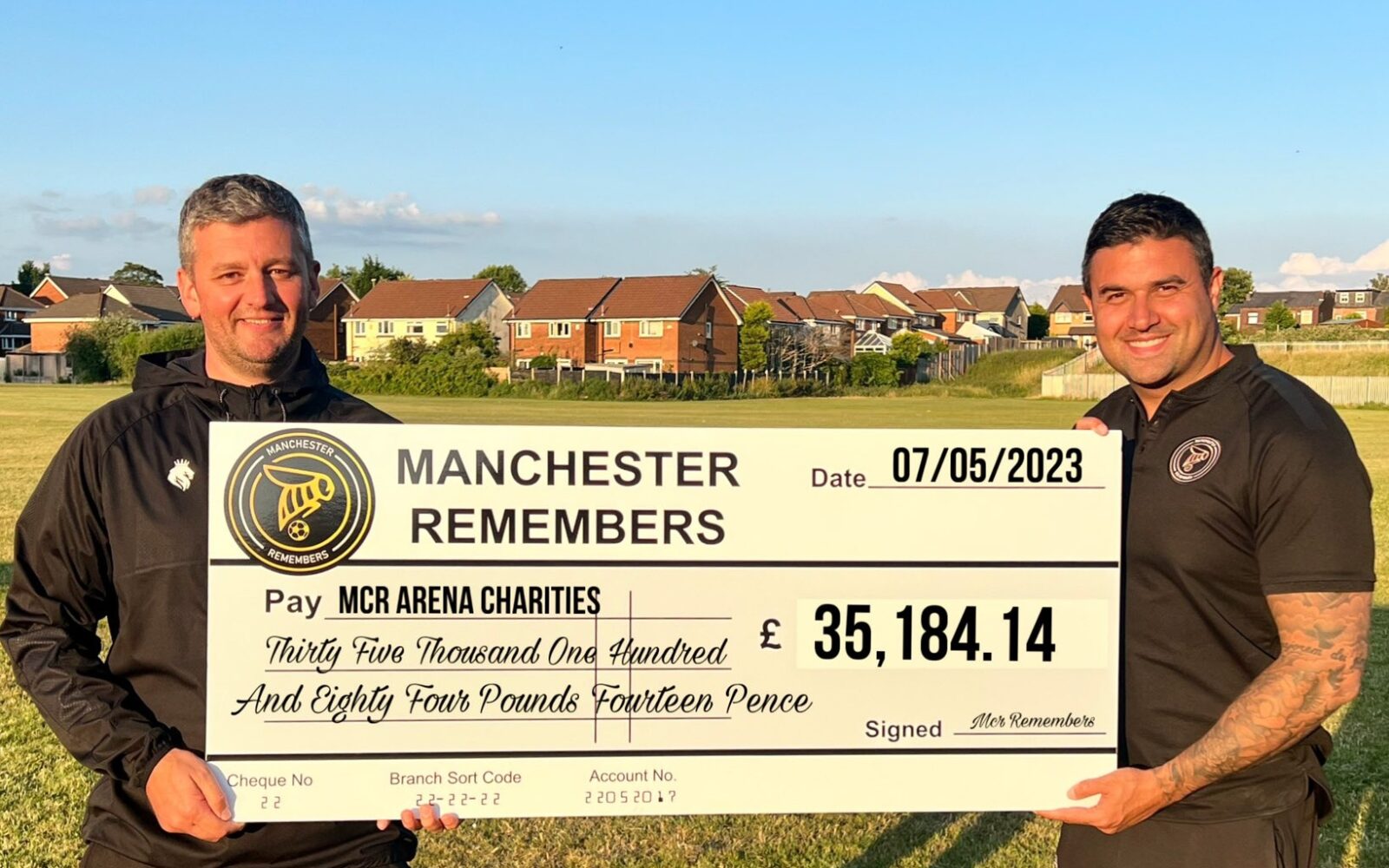 Manchester Remembers have managed to raise over a whopping £35,000 thanks to this year's charity football match. Incredible stuff.
The charity match set up to raise money for organisations supporting the families of the Manchester Arena victims has now become an annual occurrence and following the 2023 exhibition back in May, those who participated as either a player or a spectator helped bring in over £35k in donations.
Playing at Oldham Athletic's Boundary Park stadium in front of thousands of Mancunians and high-spirited spectators cheering on the Celebs and the Legends in equal measure, the game might have ended 7-5 to the ex-pros, but the real winner on the day was Manchester without a doubt.
The two men behind setting up the event, Aaron Lee and Paul Corrigan, shared this update with their followers on Thursday, 22 June, showing their immense total of £35,184.14 in funds raised. A moment to be proud of.
All told, with this year's tally tacked on, Manchester Remembers has now raised well over £110k for charities associated with the 2017 Arena tragedy in just a few short years.
Speaking to The Manc, co-founder Aaron Lee said: "Myself and Paul would like to say a huge thank you to each and every person that helped bring the event to life. There are too many people to name individually but you all know who you are. To be able to hand over such a huge sum of money makes us really proud and we know the charities will use it to continue supporting young people to achieve their dreams in music, sports and the arts."
We are always blown away by how Mancs come together in times of struggle but to see our city and the surrounding Greater Manchester area continuing to offer their support for causes like this year after year is a testament to how this community always look after their own.
The money is split equally between five different local charities, including The Megan Hurley Foundation, Liv's Trust, Chloe & Liam Together Forever Trust, Eilidh's Trust and the Remembering Nell Foundation. In case you missed it, here's a little glimpse of how the day went down and what you missed.
Read more:
With sporting legends like Danny Simpson, Ricky Hatton, Wes Brown and more turning up to have a kickabout, not to mention celebrities like Jason Manford, Lloyd Griffiths, Danny Miller and countless others, the word really is getting out about this game.
With a growing reputation, numerous famous faces showing up each and every year and the cause being as special and important as ever, we guarantee the 2024 Manchester Remembers charity match will be even bigger — just make sure you're there.
Big up every single one of you who attended or simply donated on the day and it goes without saying that wholeheartedly recommend grabbing yourself a ticket for next year.
We will always remember them.
For all the latest news, events and goings on in Greater Manchester, subscribe to The Manc newsletter HERE.
Featured Image — Manchester Remembers (via Twitter)