News
Mancs swim in a flooded subway as Salford water main bursts
Fully rate the guy doing proper lengths.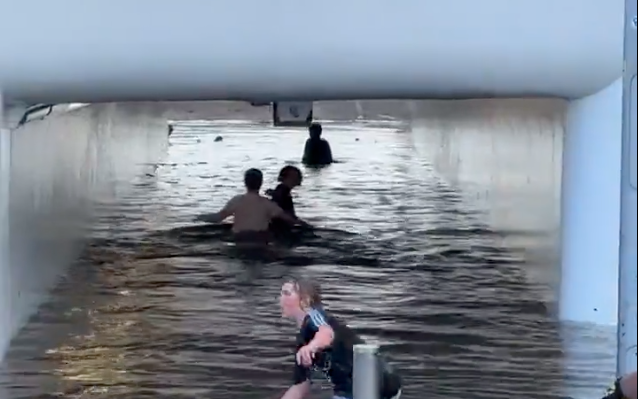 Mancunians are obviously our favourite kind of people and when we see images of them doing daft stuff like swimming in a flooded subway like it's an Olympic swimming pool, we love them even more.
These were the scenes just down the road in Salford near the Regent Road Roundabout and the M602 on Thursday, 15 June after a water main burst in the day and kept pumping waves into the nearby subway.
It's as yet unclear what caused the burst pipe but it continued well into the evening and turned the pedestrian passageway into a makeshift swimming pool, but it came just at the right time as Manc baked in the 26C heat.
There's nothing quite like Brits in the summer.
Read more:
As you can see, this wasn't just a trickle of water or a bit of a 'big puddle', the ended up filling the flooded Salford subway more than halfway up the height of the wall, so much so that an entire crowd of Manc kids could swim in it and cool off.
We have the utmost respect for the man doing full-on lengths at 11 o'clock at night.
It's not even the first time this has happened, either, as a local commented that "this happens every year all over the area as kids who have a stolen tool open the hydrants", adding that it's now "an annual hot weather event" and the response time is "criminal" — it's giving proper Shameless vibes.
We regret to inform you that United Utilities were sent out to fix the burst pipe as we were secretly hoping for more videos like this and we could do with somewhere to go and cool off, to be honest.
Featured Image — @jacobbmc2/@TEMPMCR (via Twitter)