News
Motorists told to brace for traffic surge this week due to national rail strikes
Many commuters are expected to "give up on trains for the whole week" and hit the roads.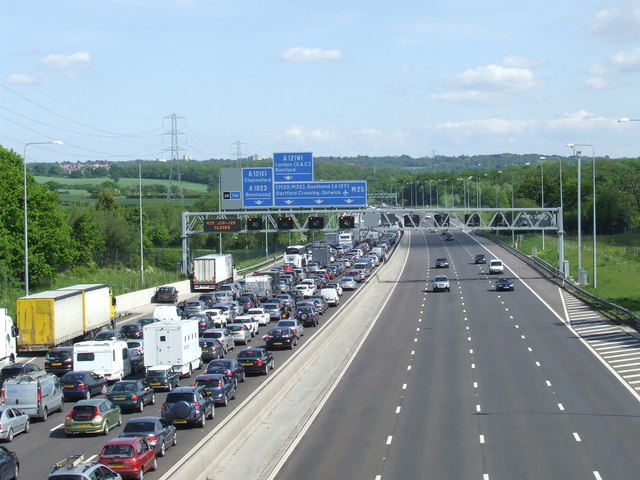 Motorists are being told to expect a surge in traffic on roads across the UK this week as a result of the biggest national rail strike in decades.
The AA has today issued a warning to all drivers that they are likely to face long queues as most railway lines will be closed during the industrial strike action on Tuesday, Thursday, and Saturday as workers take part in what is the biggest walkout in the industry for more than 30 years in a row over pay, jobs, and conditions.
It's believed that the worst-affected roads are likely to be main motorway arteries, according to the AA, as well as rural and suburban areas.
Scotland and Wales are expected to be the worst hit out of the nations, with the M74, M8 and A9 in Scotland predicted to see severe traffic, and the M4, A55, A5, and A483 in Wales also affected, according to the AA.
Read more: Railway workers vote overwhelmingly in favour of 'biggest strike' in decades
Even through the rail strikes are only set for Tuesday, Thursday and Saturday, delays and cancellations also look likely on Wednesday, Friday and Sunday too.
Many commuters are therefore expected to "give up on trains for the whole week".
RAC spokesperson Rod Dennis said an impact on the roads was "inevitable", and the walkouts mean it's little wonder so many Brits are dependent on their vehicles.
He added: "Major city routes as well as those serving the home counties are likely to see some of the biggest increases in traffic volumes as, even if rail lines are still open, there will be significantly fewer trains running."
The RMT Union officially confirmed earlier this month that over 50,000 railway workers will walk out on 21, 23 and 25 June due to what is said to be the "inability of the rail employers to come to a negotiated settlement" with RMT.
It comes after 71% of RMT 40,000 members took part in a vote, with 89% voting in favour of strike action and only 11% voting against it.
Read more: Rail workers to 'shut down the system' with national three-day strike this month
The RMT Union said the strike action is because Network Rail and the train operating companies have subjected their staff to multiyear pay freezes, and plan to cut thousands of jobs – which will make the railways "unsafe".
Members of the RMT Union at Network Rail and 13 train operators – including Northern and Avanti West Coast – will subsequently strike this week, with only around one in five trains expected to be running.
Last-minute talks between unions and rail bosses will continue today.
But it's been revealed that no government representative will be there for the negotiations, and union leaders have accused the government of "abjectly failing" in their responsibilities and "inflaming tensions" over the rail dispute.
TUC General Secretary Frances O'Grady said: "The government has the power to help end this dispute but rather than working in good faith to find a negotiated settlement, ministers are inflaming tensions and trying to pitch worker against worker… [when they] should be getting people around the table to help agree a fair deal."
She said nobody takes strike action lightly, but insisted that rail staff have been left with "no other option".
"Many rail staff who will be hit hardest, such as caterers and cleaners, are on low and average earnings [and] it's insulting to ask them to take yet another real-terms pay cut when rail companies took £500 million in profits during the pandemic," she continued.
"If these cuts go ahead, thousands of safety-critical and frontline jobs will be lost.
"We need a better vision for the future of rail than commuters packed on unsafe trains like sardines."
Featured Image – Malc McDonald (via Geograph)