News
Peter Kay wants to do a Phoenix Nights film and has already written multiple Max and Paddy Christmas specials
20 years later and we could be seeing more Brian Potter after all.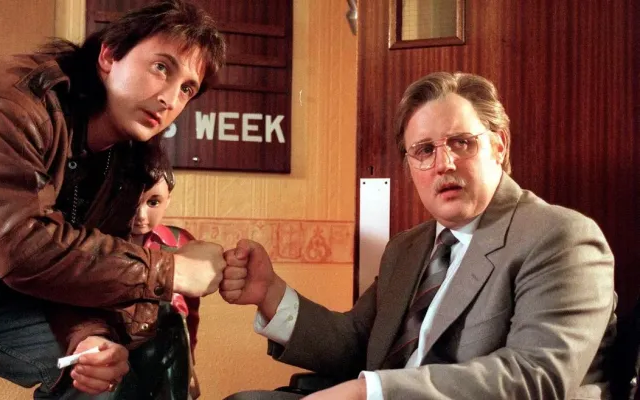 Comedy legend Peter Kay has revealed that he wants to revive Phoenix Nights in the form of a feature film and has been writing down ideas for years.
Writing in his upcoming memoir, TV: Big Adventures on the Small Screen — which releases on Thursday, 28 September this week — Kay has confirmed that he's been workshopping possible ways to do it ever since the hit show ended in 2003.
As per multiple outlets who got their hands on extracts from the follow-up to his best-selling autobiography from 2007, The Sound of Laughter, the Bolton-born comic, actor and writer says: "I still write down ideas.
"I had an idea only today of Brian getting Young Kenny [played by fellow Manc funnyman, Justin Moorhouse] to paint an enormous letter 'H' on the roof of the club so he can advertise they've got a helicopter pad. The chance of a helicopter ever landing is, of course, zero." Kay also returned stand-up at the AO Arena this weekend.
The 50-year-old goes on to write that, "As the years pass, I'm becoming more like Brian, but if Phoenix Nights rose again it'd have to be for something very special, maybe a film? Perhaps Brian could get visited by three ghosts. Now, wouldn't that be an idea?"
It's worth noting that this isn't the first time Kay has floated the possibility of a feature-length Phoenix Nights comeback, having told producers that a script was 'ready to go' back in 2011 around the same time and success of The Inbetweeners Movie.
In fact, a few years later in 2017, he told BBC Radio Manchester that he'd "love to go back" to the series and said, "There's a whole series three been written for about 15 years" but insisted that other projects and real-life simply gets in the way. As for whether this was turned into a film script, who knows?
Furthermore, the sell-out standup (whose return to the stage broke records and the internet late last year) shed even further light on the show's spin-off, Max & Paddy's Road to Nowhere and its potential return for a Christmas special or two. In fact, co-star Paddy McGuinness talked it up earlier this year too.
Read more:
He detailed how a script he'd written revolved around the two bouncers as "overly aggressive" elves working in Santa's grotto.
Like his lifelong friend Peter, McGuinness insisted he's always been keen to bring the equally popular comedy duo back and has said in the past that there's "always talk about doing another one", but that the issue is simply "time" and "getting everyone together".
We're keeping everything crossed that the time is just around the corner.
For all the latest news, events and goings on in Greater Manchester, subscribe to The Manc newsletter HERE.
Featured Image — BBC/Channel 4