News
Watch as one of Manchester's most iconic landmarks turned into a 'living statue' today
An extremely poignant message.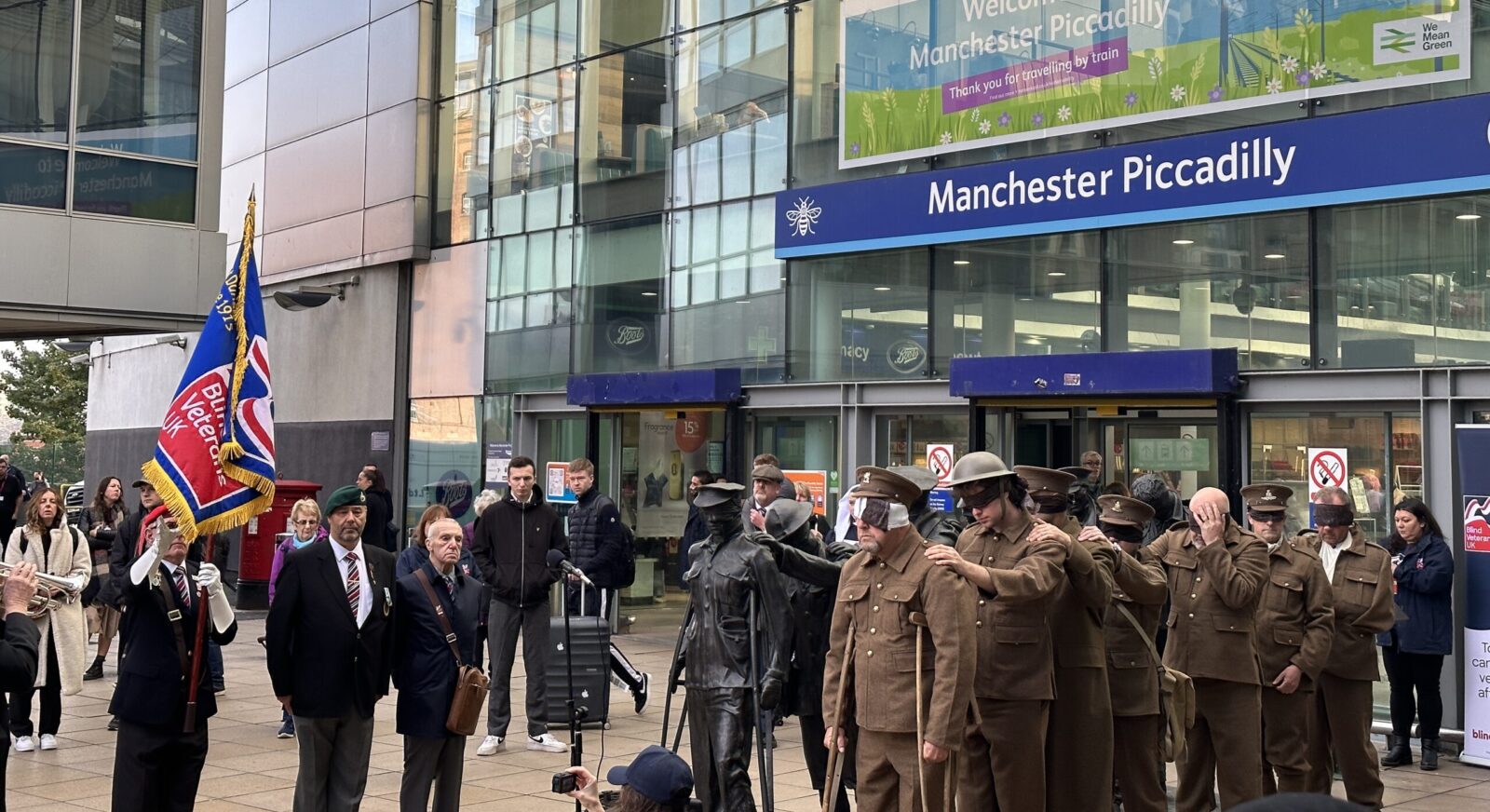 In what was a genuinely touching moment earlier on today, one of Manchester's most iconic cultural landmarks came to life.
Well, not quite – but it was recreated in a way that made for a truly sombre sight.
Stopping commuters in their tracks and drawing in crowds of on-lookers in their dozens just after 10:30am this morning, a military charity took the unique and memorable approach of marking the anniversary of a statue it installed in Manchester city centre five years ago with a special "living statue" display.
If you've been to Manchester Piccadilly station before, then there's a good chance you've come across Victory Over Blindness before.
We're of course talking about the bronze sculpture outside the front of the station that depicts seven life-sized soldier figures wearing blindfolds and guiding one another – which has been well-received by many for its "moving" subject matter since it was first erected back in October 2018, and has been described as "striking" for its interaction with passers-by at eye level.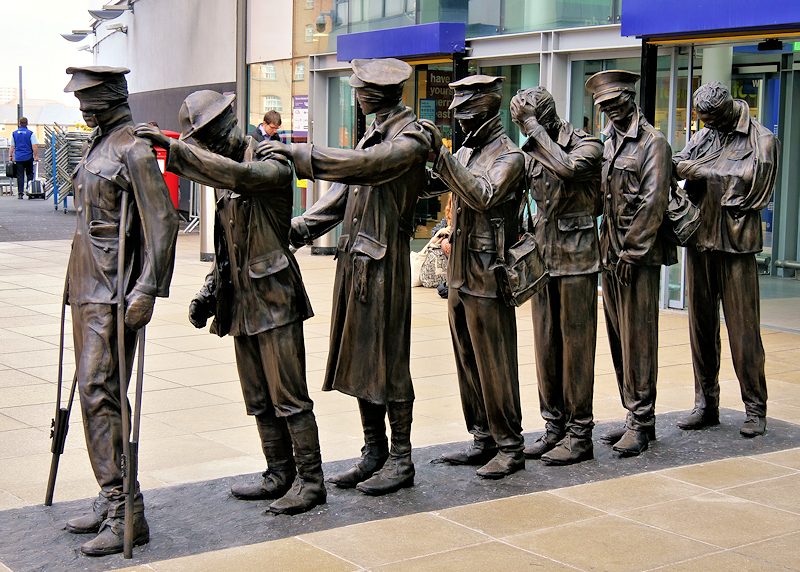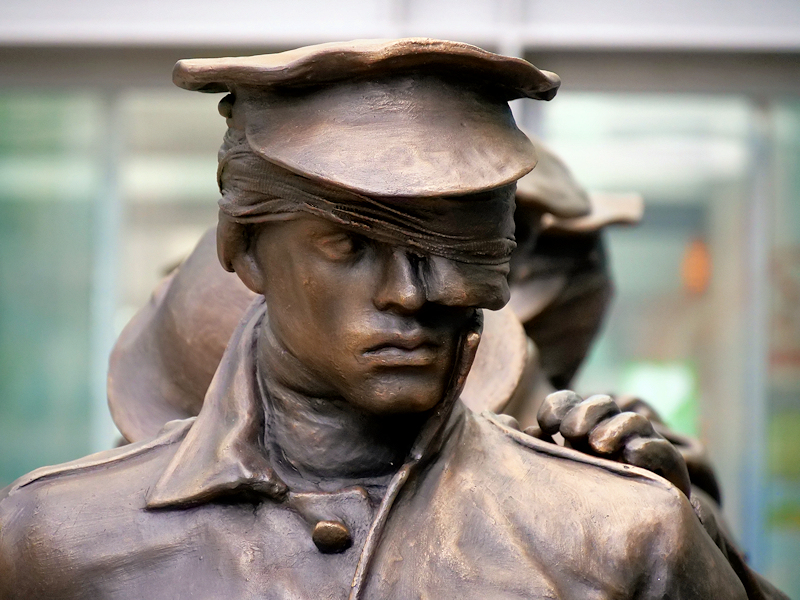 The now-iconic statue was unveiled half a decade ago by Blind Veterans UK – a national charity supporting the thousands of vision-impaired ex-Service men and women nationwide – to commemorate 100 years since the end of the First World War, but also serves as a monument to all the veterans the organisation has supported since then too.
The industrialised nature of WWI – which lasted from 1914 to 1918, and saw the deaths of an estimated 886,000 British and Commonwealth military personnel, as well as countless more injured – made for unfathomable human suffering.
Around 30,000 of the wounded were discharged with damaged or defective eyesight, and of these, 3,000 were left permanently blinded.
Blind Veterans UK was then founded in 1915 in a bid to support those 30,000.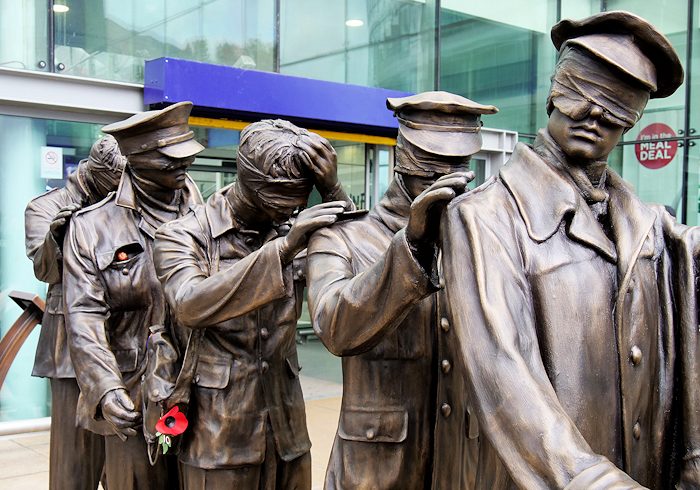 The sculpture's name, Victory Over Blindness, was a phrase used by the charity's founder, Sir Arthur Pearson, and it's a phrase the organisation says continues to guide its principles to this day.
Conceived and designed by artist and sculptor Johanna Domke-Guyot, as mentioned, the sculpture shows seven blinded soldiers leading one another with their hands on their comrades' shoulders – and this was exactly how it was recreated today.
After a symphony of trumpets and bagpipes sounded, the 'living statue' of actors dressed in WWI uniforms then made their way through the station and on throughout city.
Blind Veterans UK said it not only chose to recreate the sculpture as a 'living statue' today to mark the fifth anniversary of its installation, but also to highlight to that, although it currently supports thousands of blind veterans across the country, it knows there are thousands more who still need help to rebuild their lives after sight loss.
The charity hopes the 'living statue' display today showed the Greater Manchester public going about their day how important its support can be.
Read more:
Know someone who served in the Armed Forces and is now struggling with sight loss? You can get in touch with Blind Veterans UK on 0800 389 7979 or via its website here.
Featured Image – The Manc Group