Sport
Calls for Aleksandar Mitrovic to receive '10-match ban or more' following United vs Fulham chaos
Fulham fully lost their heads following the penalty decision — none more so than Mitrovic.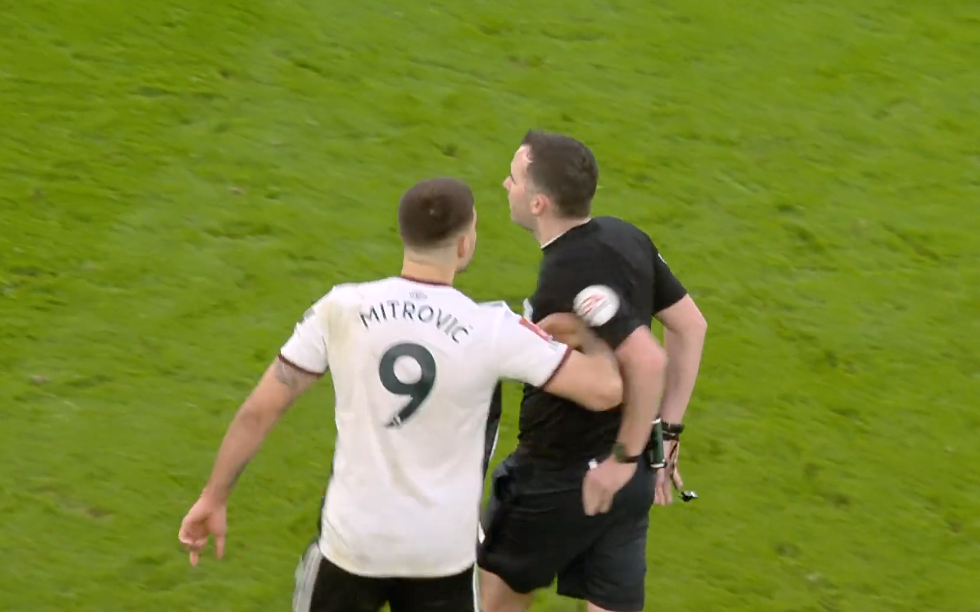 Figures inside the FA and beyond are calling for Aleksandar Mitrovic to receive a lengthy match ban of potentially 10 games or more following his conduct in the Manchester United game on Sunday.
Man United progressed to their second semi-final of the season with a 3-1 win over Fulham at the weekend, however, the win didn't come without controversy as the home side were awarded a tide-turning penalty which the visitors didn't take too kindly to.
After winger Willian saw a straight red card for handball, blocking the shot of Jadon Sancho's goal-bound shot, tensions were already rising before Mitrovic's protests saw things reach boiling point and dissent quickly spiralled into the Serbian raising his hands to referee Chris Kavanagh.
The decision that came after was of little surprise.
As you can see, the chaos that ensued after saw players running the length of the pitch either to back up their teammates or try and help diffuse the situation, not to mention substitutes and coaching staff getting involved.
Everyone else was lucky to walk away without a suspension of their own but as for Mitro himself, both refs and ex-pros are recommending that Fulham forward receive a 'lengthy ban', with the likes of Chris Sutton insisting, "He saw the red mist. That's no excuse, you do not lay your hands on an official. In my opinion, the player should get a 10-match ban".
Sutton went on to suggest that scenes like "impact further down the chain at grassroots level. There will be kids watching the game today who think, well if Mitrovic can do it, so can I."
On the other hand, he did also add the caveat that he felt United midfielder Bruno Fernandes should have received the same punishment for putting his hands on a linesman in their 7-0 shocker against Liverpool in the league.
But it wasn't just the pundits who thought a hefty penalty should be incurred, as former referees' chief Keith Hackett echoed his statement; current head of the Referees' Association, Paul Field, said "I hope it's more than 10 games", with Paolo di Canio's 11-match ban for shoving Paul Alcock in 1998 cited.
Grassroots ref Simon King said, "I was stunned. The stalking and intimidation, having to be forcibly dragged away… It's quite frightening that happens at the top level."
As for manager Marco Silva — who is also being investigated for his own misconduct during the match — he told reporters after the game that he saw the altercation and will speak to Mitrovic over "control his emotion", but is urging "fairness" from the FA.
Silva said he was sent off for leaving his technical area and verbal abuse while Kavanagh went to view the VAR replay during the penalty, but he is also alleged to have thrown a water bottle at the assistant referee during the commotion.
Read more:
The Portuguese coach went on to state that his club have had difficulty with this particular ref all year, arguing that they have been "unlucky with him this season" and "it is difficult to understand some of the decisions", alluding to their own handball shouts against West Ham in the Premier League.
Should Mitrovic serve a 10-match ban or more, or is the whole thing being blown out of proportion?
You can watch the highlights of Manchester United vs Fulham in full down below:
For all the latest news, events and goings on in Greater Manchester, subscribe to The Manc newsletter HERE.
Featured Image — Manchester United/Fulham FC (via Twitter) ITV Sport (via YouTube)