Sport
Manchester United fans are loving Marcel Sabitzer's 'cold AF' response to FA Cup drama
The Austrian midfielder also scored his first goal in a United shirt during yesterday's Quarter Final clash against Fulham.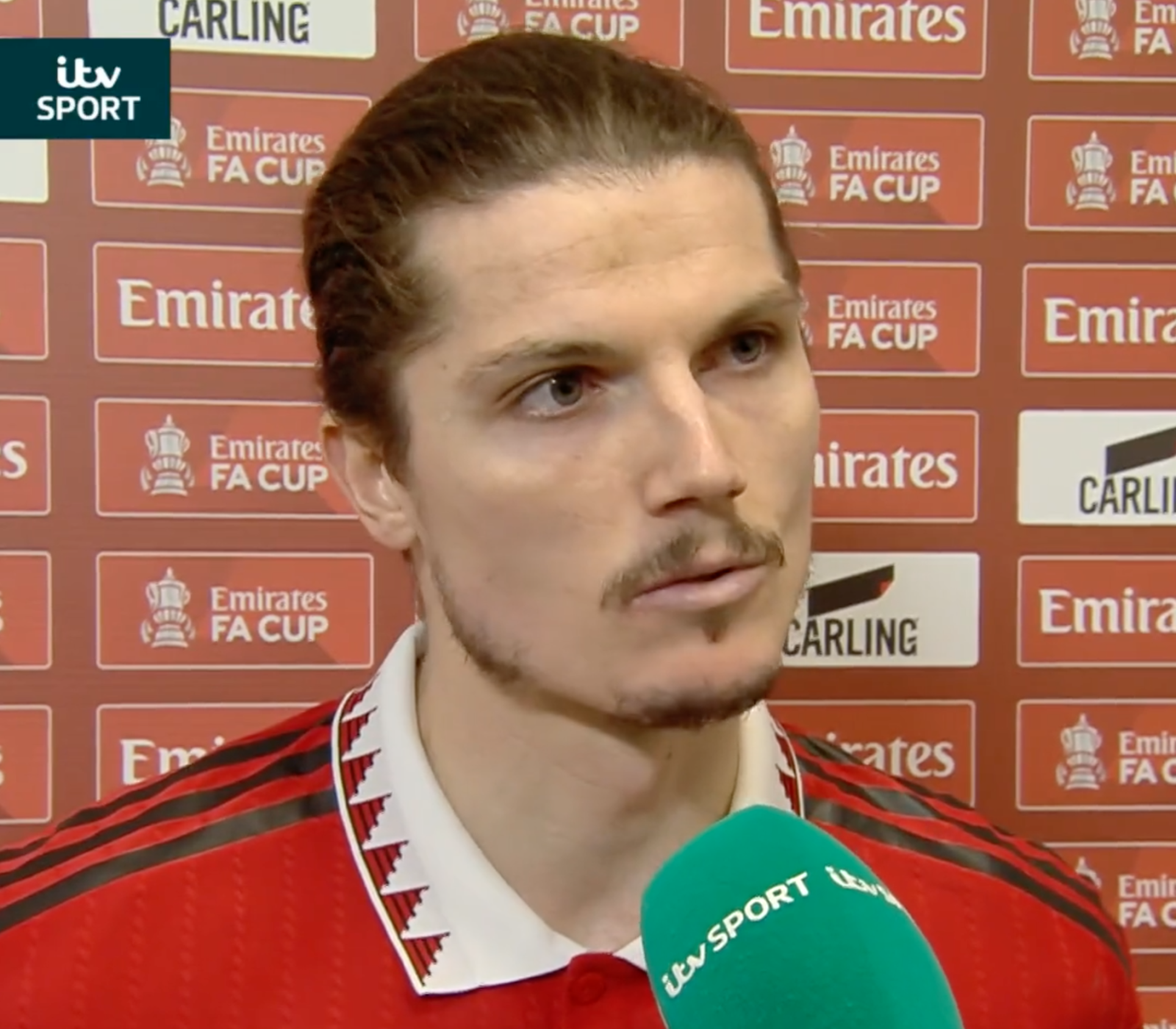 Manchester United fans are absolutely loving Marcel Sabitzer's "cold AF" response to a post-match interview question yesterday.
Following what can only be described as a dramatic 90-minutes for the Red Devils against Fulham yesterday in the Quarter Finals of the FA Cup, the Austrian midfielder was asked by reporters to give his take on the match – which saw three straight red cards given and a brawl break out, all before he netted his first goal for the club.
The 29-year-old – who was signed on a loan from Bayern Munich until the end of the 22/23 season – was asked by ITV Football's Gabriel Clarke in his post-match interview whether or not United won the game, or rather if it was a case of Fulham losing it.
And his "straight-talking" response to the question has seen supporters calling for him be signed on a permanent deal.
It all came after a late second-half meltdown at Old Trafford, where Fulham winger Willian was first sent off for a handball on the goal-line in the 72nd minute, before Fulham goal-scorer Aleksandar Mitrovic then started squaring-up to the referee, and several other players subsequently joined in leading to an on-pitch commotion.
Mitrovic was also shown a straight red card shortly after, as was Fulham manager Marco Silva for dissent.
Sabitzer then scored his first goal in a United shirt quickly after in the 77th minute.
After speaking on the game as a whole, when the reporter asked whether it was United that won or Fulham who lost, the midfielder shrugged his shoulders and said with a completely straight face: "We won it. Why not?
"We scored three, they scored one. We concentrated and were focused.
"I think we deserved the win.
"We had some chances that we missed. Second half, we were 1-0 down, but, as I said, we came back and that's the important thing."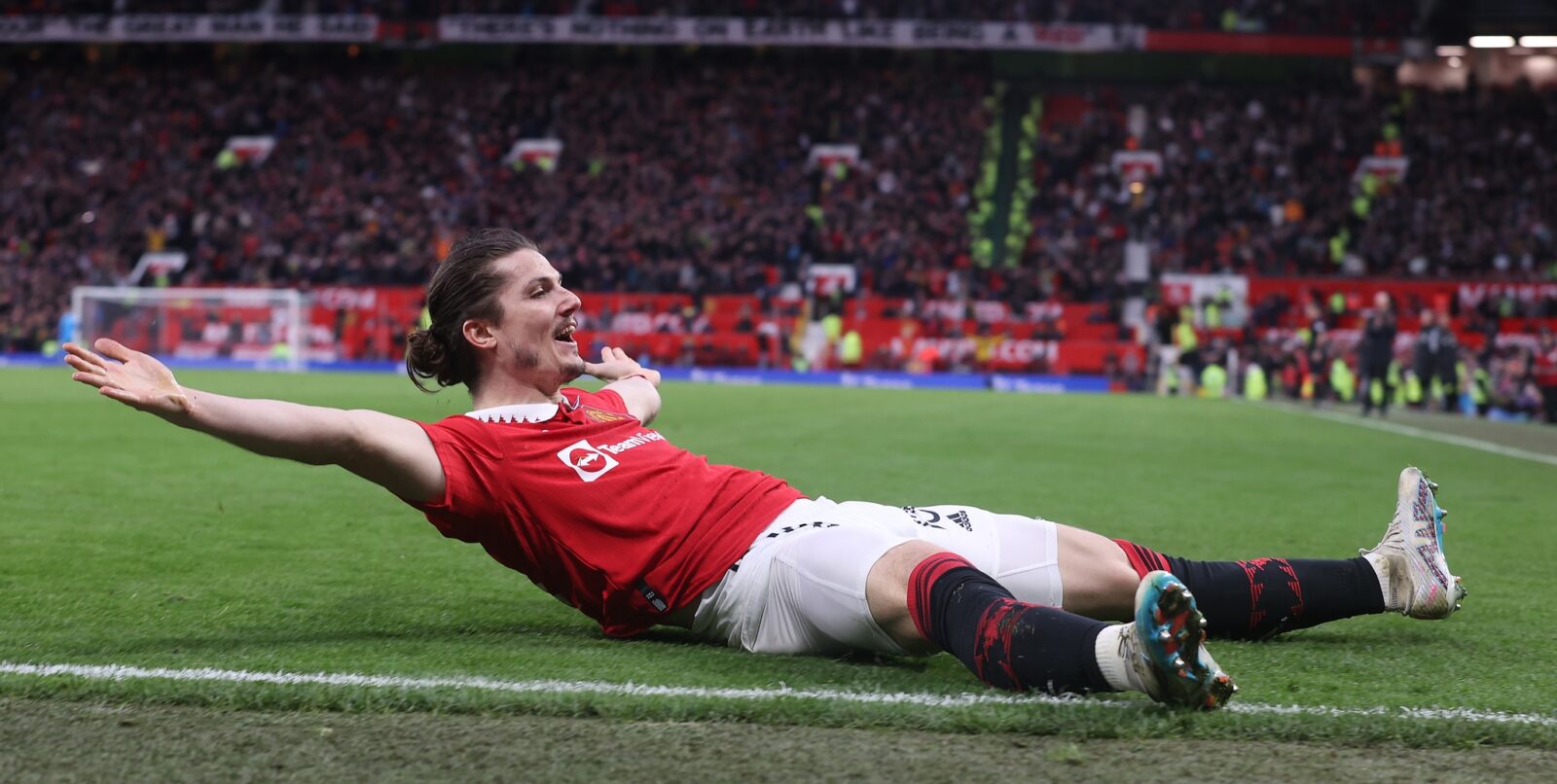 The Austrian international's answer to the reporter's question has seen United supporters heap praise on him, taking to social media after the match to urge the club to sign him on a permanent deal after his loan ends at the close of the current season.
"The way he said "we won it". Absolutely love this guy," one fan said on Twitter.
"Sign him for this interview alone," another United fan said on Twitter, while a third added: "Cold AF. Love it," and a fourth commented: "Love how Sabitzer handled this interview despite the usual moronic questions."
Another fan added on Twitter in response: "Sabitzer interview brilliant. For the goal and interview alone he has to be a red next season."
Sabitzer also spoke to Manchester United's official MUTV channel after the match and described his first goal for the club as "massive" for him.
"I was overwhelmed," he admitted.
"Scoring the first at Old Trafford in front of these amazing fans. And that important one, at 2-1 it was a massive one. I am very happy at the moment. I couldn't reach it with the right foot, so I was just trying to hit it with the left foot and it worked out."
"It's massive win," he continued. "We wanted to go back to Wembley, we did it. 1-0 down was tough, but we come back and it was a good one."
With the prospect of another trophy on the horizon as United head to Wembley for the second time this season in the FA Cup Semi Final, Sabitzer said he's prepared for another clash in the capital.
"As I said, before the game we were very focused to go back to Wembley and we did it," he declared, "We know we are going to face a tough opponent, strong opponent. But we will prepare well for it and we will be ready to go to the final.
Read more:
"We will go there and win it and bring it on."
Featured Image – ITV Football