Sport
Video resurfaces of long-range wondergoal from Wythenshawe Town's Jordan Burton
An absolute beauty struck from an ungodly distance.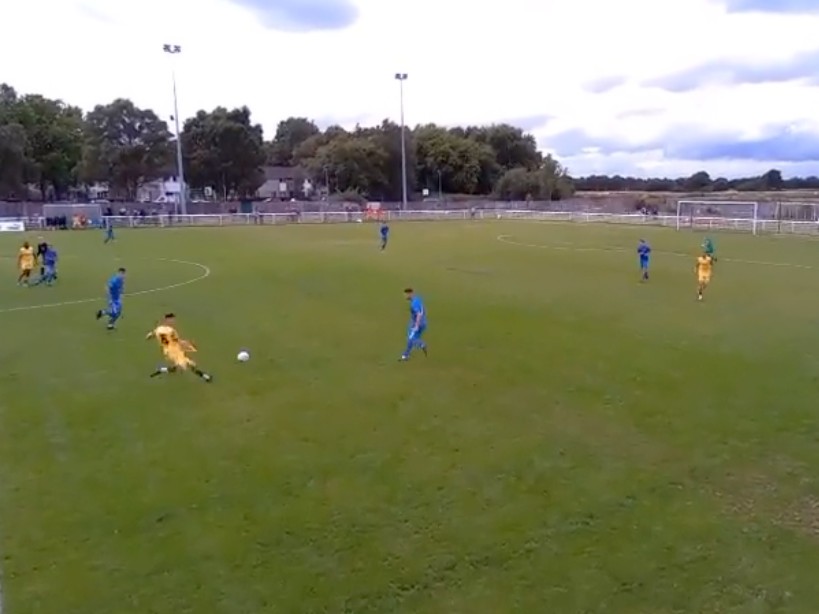 A clip of the wondergoal scored by Wythenshawe Town's Jordan Burton is doing the rounds on social media again and it's so delicious we just had to share it.
For anyone that didn't see it the first time around, back at the end of July, Wythenshawe Town FC were playing their first game of the season away at Irlam FC when midfielder Jordan Burton did this.
Keep it on repeat all day long.
As you can see, although it doesn't quite qualify as a screamer given – it's more of a floated, curling finish than it is hit with pace and power – it's still an absolute pearler.
While, yes, questions can be asked of the keeper who really didn't need to be that far off his line, to not only score this from such a range but to do so by cutting across it with the outside of your boot (a.k.a. a 'trivela') is rather ridiculous.
Here's another angle because why the hell not?
A slice of luck about it or not, you see many goals scored in non-league football as sweet as that. Well, unless you were watching another Wythenshawe side that day, apparently…
That's right, on the same day Wythy Town were playing their season opener, so too were Wythenshawe Amateurs FC (affectionately known as the 'Ammies') when Arron Hevingham scored this lovely long-range lob.
Literally scored minutes apart, you can watch the two stunning strikes here and argue amongst yourselves over which one was better.
If this isn't an advert for why more people should watch their local teams and Sunday league football more often then we don't know what is.
As it happens, it isn't the first time Burton has pulled one of these out of the drawer. Take a look at this other wondergoal he scored from distance for Middleton Town FC.
Someone get him signed up pronto.
Read more:
General amateur chaos and regularly barbaric tackling aside, we all have to start somewhere and there are some absolute ballers playing at every level across the Greater Manchester area.
For all the latest news, events and goings on in Greater Manchester, subscribe to The Manc newsletter HERE.
Featured Image — Wythenshawe Town FC (via Twitter)