Sport
Blackburn Rovers are being praised for 'breaking down barriers' with their matchday bus service, the Ewood Express
Absolutely brilliant.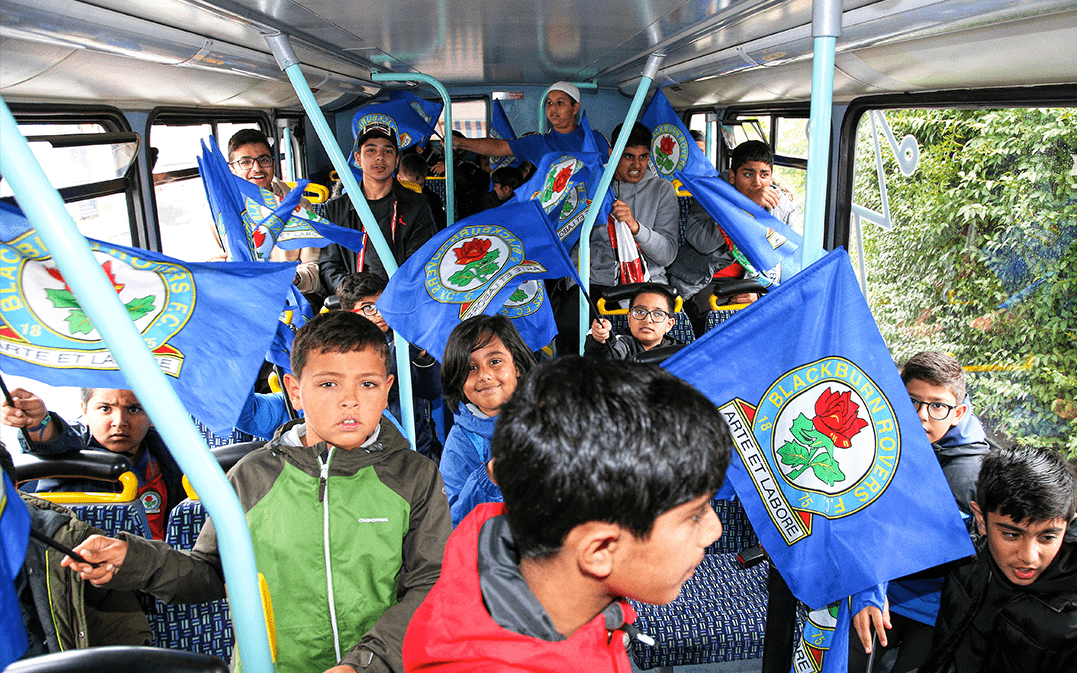 Blackburn Rovers' wonderful new matchday initiative is receiving high praise for helping young people get to the game on their special bus service.
The affordable matchday transport dubbed the 'Ewood Express' started back in February 2020 and as well as helping young fans travel to the stadium in time for kick-off, it is crucially helping those within the local BAME (black, Asian and minority ethnic) community attend games.
Blackburn's population is estimated to be at least 150,000 people and more than 35% of those living in the area are from a South Asian background. However, following a report by the club a few years back, it was revealed that attendances at Ewood Park were not fairly matching the town's rich diversity.
As a result of these figures and recognising the importance of trying properly represent and mirror the town's diverse demographic, Rovers wanted to make things better. All aboard the Ewood Express.
One of many ways the club has looked to develop inclusivity for BAME communities in the Blackburn and surrounding Darwen area is by setting up their now famous Ewood Express bus service.
Picking up young fans and locals from nearby schools, mosques, grassroots football clubs, other children's community groups and more, the special travel service makes it easy for fans to get to a game, with tickets to ride costing just £8 per child.
With bus and coach transport provided by the club, more than 3,500 children have been able to travel to Ewood Park and watch their team play — an outlet that many in the community never had access to before. Things you love to hear.
In fact, the scheme has been so successful that Blackburn even manage to bring its first delegation of young away fans to the Watford game back in February and with such a significant Muslim community, Rovers also became the first EFL team to host Eid prayers on the pitch in 2022. Simply wonderful stuff.
Read more:
Blackburn have also been applauded for actively promoting the use of their multi-faith prayer room on matchday for several years now, with Commercial and Integration Manager Yasir Sufi one of several figures spotlighted for helping implement these important initiatives at the club and in the community.
It's no wonder Blackburn won the EFL's first-ever Diversity Award last year and no doubt look to continue their incredible work for years to come.
Keep up the good work, Rovers.
For all the latest news, events and goings on in Greater Manchester, subscribe to The Manc newsletter HERE.
Featured Image — English Football League/Blackburn Rovers