Sport
Bruno Fernandes says Alejandro Garnacho's 'attitude' meant he had to wait for United chance
Despite breaking a 58-year-old record, United's stand-in captain hinted at why he's had to be patient up until now.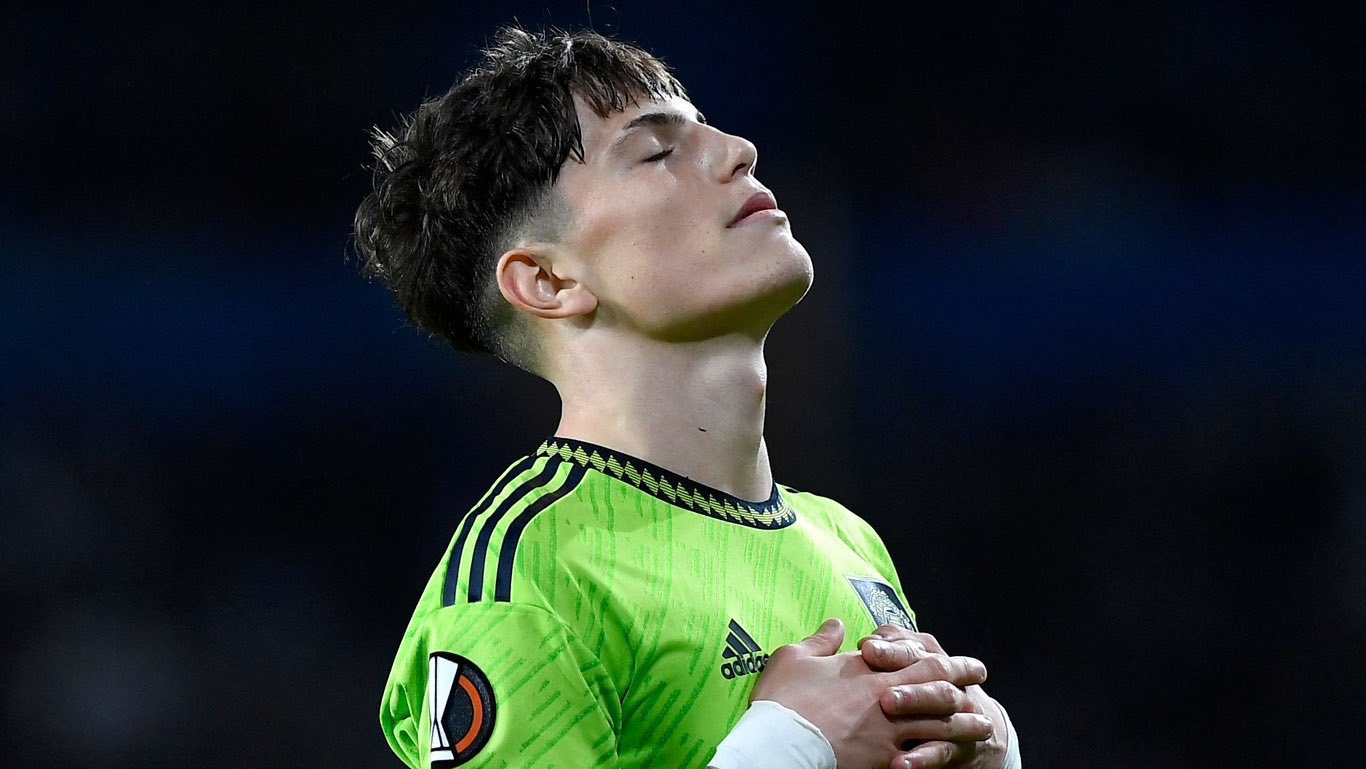 Manchester United failed to top their Europa League group despite a 1-0 win on Thursday night, but the main takeaway from the match was youngster Alejandro Garnacho's first goal for the club.
However, while fans and his teammates are no doubt elated for the teen finally getting minutes and a first goal to show for it, captain Bruno Fernandes had more to say on why he hasn't been used more thus far.
While youngster Rico Lewis broke his own record over on the other side of Manchester the day prior and was praised for his hard work by Pep Guardiola, it would seem that Garnacho's breakthrough into the first team has perhaps been more of a struggle.
Speaking to BT Sport after full-time, the 'Portuguese Magnifico' told reporter Becky Ives that the Spanish-born Argentinian youth "didn't have the best attitude" at the beginning of the season and, as a result, has had to wait for game time.
As Fernandes goes on to explain, he and others at the club felt the 18-year-old didn't apply himself in the right way on the pre-season tour but has since changed that, adding that "he's getting his chances now because he trains better… has a different attitude and is now he's deserving his chances".
Conversely, former player turned pundit Chris Sutton slammed the comments on BT, labelling them "totally unnecessary" and insisting that he "could've used different language" given manager Erik ten Hag is trying to create the impression that the club is "harmonious."
He wasn't the only one either as former Liverpool and Villa striker Dean Saunders said the midfielder's comments were "bang out of order" and he should focus on his own attitude.
Many fans have also agreed, with several commenting along the lines of, "Who does this guy think he is?" and "talk about throwing a young kid under a bus."
On the other hand, doesn't know what's going on behind the scenes and the Dutch coach himself has already revealed that he wasn't happy with fast forward earlier in the season, citing one incident involving untied shoelaces, specifically.
Regardless, it seems like Garnacho is now breaking into the team and bagging his first goal by breaking the record for the club's youngest non-English scorer in European football certainly won't have hurt.
Here's how he did it:
Read more:
Garnacho beat the one and only George Best by netting against Real Sociedad, aged just 18 years and 125 days. One of the legendary United trinity, Best's record had stood since 1964.
Once again, United failed to top the group as intended – requiring two goals on the night to do so – and will now have to face one of seven teams eliminated from the Champions League in a playoff round to progress in the competition.
The teams they could face following the draw on Monday, 7 November are Barcelona, Bayer Leverkusen, Juventus; RB Salzburg, Sevilla, Shakhtar Donetsk; Sporting Lisbon and none other than the ten Hag's former club Ajax.
You can just see the narrative playing out already.
For all the latest news, events and goings on in Greater Manchester, subscribe to The Manc newsletter HERE.
Featured Image — Alejandro Garnacho (via Twitter)