Sport
Footage of Old Trafford's roof leaking labelled a symbol of Glazers' neglect by Manchester United fans
The clip was taken from yet another defeat in this season but has been flagged before. When it rains it pours.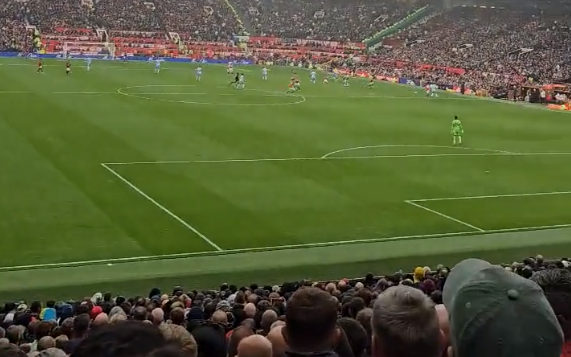 To add insult to injury following a fourth defeat in seven games this Premier League season (five in all competitions), footage of the Old Trafford roof leaking onto supporters' seats mid-match has gone viral as fans are labelling it a symbol of the Glazers' much-maligned ownership.
The clip in question was taken on Saturday, 30 September during Manchester United's 1-0 home loss to Crystal Palace — the same side they had beaten 3-0 in their previous Carabao Cup fixture — and shows fans sitting in the Stretford End having to grin and bear it as water drips all over them.
Old Trafford has received some renovations over the past couple of seasons, but they were mainly related to the installation of the digital ticket system, replacing doors after the infamous fan protests saw them invade the stadium, and updating the scoreboard with live added time — which pretty much every other team has also been given this season.
However, despite the stadium's leaking roof having already been raised as an issue by fans in recent years, it would appear that there have been little to no repairs made, as these lot unfortunately found out first-hand.
As you can imagine, social media was filled with Reds clearly disappointed but by no means surprised, commenting, "Scandalous this… The Glazers are using this club as their personal bank but no funds being spent on maintaining the roof", "this is a disgrace"; "How embarrassing! Yet our club is somehow worth multiple billions. Pathetic", and countless other replies to a similar effect.
Many have also noted that they had or are still experiencing similar in various other areas around the ground: "had the same in K stand last season, "same in the South stand"; one person even shared a video of a leak from inside the concourse (not the first time such footage has been shared).
Another went so far as to remark: "Unbelievable, all that success under Fergie and they seem to be light years away from being a modern club. When you compare to [Real] Madrid you have to question why [Man United] have seemingly been left behind to rot. I can see 'the rise and fall of utd' coming to cinemas soon."
While safe-standing in the ground was increased back in July ahead of the new campaign, a large chunk of those seats were installed in the away end, so most fans elsewhere in the ground will likely never see the benefit and those who attend week in, week out know all too well how outdated the stadium is.
Read more:
Although the prospective United takeover has been stalled for months now after neither Qatari bidders nor Sir Jim Ratcliffe's offers met the Glazer family's asking price, both bidders cited redeveloping the stadium as one of their main priorities.
The possibility of a stadium renovation or even a complete rebuild is something that has long been discussed even prior to talk of a buyout, with several architects and animators mocking up what a new Theatre of Dreams could look like.
One thing's for sure, compared to other top-flight football facilities like the Etihad Stadium, some Old Trafford TLC has been long overdue.
You can watch the highlights from Man United's home defeat to Crystal Palace down below:
For all the latest news, events and goings on in Greater Manchester, subscribe to The Manc newsletter HERE.
Featured Image — @KyleHall1996 (via Twitter)