Sport
Erik ten Hag's inspiring open letter to United fans proves he knows exactly what the club is about
A must-read for Reds everywhere.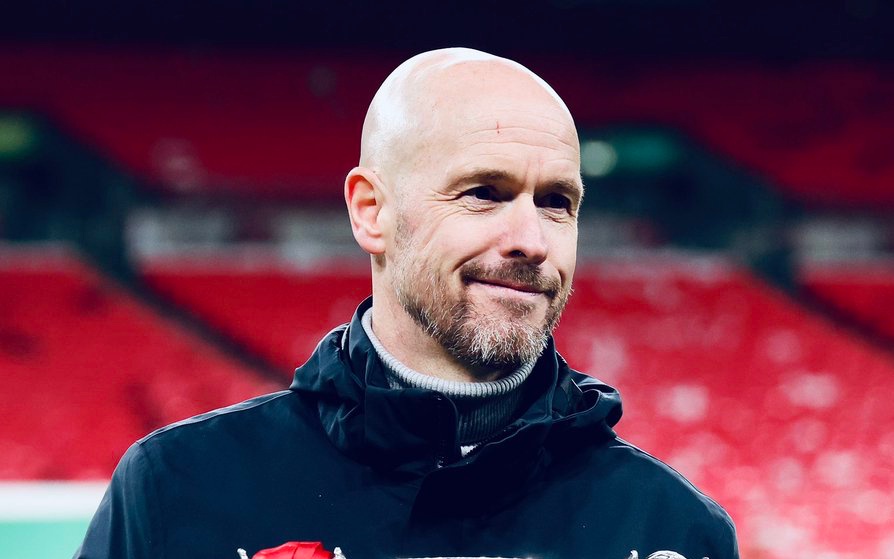 Following his first trophy as Manchester United manager, Erik ten Hag has penned a heartfelt and inspiring open letter to the club's fans.
The Dutchman led United to their first trophy in six years by winning the Carabao Cup on Sunday evening, one of the last pieces of silverware they won back in 2017, with a 2-0 victory over Newcastle.
More importantly, the 53-year-old has well and truly won over the Old Trafford faithful not only with his results but his style of football, man management and overall attitude when it comes to the job.
Writing his letter on Monday morning, not even 24 hours after having lifted the League Cup, ten Hag took to thanking the fans for their support both inside Wembley and around the world, but also making it clear that this is just the beginning.
He began by stating: "When I arrived at the club, we spoke about the challenge and importance of reuniting this group of players with our amazing fans.

"Believe me, this squad knows exactly how important you are. The bond between the supporters and the team is there for everyone to see and what we experienced together yesterday will only further strengthen that bond.
"The atmosphere generated by those of you at Wembley was incredible. From the first minute until the last you were there with us, driving the team on, supporting and encouraging them to get over the line to bring the trophy back to Manchester."
He also made sure to recognise the countless fans who couldn't get a ticket for the final, adding: "For those of you who couldn't be there, we felt your support before, during and after the game. Know that each and every one of you will always play your part in this team being successful."
Speaking to the media after the game, it was apparent that the former Ajax man felt that bond and connection with the fans from minute one, declaring, "I just love United… this is the right club for me — I want to be part of it." If that doesn't get you, we're not sure anything will.
He went on to state how proud he is of his "players and staff for their preparation and performances, noting that the final showed both him and the fans "the required desire, spirit and determination that we must demand of everyone who represents Manchester United."
Insisting that the team continue to set themselves the highest of standards day in, day out, he said the group "know the importance of silverware throughout the history of this great club" and while they were happy to win their first trophy together, they are "by no means satisfied and will not stop here."
"Together we have experienced the feeling of what it means to win together for Manchester United. It is truly magnificent and will only make each of us hungrier for more success.
"This group has made great strides in the last few months but there is still a lot more to come. I can assure you that everyone at Carrington will be working constantly because we know that this club and you, our supporters, deserve more great days like this.
Read more:
Putting that first piece of silverware behind him already, ten Hag concluded his open letter by assuring United supporters that the club's main goal now is to stay focused and keep pushing.
"We will go back to work today, with [the] full focus now on preparing to face West Ham in the FA Cup on Wednesday evening. There will be no complacency in our desire to return this club back to where we want to be.
"Please know that you are vital to what we want to achieve and take yesterday as proof of what can happen when we are all United together. Thank you for your support and dedication".
We have a feeling ten Hag and United are going to have a very long and successful love affair.
For all the latest news, events and goings on in Greater Manchester, subscribe to The Manc newsletter HERE.
Featured Image — Manchester United (via Twitter)