Sport
Gary Neville says Manchester United's 'radical' new wage cap will drive away potential signings
ten Hag is trying to restore parity to a patchwork squad but the Class of '92 alumni thinks it could do more damage than good.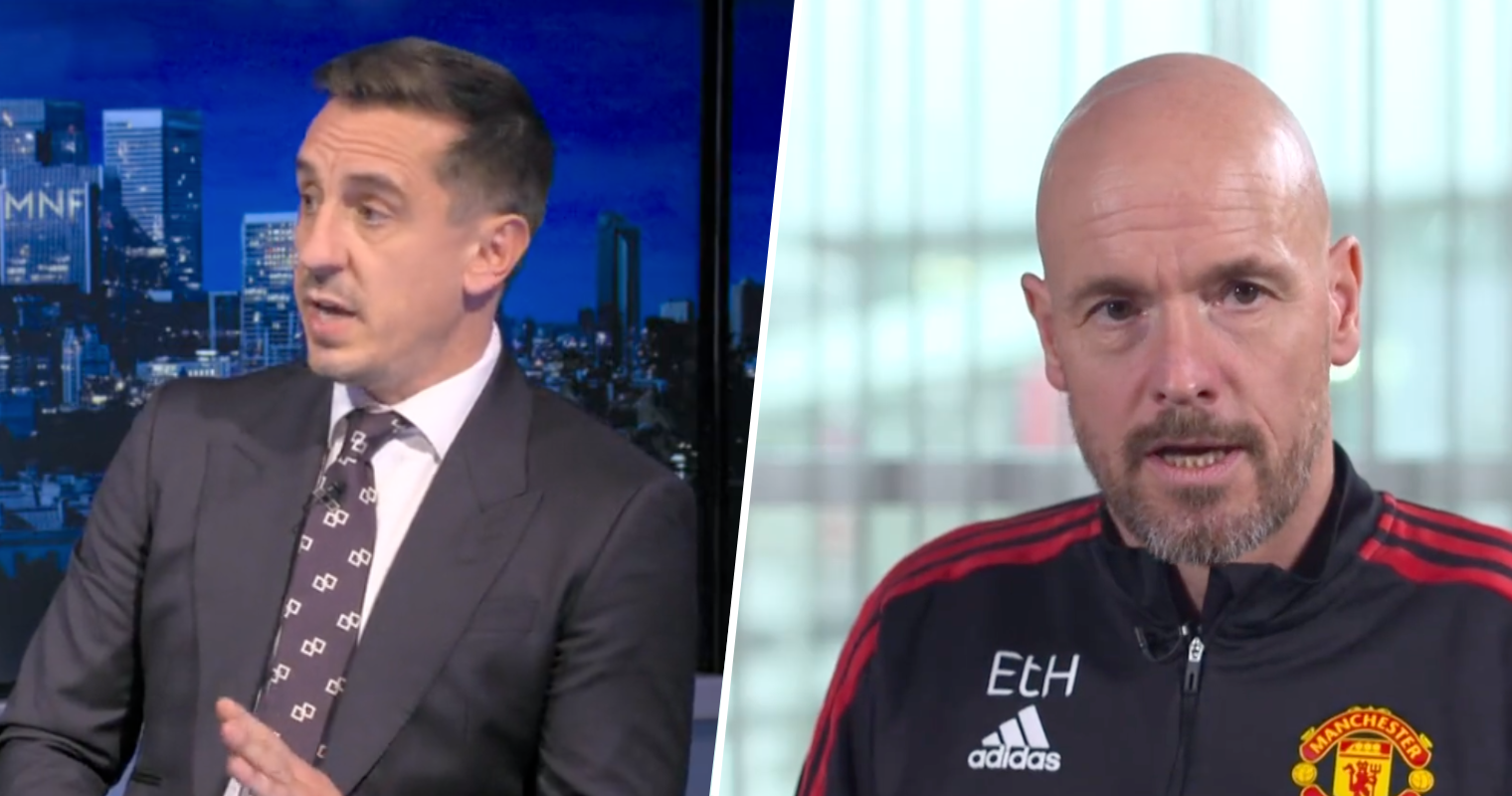 Gary Neville has labelled Manchester United's new club-wide salary cap as "radical" and is worried that it could turn off potential targets in the transfer market.
With the January transfer window underway and United having already secured the services of Jack Butland as their back-up goalkeeper, they are now said to be looking at bolstering their attacking options following the departure of Cristiano Ronaldo.
However, as per reports by the MailOnline, manager Erik ten Hag is apparently implementing a £200k-a-week wage cap, with no current or future player allowed to earn beyond this threshold.
Responding to the news, the club legend turned pundit and Salford City owner suggested the move is a rather severe step and one that could rule out big signings.
As detailed in the piece, the following players who are currently on over £200k-a-week are reportedly set to take pay cuts in the coming weeks, with long-time servant David de Gea the first to face a reduction:
David de Gea – £375k
Jadon Sancho – £350k
Raphael Varane – £340k
Casemiro – £300k
Anthony Martial – £250k
Bruno Fernandes – £240k
Neville goes on to argue that not only does the wage cap — not unlike that in place at the likes of Spurs (Harry Kane the highest-earner on £200k) — mean that they could lose out on big names like Declan Rice and Jude Bellingham, but it hints that the Glazers aren't as close to selling as fans would hope.
While ten Hag's aim is clearly to garner further solidarity by eliminating financial rifts between players, especially given various members of the current squad were acquired under different regimes, the former United and England right-back believes it will take them out of the running for marquee signings.
Responding to a commenter who argued that this kind of system should have already been in place regardless of the current ownership, the 47-year-old went on to note that neighbours Man City had a similar system in place until the prospect of generational talents like Erling Haaland became available.
He also warned that it could prove a 'strange' and problematic policy having multiple key players like de Gea, Casemiro and Raphael Varane on more than £200k in the current dressing room, who will now have to accept a pay decrease should they want to stay at the club.
On the other hand, it seems clear that the Dutch coach wants to avoid future CR7-esque situations in the future, i.e. when a spiralling and already volatile budget fluctuates depending on the flavour of the month/inflated market and ultimately disturbs the overall equilibrium within the camp.
More importantly, speaking in a recent interview, the former Ajax man reiterated that cost doesn't always correlate with quality:
Read more:
For now, at least, the rationale seems to be that United's salary restructuring signals a desire from ten Hag to be shrewder and more strategic when it comes to new signings, rather than simply paying the premium when a player's stock skyrockets.
The United wage cap is long overdue in the eyes of many fans, with one person remarking that "too many players are being paid way too much for what they've delivered", adding that "ten Hag doing a great job and improving players and the culture around the club."
On the other hand, many noted that if this new limit is set to be introduced, it will likely be a base rate with players still able to earn beyond that sum through appearance and goal bonuses etc.
What do you think, good or bad idea? Either way, ten Hag certainly looks to be putting his foot down.
For all the latest news, events and goings on in Greater Manchester, subscribe to The Manc newsletter HERE.
Featured Image — Gary Neville (via Sky Sports)/ Man United (via Twitter)