Sport
Kyle Walker defends England's achievements under Gareth Southgate as they target Italy 'payback'
He also said he considered retiring from international football twice but believes Southgate's side has unfinished business.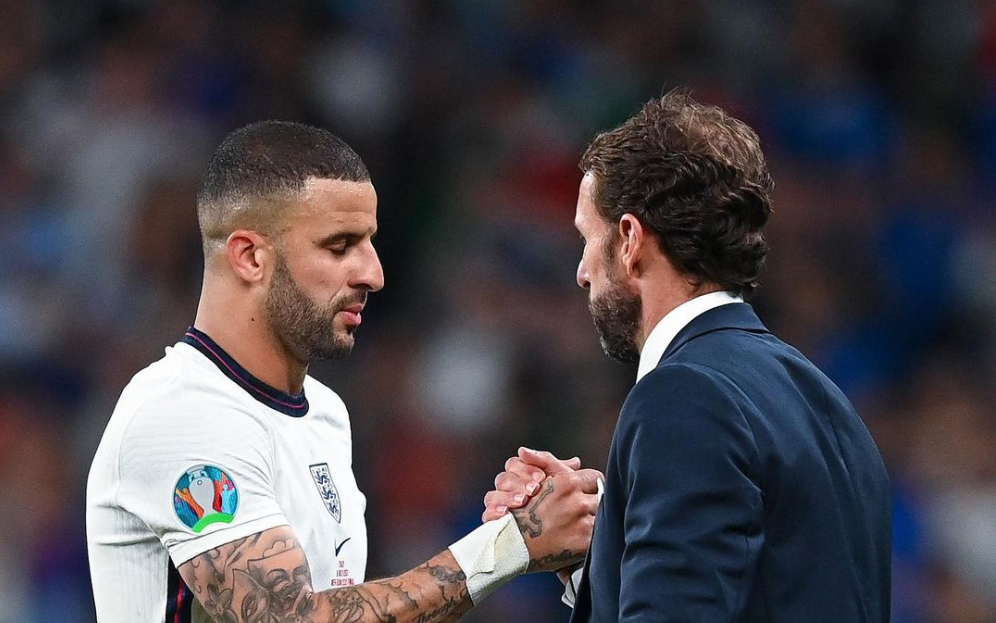 Speaking ahead of England's Euro 2024 qualifier against Italy, defender Kyle Walker has said he and his teammates are aiming to get "payback" after the heartbreak of the last Euros final and argued that manager Gareth Southgate hasn't received the credit he deserves.
The Manchester City defender sat down with Southgate to address the media ahead of Tuesday night's qualifying match and made it very clear that the Three Lions are hoping just to secure their spot in the European Championship finals but get revenge on the Azzurri for Euro 2020.
England made it to their first final since 1966 back in July 2021 and bowed out in painful fashion after letting a 1-0 lead slip and ultimately losing on penalties. It was an agonising end to a great tournament for the nation but for Kyle Walker and co., it was one that clearly stung them more than most.
Revealing that his coach twice talked him out of retiring from international football, the 33-year-old said he wants to "get a little bit of payback" on the visitors after coming so close to a first trophy in 55 years.
As the presser continued, Walker went on to insist that despite missing out on silverware at the last three tournaments under Southgate, he believes their progress and the England boss, in particular, hasn't been given the recognition he deserves.
"We are more concentrating on the boos [such as those directed at Harry Maguire] and what we haven't done rather than what we have achieved," said Walker, adding that "it's not easy to qualify for a competition" and suggesting that fans may have simply "become used to us just qualifying?"
The Lions only need a draw at Wembley on Tuesday night to qualify for the competition after putting themselves three points clear at the top of Group C but will have another chance to nail down qualification in a home game against Malta on 17 November or a trip to North Macedonia three days later.
Contemplating what fan reaction would be like if they failed to make it through — citing the unsavoury scenes relived in the recent Beckham documentary — Walker said: "Now if we didn't qualify, God knows. I wouldn't leave my house, I'd just have to stay indoors." Nevertheless, he now insists he wants to keep going for as long as he can.
Read more:
The Sheffield-born treble-winner also went on to urge fans to get behind midfielder Jordan Henderson, who also received boos during their 1-0 win against Australia on Friday, 13 October.
The ex-Liverpool star recently joined Saudi Arabian side Al-Ettifaq despite criticism regarding the country's human rights record and anti-LGBTQ+ stance. He also went on to give a rather negatively perceived interview defending the move after having been a long-serving Rainbow Laces ambassador.
Tonight's game will be the first time the Italian national have visited the stadium since the Euro 2020 final and, despite looking somewhat off the pace since winning the trophy, home fans will be hoping for a repeat of their last meeting which saw England win 2-1 back in March.
You can watch Gareth Southgate and Kyle Walker's pre-match press conference in full down below:
For all the latest news, events and goings on in Greater Manchester, subscribe to The Manc newsletter HERE.
Featured Image — Kyle Walker (via Instagram)/BeanymanSports2 (via YouTube)