Sport
Manchester City fan gets treble tattoo before Champions League final
We'd love to have been in the room to hear how many times the tattooist asked, 'are you absolutely sure you don't want to wait until AFTER game?'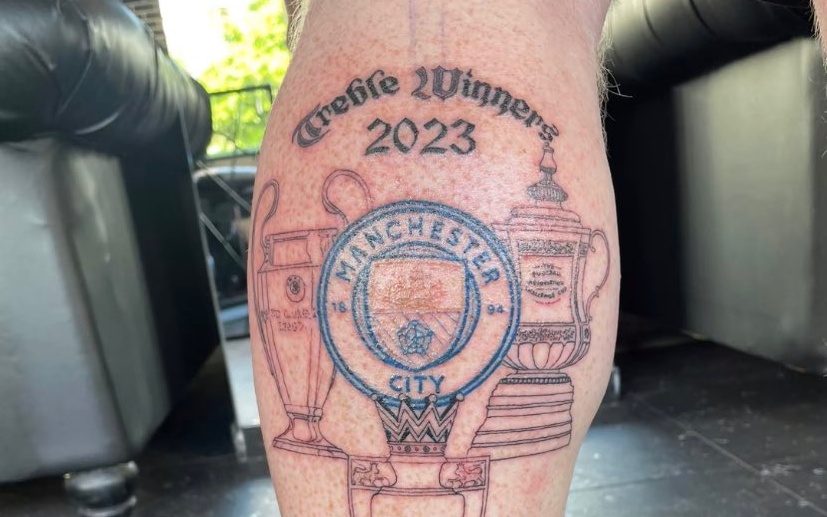 We've seen plenty of tattoos gone wrong down the years and even more football fans getting ahead themselves, but it must have taken a special kind of confidence for this Manchester City fan to get the treble tattooed on his body before the Champions League final has even been played.
Man City may have taken one step closer to matching historic rivals Manchester United's achievement of winning the treble in 1999, lifting their fifth Premier League title in six years and adding yet another FA Cup to their trophy cabinet, but there's still one massive game they need to win before they can boast the same.
The Blues take on Inter Milan in the Champions League final — just the second in their history — this weekend and have only ever won one continental trophy by beating Polish side Górnik Zabrze in the European Cup Winners' Cup back in 1970.
Nevertheless, after yet another stellar domestic season and with two-time UCL winner Pep Guardiola at the helm, most fans, rivals and neutrals alike all think this is the year they're going to lift their first Champions League — in fact, this man is certain of it.
The diehard City fan, simply known as Stuart on TikTok, shared multiple clips on his account on Tuesday, the first of which showed the treble tattoo in progress and has already had nearly 200,000 views in less than 24 hours.
Naturally, the comments underneath the videos are as you'd expect, with people remarking, "you've just made Inter win", "he's gonna regret that", "RIP bro", "pov: 2021" — the last CL final they qualified for and lost to Chelsea despite being heavy favourites — and so on.
However, responding to haters in the comments, Cityzen Stuart's confidence looks to be unshakable, stating that it's now "impossible" for them to lose and there's "not a chance" Pep goes another yet without winning another Champions League.
Having already flown over to Turkey for the final in Istanbul this weekend, he shared a more recent video showing the tattoo in more detail, complete with full colour and shading.
Read more:
Football fans are often superstitious (it's such an unpredictable sport that it's hard not to be) but it's fair to say a lot of people are now worried he might have jinxed it, not to mention every single Red hoping that he has. For his sake, he better hope the footballing gods don't take this kind of stuff into account.
In fact, this isn't the first time a City fan has gotten a little bit ahead of themselves and put money and ink where their mouth is, as our minds immediately go back to 2009 and the time a supporter got a Champions League winners tattoo for the following 2010/2011 season.
This year's final kicks off at 8pm on Saturday, 10 June and City fans everywhere will be hoping to Pep and co. lift the Champions League trophy in the club's history and win a historic treble in the process.
They are already going to go down as one of the best squads ever assembled but, for many, this could see them held up there as the greatest of all time. The question is, can they take that final step?
For all the latest news, events and goings on in Greater Manchester, subscribe to The Manc newsletter HERE.
Featured Image — @stuart1308 (via TikTok)/Comedy Central/UEFA