Sport
Bayern Munich defender Dayot Upamecano dubbed 'Upamaguire' by commentator during Manchester City game
Maguire really can't catch a break anywhere.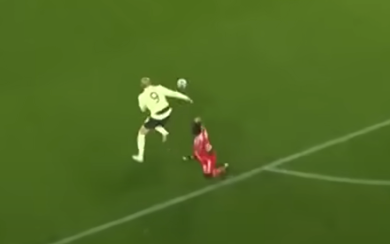 Bayern defender Dayot Upamecano had two very difficult legs against Man City in the Champions League. That being said while pundits didn't hold back on their criticism across the tie, one commentator chose a very unique way of describing his performance: by calling him 'Upamaguire'.
It's not too often you hear footballers described as playing badly through the means of comparing them to another top-flight professional on live television.
Nevertheless, as City sent themselves quite comfortably into the semi-finals 4-1 on aggregate, a broadcaster providing beIN Sports' Arabic commentary decided to compare Upamecano's sup-par showing to fellow down-on-his-luck defender, Harry Maguire.
A little but rude, to say the least.
It's giving Jack Grealish slating Miguel Almiron for absolutely no reason. Man United fans can only hope it at least results in a similar upturn in form.
Yes, sadly the unfortunate United defender can't escape criticism even when it's not him that's playing, with the commentator clearly throwing out 'Upamaguire' as a dig at the French centre-back's faltering performance across the tie.
It goes without saying that this isn't the most professional behaviour from the broadcaster, but only further goes to show just how bad a moment Maguire is going through.
As if that wasn't unexpected and outlandish enough, it's not even close to being the most bizarre moment of criticism the 30-year-old has faced of late; it was only last year that an MP in Ghana tried to mock the opposition by comparing them to the England international. No, we're not joking.
Read more:
To make matters worse, Maguire had a similarly poor game in his last outing for the Red Devils against Nottingham Forest last weekend and the game prior saw him head home one of two own goals in their disappointing draw against Sevilla.
With the second leg of the Europa League quarter-final being played this evening and both of Erik ten Hag's first-choice centre-back partnership out injured, Maguire will have to step up if his team are to have any hope of going through. Unnecessary jibes like this certainly don't help.
On the other hand, Marcus Rashford has been back in training following a muscle problem and could make the difference as he has done so often this season.
You can watch the highlights of Bayern Munich vs Manchester City down below:
For all the latest news, events and goings on in Greater Manchester, subscribe to The Manc newsletter HERE.
Featured Image — Upamecano (via IG)/BT Sport/Harry Maguire (via Twitter)