Sport
Manchester City release new images of £300 million Etihad expansion
Full planning permission has now been submitted — it's just a case of what it's all going to look like. Here's a glimpse: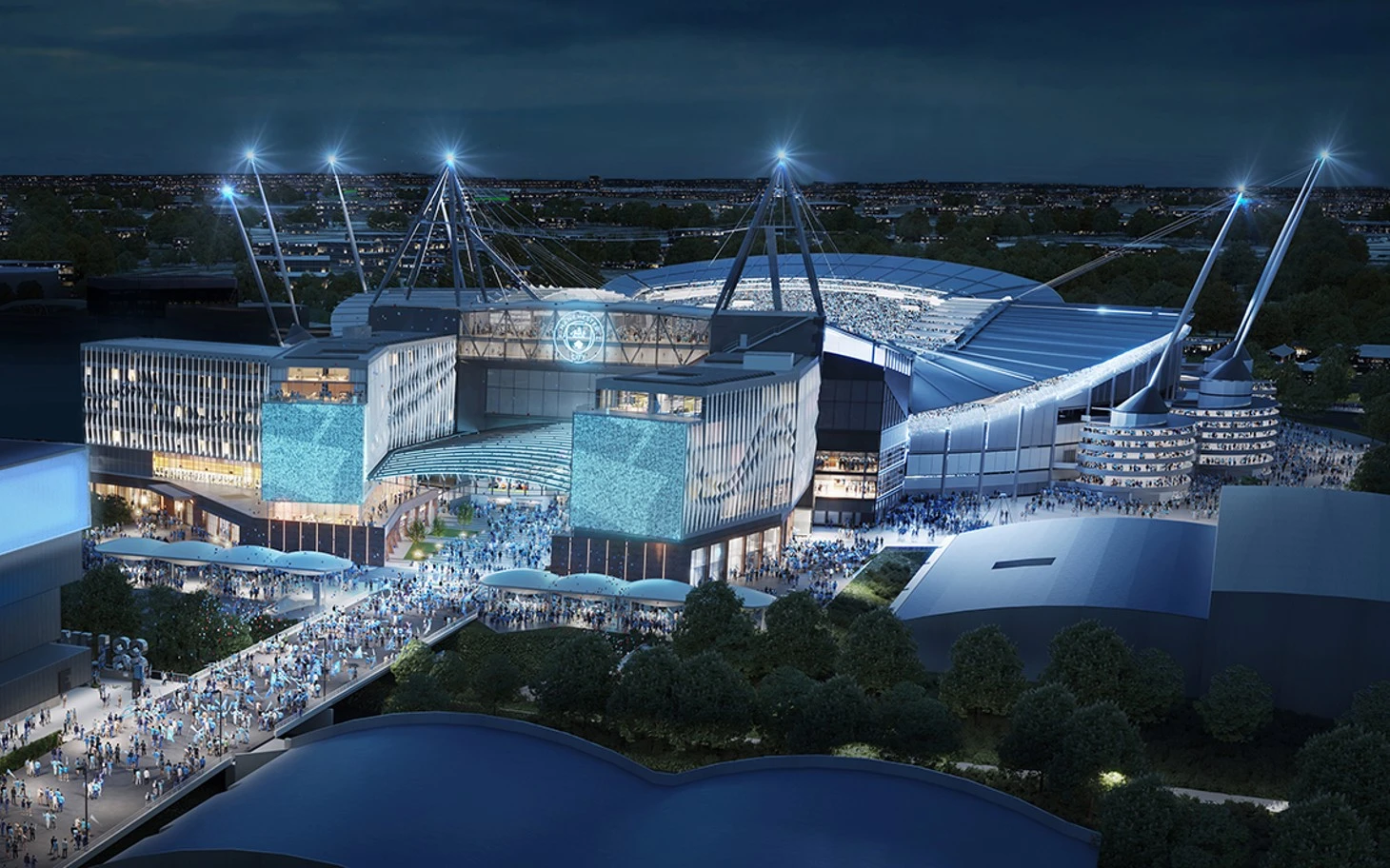 Manchester City have today released the latest batch of images and concept art detailing what their new Etihad Stadium expansion is set to look like, having now submitted full planning permission.
The club announced plans for the expansion of the stadium and wider Etihad Campus back in February, with the aim of turning the complex into a fully-fledged entertainment and leisure venue.
Now, City Football Group and Abu Dhabi United investment firm have revealed the latest mock-ups for the redevelopment, which includes a grand new entrance on the front side of the stadium, designed not only to keep people in the stadium for longer before and after games but to draw non-football fans in too.
Along with a new covered fan zone packed out with leisure attractions, the proposals include several integrated all-weather facilities, as well as the extension of the North Stand by creating one larger, single upper tier above the existing lower tier, which would see the overall capacity surpass 60,000.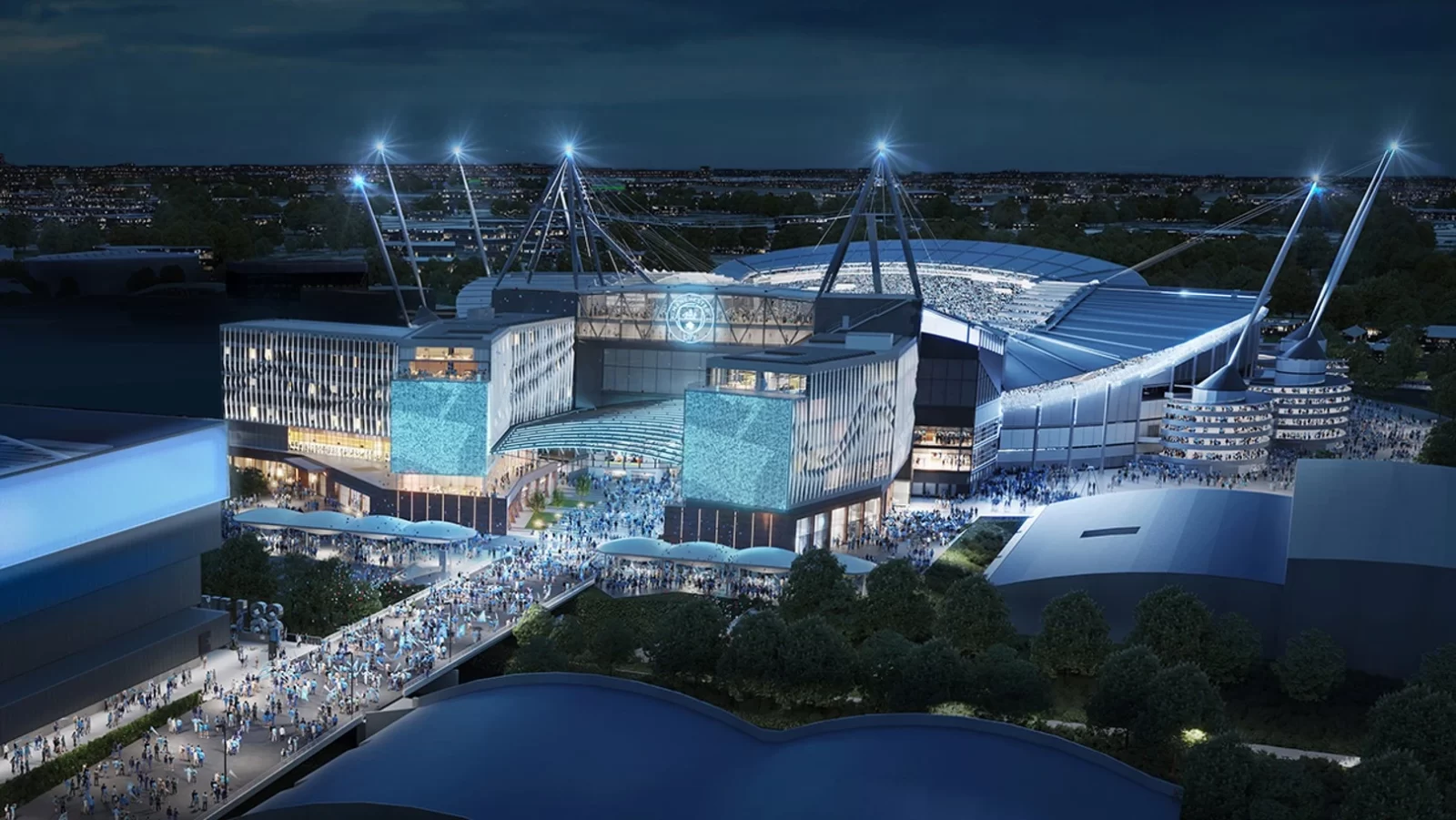 Furthermore, in line with the club's initial designs, the updated City Square will be able to hold over 3,000 people, with a wide variety of food and drink outlets, a brand-new club shop and museum, as well as a 400-bed hotel also potentially in the pipeline.
As explained in the club's announcement, form "the hotel and food and drink outlets are situated on the left flank of the development with all other facilities contained within the right flank. LED screens which are approximately four stories in height will also feature at the end of each flank."
Moreover, as teased in the previous plans, there will be modest workspaces available to start-up and medium-sized organisations looking to co-locate and collaborate with the club, not to mention CFG and Etihad partners also feature in the planning submission. It remains to be seen when work will start.
Lastly, a sky bar with views overlooking the pitch will be introduced above the new upper tier, along with a rare stadium roof walk experience — similar to the kind introduced when Tottenham Hotspur erected their new stadium. All told, the developments are set to cost over £300 million. Flashy stuff.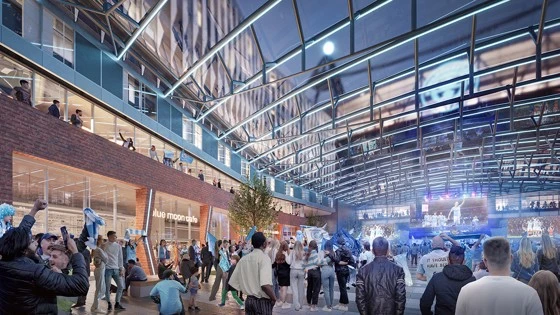 Read more:
Commenting on the application, City's Managing Director, Danny Wilson, said: "Over several months we have been developing concepts and designs for a best-in-class fan experience and year-round entertainment and leisure destination at the Etihad Stadium and are delighted to have now submitted a planning application to Manchester City Council.
"I'd like to take this opportunity to thank our fans and the local community for their participation in our recent consultation, not only for completing the questionnaire but sharing their detailed comments and feedback with us, all of which has been carefully reviewed and considered."
"As with all Club developments, ensuring our local community benefit is a key priority and we believe these proposals will deliver long-term economic and social opportunities, building on the regeneration work delivered in East Manchester by City Football Group since 2008."
Now looking to lead the way when it comes to stadium experiences in Europe — not to mention a key venue in the UK's Euro 2028 bid — City will be hoping they can win their first Champions League this season to back up the pedigree they're aiming for and it should be completed well in time for the Euros.
For all the latest news, events and goings on in Greater Manchester, subscribe to The Manc newsletter HERE.
Featured Image — Manchester City