Sport
Football fans call out 'tone-deaf' FA TikTok for mocking 'life-threatening' head injury
Footballing bodies say they are taking head injuries more seriously and then you see this.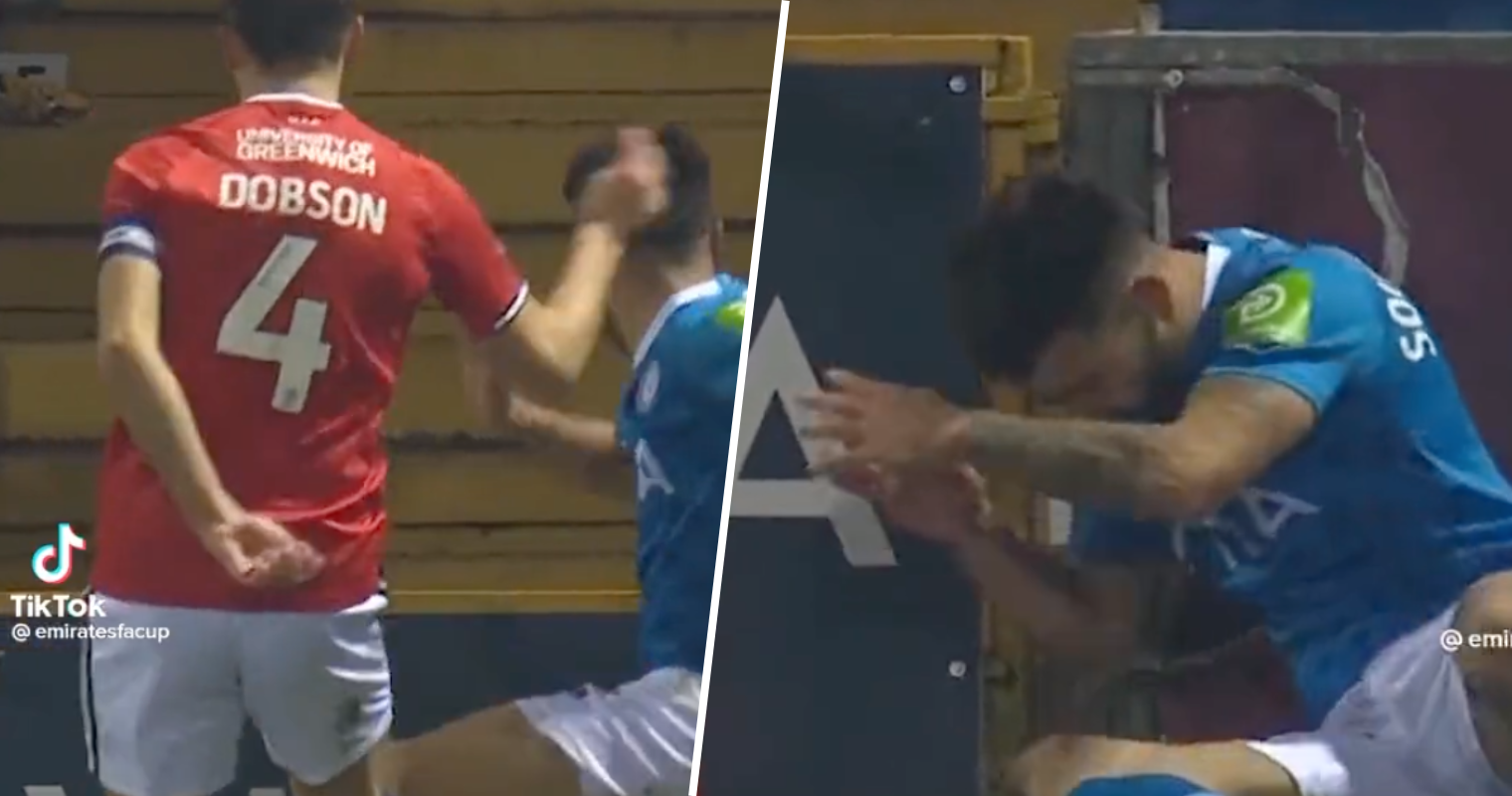 Football fans are calling out the official FA Cup TikTok account for mocking a serious head injury suffered by a Stockport County player earlier this week.
The Hatters beat Charlton Athletic in fine fashion with a 3-1 victory on Wednesday, 7 December, with Will Collar's hattrick (the club's first since 2019) sending them through to the next round of the cup.
However, another notable moment from the night was right back Macauley Southam-Hales' collision with advertising hoarders after a shove from Charlton captain George Dobson.
As the likes of County fan Joel Ward wrote on Twitter, many online were quick to slam the clip for joking about an injury that hospitalised the player, the consensus being that it isn't a "great look" for the FA.
While many reacting in the comments recognised that Dobson didn't intend to hurt Southam-Hales by shepherding the ball out of play, the Stockport defender does hit the predominantly metal structure with some force and was left in clear discomfort following the smash.
The video itself has since been removed from the official account following the backlash but people are still reacting as the clip continues to be reshared on social media.
The clip was branded as everything from "disgusting" and "disgraceful" to "simply unbelievable".
What's most concerning is that despite the recent push to promote awareness surrounding concussions, brain trauma and even heading the ball – which, historically, haven't been properly monitored in football – whoever posted the video on behalf of the FA didn't consider the very serious nature of the incident.
As alluded to above, perhaps what makes the post even more shocking and tone-deaf is that it comes just weeks after Bath City player forward Alex Fletcher was placed in intensive care following an almost identical accident.
The 23-year-old underwent life-saving brain surgery and although he has since been discharged from the hospital, he is said to have a "long road to recovery ahead of him".
Read more:
County confirmed that despite being the all-clear pitchside, Southam-Hales was taken to the hospital as a precaution after he suffered significant swelling around the neck area. Nevertheless, as we know all too well, it could have been much worse.
As for the FA, they have now apologised for the inappropriate attempt at humour, confirming that they have removed the video from all official accounts, admitting that "it should never have been published and assuring that they will "review [their] processes to ensure this never happens again."
You can watch the full highlights from Stockport County vs Charlton Athletic HERE but we'd recommend you watch Alan Shearer reminding everyone who plays football to be more vigilant when it comes to head injuries.
For all the latest news, events and goings on in Greater Manchester, subscribe to The Manc newsletter HERE.
Featured Image — Emirates FA Cup (via TikTok)/Joe Ward (via Twitter)