Sport
Tyson Fury calls Usyk and Joshua 's***houses' and doubts AJ fight will happen
AJ is yet to sign the contract and Usyk clearly wants a shot at him.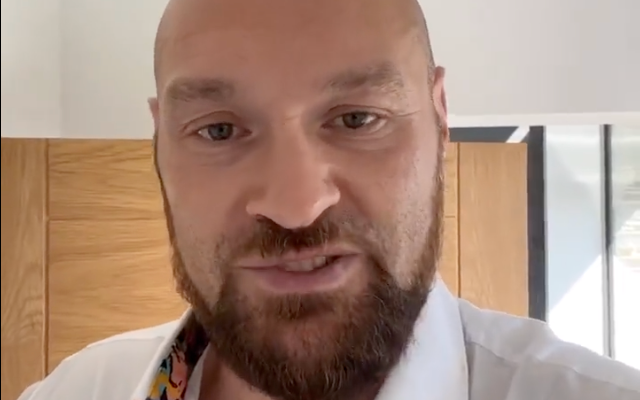 Tyson Fury is at it again on social media, blasting both Anthony Joshua and Oleksandr Usyk after the latter suggested he was "afraid" of him.
While Fury is beginning preparations for his fight against AJ due to be held this December, Usyk attempted to rattle the Gypsy King's cage in the meantime.
Speaking in an interview on his YouTube channel, the Ukrainian said, "Despite his toughness and how he is generally described, he is afraid. Yes, of me." It didn't take long for Tyson to respond in kind:
As you can see, the Wythenshawe-born heavyweight spends nearly a full minute shouting expletives, calling Usyk a "little s***house and a 'little s***bag" before warning, "I'll put my fist right through the side of you, you little sausage."
The two have been interested in organising a fight to unify the WBC and IBF belts – held by Fury and Usyk, respectively – for some time now, with Tyson's promoter Frank Warren insisting that he does believe it will happen at some point in the future.
Rubbishing the suggestion he is scared and dishing out some trash talk of his own, Fury then goes on to call out another "s***house", as he puts it, labelling Joshua a "big bodybuilder" rather than a boxer and suggesting that he has been delaying signing the contract.
Despite Warren stating that terms would be agreed sometime soon, the long-awaited all-British bout could still be in doubt as we've already seen one potential fight disintegrate in the 11th hour.
AJ is coming off back-to-back defeats against Usyk, who he'd no doubt hoped to beat on his way to finally facing Fury. Nevertheless, the WBC champion believes he does want it at all, remarking: "You little sausage, you do not wanna fight, your manager's a sausage.
Read more:
The rant continues in a similar vein, with Fury adding: "I've never seen anything like yous, both a pack of s***houses.
"However, I will be fighting 3 December if this sausage does not sign the contract, which I don't think he [will] because I don't think he's got the b****cks to, because he's a s***bag.
It remains to be seen what kind of response Joshua will give and if the fight will finally be locked in. All we know is that it'll be a big disappointment for fight fans if the match-up falls apart again.
Featured Image – Tyson Fury (via Twitter)