Sport
Why there is a giant Rick and Morty mural going up at Old Trafford
As always in football, the short answer is money.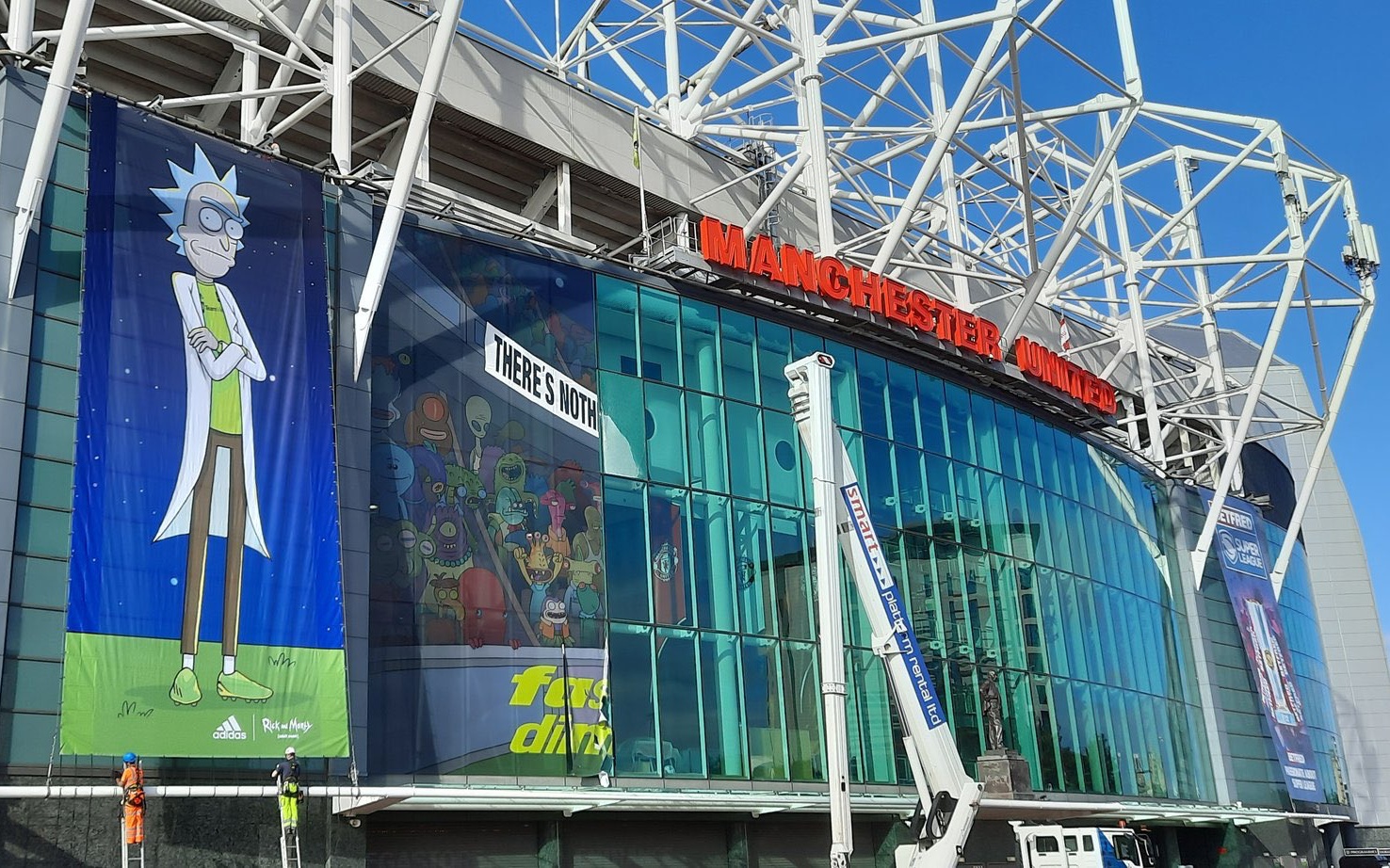 A massive Rick and Morty mural is being erected on the stadium front of Old Trafford and people online have been scratching their heads as to the reason why.
Pictures of the large multi-panel banner being assembled outside the East Stand, hanging just above the United Store entrance, began circulating on social media on Tuesday, 28 September.
But even before then, single posters of the titular characters were spotted flanking either side of the Sir Alex Ferguson Stand.
Given how many people travel past this iconic landmark every day, seeing two giant images of arguably the most popular cartoon characters in the world right now is sure to have caused a few double-takes.
Manchester United fans and tourists are more than used to seeing the latest United campaign, player collage or special poster – the latest being the tribute to Queen Elizabeth II – but it isn't often you'll see an external brand take up this kind of wall space. Well, ad space.
As many of you may have guessed already, the Rick and Morty poster outside Old Trafford is, of course, another marketing idea and although the Red Devils don't have a sponsorship deal with Adult Swim or Netflix, they do have one with Adidas.
It may have slipped past you over recent months, but the hit animation has recently partnered with the sportswear brand for a number of adverts such as promoting their new X Speedportal football boots.
Official Adidas athletes like Liverpool's Mo Salah and Arsenal Women's Dutch forward Vivianne Miedema both starred as their animated selves for a fictionalised game. However, the ad campaign clearly hasn't stopped there.
Like Miedema herself, Arsenal have been an official Adidas partnered club since 2018 and they too helped promote what the show describes as their "living" episode, 'Wormageddon' to celebrate the launch of the sixth season. This involved a number of statues dotted around the Emirates Stadium:
Read more:
With that in mind, while we ascertain the exact nature of this Rick and Morty x Adidas x Manchester United ad, if you look closely at what portions of the posters have already gone up, there's a clear hint at what the club are getting out of it.
Besides wearing the Adidas mentioned above, if you closely at the image of main character Rick, you can see he is wearing what looks to be United's recently released third kit under his trademark lab coat: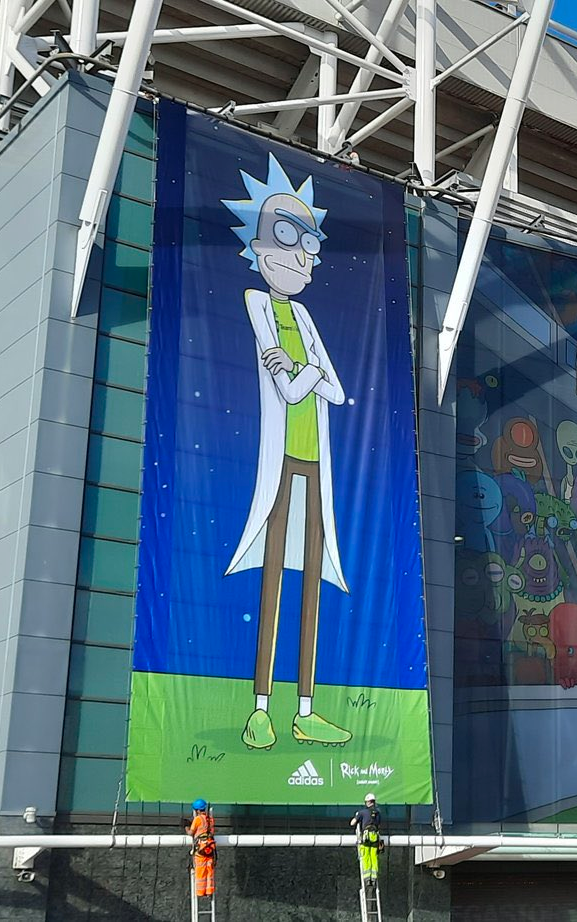 So there you have it; it might have looked a bit of an odd sight at first glance but there's actually a very logical explanation.
At the end of the day, United have so many commercial partners at this point, we wouldn't put it past them to secure a direct partnership with Rick and Morty somehow. They did one with Deadpool after all.
Featured Image – @TuftyMUFC (via Twitter)