Sport
Nothing less than a World Cup final can save Southgate's job now
And even that might not be enough.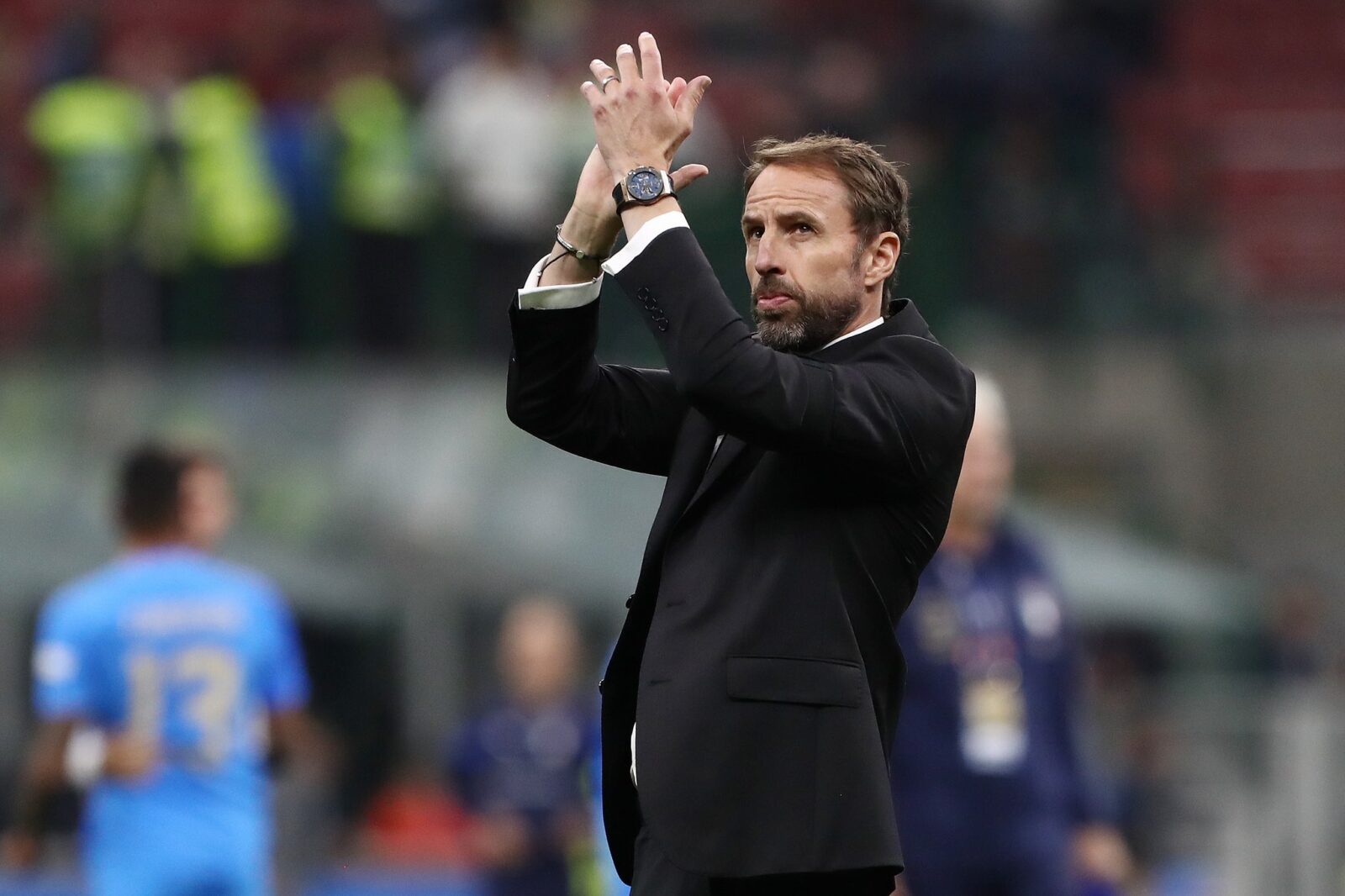 First and foremost, let it be known that this is not the outcome this particular fan wants. Like so many of us, Gareth Southgate has given me the greatest England memories of my lifetime.
However, it's fair to say it's not going to plan, is it?
The Three Lions are now without a win in the last six games and have been relegated from their Nations League group following a disappointing final two games before the 2022 Qatar World Cup.
On top of the lacklustre defeat against Italy, who were arguably the only team to look as off the pace as England since the Euros, Monday night's 3-3 draw against a similarly underperforming Germany was a typically frustrating rollercoaster, to say the least.
Southgate's team looked dead and buried after the opener and even despite the spirited fight-back, they gave away a late equaliser. Even more worryingly, prior to Luke Shaw's goal, they hadn't scored from open play in over nine hours of football. Yikes.
Many have been calling for the England boss to be dismissed ever since the disappointment of last summer — some of his detractors even date as far back as 2018. That being said, these latest defeats have only seen more people declaring #SouthgateOut, World Cup just around the corner or not.
Despite being the first coach to take the England men's team to a final since the last time we lifted a trophy in 1966 – the first to take us as far as a semi since '96, as well – it's becoming more and more difficult to argue his case by the minute.
Moreover, not only is hard to feel confident for November based on recent performances, but knowing that this could be the last major tournament for many of the core group who have delivered over the past five or six years, it does feel very much like a 'now or never' moment for Southgate and several players.
Speaking of which, the squad selection has been another point of contention for some England fans, the suggestion being that he has his favourites and often overlooks those in form and more deserving of a spot compared to his mainstays.
The inclusion of Harry Maguire and Luke Shaw has been highlighted by many of his critics given the two are barely paying for United at the minute. The pair both started against Germany despite calls for the likes of Fikayo Tomori to be given a shot having been part of a title-winning Milan side in Italy last season.
Some fans were also calling for Ben White to be brought into the fold, but he wasn't even named in this squad for this international break, despite Arsenal sitting top of the Premier League and with three clean sheets, no less.
Meanwhile, sidelined Maguire was responsible for the penalty that gave Germany the lead and the second goal, as it happens.
The rationale seems to be that Maguire has been a fairly consistent performer under Southgate, scoring some big goals in both of the last two tournaments and a key player in his preferred back three/five.
Shaw was one of the stand-outs of Euro 2020 — we relive that goal almost nightly. But even besides moments like that and Monday nights's contribution, surely 'sticking with what you know' only goes so far and it makes little sense to be picking players who aren't playing regularly.
Another driving factor since is undoubtedly Sarina Wiegman leading the Lionesses to bring home England's first major trophy in 56 years.
More accurately, she did so by playing a largely positive, attacking style, enjoying plenty of possession in most games and hitting fast on the counter. In contrast, Southgate's approach is considered somewhat reserved, even when his team are at their best.
While Southgate's sides often dominate possession in games against weaker opponents, they are rarely perceived as risk-takers and the 52-year-old regularly favours a more defensive set-up even in games when most would argue it isn't necessary. It's one of the several reasons fans have grown impatient.
The man himself admitted in the build-up to the Germany game that even with his 2024 contract, he knows that he'll be "judged on what happens at [the] World Cup" and emphasised that beyond his own job security, "it's not healthy for the team to be having this noise around them"
Conversely, Raheem Sterling said before the game that the players need to "take some responsibility" for the misfiring of late, but insisted that the neither team nor the fans need to panic at this stage and that the boys will find their feet when World Cup starts on 20 November.
Moreover, even before they fought their way back into the game, Germany's coach Hansi Flick offered his support, dubbed him "the most successful in [our] history" and citing that he has the best points average of any England manager.
Regardless of the pressure on him right now, it cannot be overlooked that Southgate has lost just 13 and drawn 17 in 76 matches, not to mention taking the nation as far in a tournament as they've been in 25 years. That's what makes this debate such a painful and divisive one.
With that in mind, it's worth reiterating that we would love nothing more than to see Southgate succeed and take this team that final step further. Nevertheless, it's hard to ignore the very real possibility that this could be his last crack at it.
Even if they did complete the comeback against Germany, England still finished bottom of the group with a game to spare, ending on just three points and a minus-six goal difference. It's chalk and cheese to the numbers put up by the Women's team who filled the nation with such hope and pride just months ago.
Read more:
As Sterling says, it is of course on the players as well, but you'd be hoping for a little more momentum with the World Cup starting in just 55 days.
Games like these are when you want to see a manager's first-choice team taking shape and although we know there will be personnel changes in the final squad, it's only going to take more time for members of the group to build that chemistry so key in tournament football.
It really does feel like we've reached a point where Southgate has to win a trophy or go the way of every other manager since Sir Alf Ramsey.
Being generous, it's reach another final at the very least, but even that might not be enough for the FA to bet on him for another four years only to risk potentially falling short again while running the clock down on a talented generation of footballers.
If it does turn out to be his final tournament as England manager, we'll always have the memories and we look forward to creating a few more this winter. I mean, anything can happen in a knockout competition – who knows, maybe he'll help bring it home after all?
Featured Image: England (via Twitter)