Sport
Changing the beautiful game for girls everywhere | Ella Toone – Manc of the Month August 2022
Just a few short weeks ago, we all witnessed a monumental sporting moment – football finally came home.
And it was the women's game that did it, only a year since the England men's team came so close to lifting the Euros trophy themselves.
The nation is bursting with pride for the phenomenal achievements of every player on England women's team, affectionately known as The Lionesses, but we just had to give a little shout out to one of our local girls.
Ella Toone. The Wigan-born star has been called wonder kid and a golden girl, but she prefers to be 'just Ella'.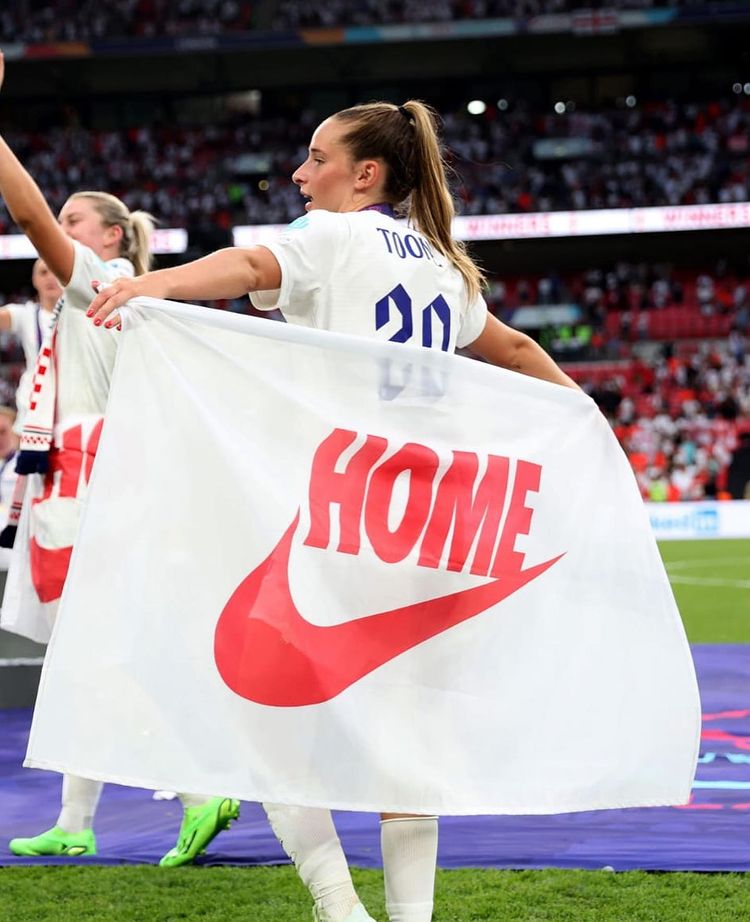 The 22-year-old has built the bulk of her sporting career here in Greater Manchester.
Born in Tyldesley, she spent many years as a junior at Manchester United – but the team, until very recently, didn't have a senior women's team for her to move up to.
So it was off to Blackburn she went, then briefly she played for Manchester City, before finally joining Man Utd in 2018 for their inaugural season.
In an interview with BBC Sport, Ella – a life-long United (and Cristiano Ronaldo) fan – said: "It's the best feeling in the world. Growing up a Manchester United fan, and then being able to play week in week out for the club that you love and support is really special.
"Growing up it was tough – I was in the United academy for seven/eight years, and there was nothing to look up to. There was no women's team to try and get in to."
But once news of a Manchester United women's squad landed, Ella said: "It was home. I knew that my ambitions matched theirs. I've been happy ever since."
Fast forward to 2022, and she has become a household name thanks to her stunning performance with the England Women's team at the Euros.
Ella's impeccable chip into the net had all of Wembley on its feet during the final, and it was one of two goals that saw England storm to victory.
Along with her teammates, she is now riding the wave of the team's success to try and make changes that will last an eternity.
The Lionesses recently penned an open letter to Rishi Sunak and Liz Truss, demanding that young girls are given the opportunity to get into the sport and that women's football is given proper investment from school age onwards.
They told the prospective PMs that only 63% of girls can play football in PE at school, saying 'a generation of school girls deserve more.'
The letter stated: "Throughout the Euros, we as a team spoke about our legacy and goal to inspire a nation. Many will think that this has already been achieved, but we see this as only the beginning.
"We are looking to the future. We want to create real change in this country and we are asking you, if you were to become Prime Minister on 5 September, to help an achieve that change."
Read more: Changing the cancer conversation for the better | Steve Bland – Manc of the Month July 2022
The highly-praised letter went on to ask the Government to ensure all girls have access to a minimum of two hours a week of P.E.
The co-signed letter said: "They deserve to play football at lunchtime, they deserve to play football in PE lessons and they deserve to believe they can one day play for England. We want their dreams to also come true.
"This is an opportunity to make a huge difference. A change that will impact millions of young girls' lives. We – the 23 members of the England Senior Women's EURO squad – ask you to make it a priority to invest into girls' football in schools, so that every girl has the choice."
And as Ella Toone herself once said – "I was once just a little girl with a lot of dreams, and I've managed to achieve them."
About Manc of the Month
We all know that Manchester is home to some special people, some born here and others drawn here, and after a bumpy two years that effectively amounted to one big lockdown, it's these special people that have inspired and led us through the tough times – so we decided to start a series that shines a light on those who should be celebrated.
Following on from our 'The Mancs of the Year' feature towards the end of 2020, Manc of the Month officially kicked off in July 2021, with Marcus Rashford MBE, Manchester's mural king Akse P-19, the local chef feeding the region's vulnerable families Mary-Ellen McTague, and Manchester's groundbreaking new Council leader Bev Craig among previous honourees.
Featured image: England Women's