Trafford
Fly-through video shows incredible new vision for TraffordCity, including £250m waterpark
Plus a huge in-land surfing lagoon.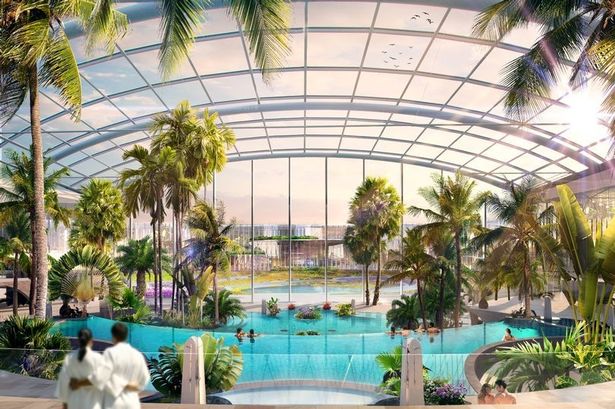 A new fly-through video shows what TraffordCity will look like over the coming years, including a surfing lagoon and a huge wellness resort.
The area is set to undergo a major upgrade, with £2.6 billion earmarked for investment over the next 20 years.
Projects in the pipeline include the creation of the £250m Therme Manchester Wellbeing Resort, which will feature 35 water slides, 25 pools, 30 saunas and stream rooms, an on-site urban farm and botanical gardens.
Work has already started on the site, with Peel L&P submitting plans to demolish the 28,000 sq metre EventCity conference and exhibition space on Barton Dock Road.
When it's complete, the Therme site will span 28 acres and create more than 500 permanent jobs.
Another major development coming to TraffordCity is Modern Surf Manchester, an in-land surfing lagoon set to open by 2025.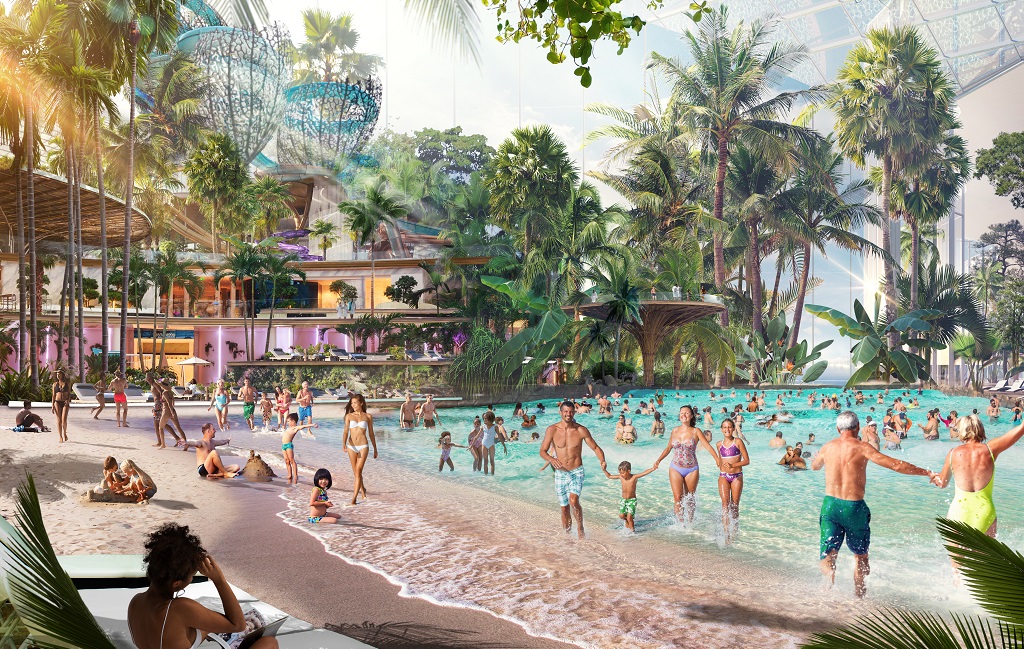 The £60m attraction will feature technology that will create consistent waves for all abilities, alongside a cafe, restaurant terrace, surf shop, beach bars, bouldering space and fitness zone.
TraffordCity already attracts some 44 million visits each year, and is hoping to attract another 2.5 million visitors a year over the next five years.
Fives Soccer Centres is also set to launch a next-generation football centre, with world class facilities across eight larger-than-standard pitches.
The five-a-side pitches offer individual player tracking, as well as video replays and highlights.
The family-friendly attractions at TraffordCity continue with the NERF Action Xperience at Trafford Palazzo, which will take over a 35,000 sq ft space next summer and will include a branch of Archie's burger and shake restaurant.
Other food and drink openings include high-end Italian restaurant Matterello, and Tim Hortons with its largest drive-thru in the UK.
You can watch a fly-through of the future of TraffordCity here:
Plans include a new development called Trafford Waters, which will create new affordable housing, retail and office opportunities, hotels, schools and a 20-acre public park.
It's set to take around 20 years to complete in full, creating 5,000 jobs.
This month, plans were submitted for a new care facility to support older people and those living with dementia by Montpelier Estates – it will include facilities like a hair salon, cinema, rooftop garden and community event space.
Read more
Work on the first 350 new homes at Trafford Water has been funded by a grant of £4.08m from Homes England's Housing Infrastructure Fund, match-funded by Peel L&P.
Phase one will include tree-lined footpaths and cycleways and the first acre of public green space at the development.
Trafford Housing Trust has submitted proposals for 83 homes on Trafford Waters that will be affordable homes for shared ownership.
Featured image: Therme Manchester