Trending
An American YouTuber took on the infamous Slattery Chocolate Challenge – and doubled it
It's Britain's toughest chocolate challenge.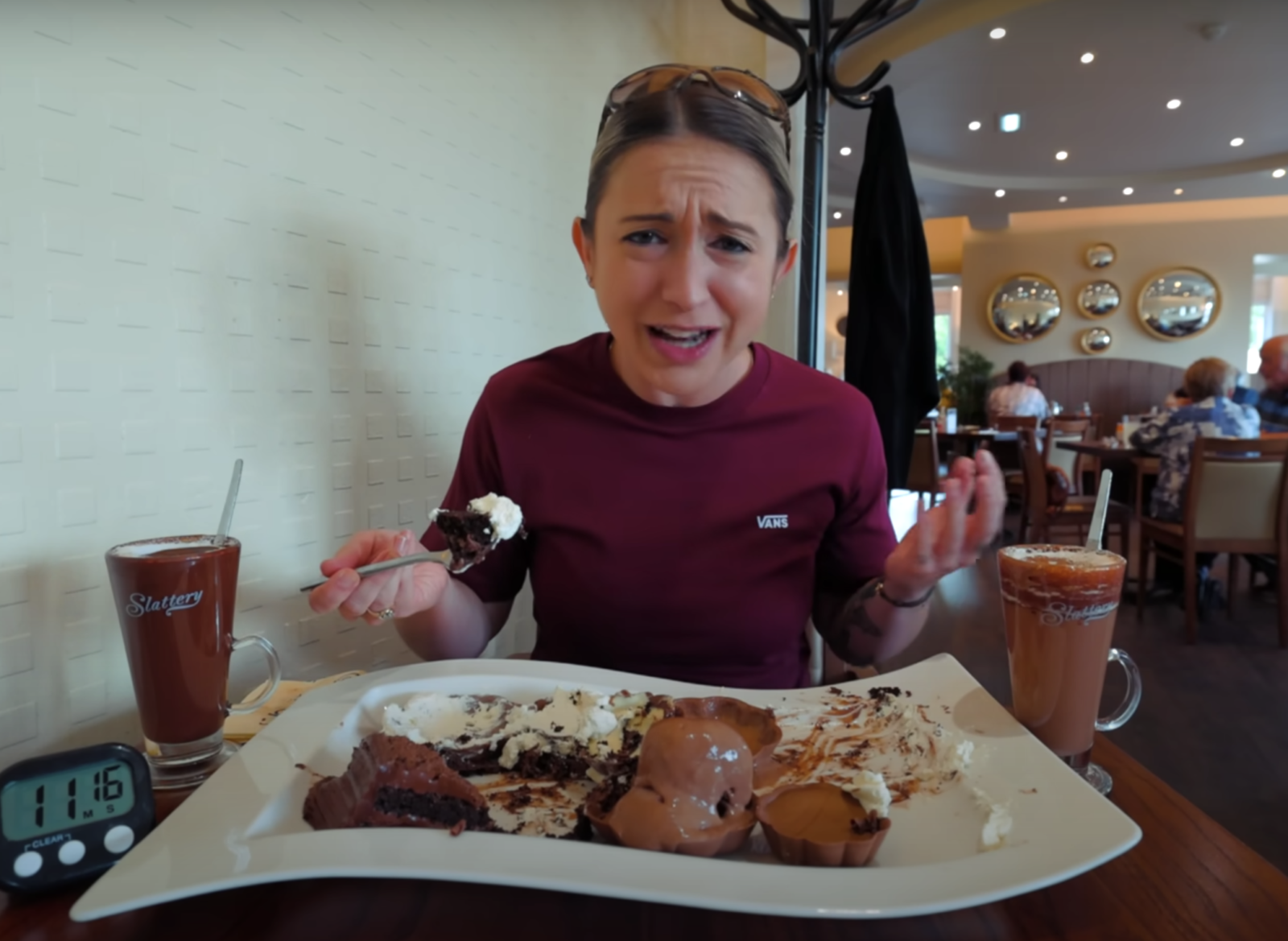 The Slattery Chocolate Challenge is a beast that has toppled even the sweetest of sweet tooths over the years.
If you asked the most steadfast of chocaholics to paint their idea of heaven, it would be this – a landscape of chocolate fudge cake mountains, molten chocolate pot lakes, fields of chocolate ice cream, fluffy clouds of whipped cream.
Oh, and a huge, rich, hot chocolate and a fair few chocolate coins too.
It would be enough to keep a child on a sugar hype for a week, but if you complete the Slattery Chocolate Challenge, you receive the grand prize of more chocolate!
The legendary Whitefield cafe's £19.95 creation has humbled plenty of customers over the years – of around 10,000 people who've tried, only around 3% of them have managed to clear their plate.
So it was quite a ballsy move for American YouTube star Katina Eats Kilos to order the Slattery Chocolate Challenge as a DOUBLE PORTION.
In a video seen by almost two million people, she confidently tucked in to two portions of the already-massive platter.
She said: "I've got a bit of a sweet tooth, and I think the only way to fix that is with Britain's toughest chocolate challenge."
The chocolate challenge arrives at the table with huge sparklers firing out the top of it, declaring itself the centre of attention.
Katina then says: "There ain't nothing to it but to do it", grabs a spoon, and ties her hair back. She means business.
Uttering a 'pray for my insulin levels', the social media star then started to chip away at the legendary dessert plate.
Heartwarmingly, she pauses throughout the video to praise the quality of the family-run dessert cafe's food, which us Mancs all know and love.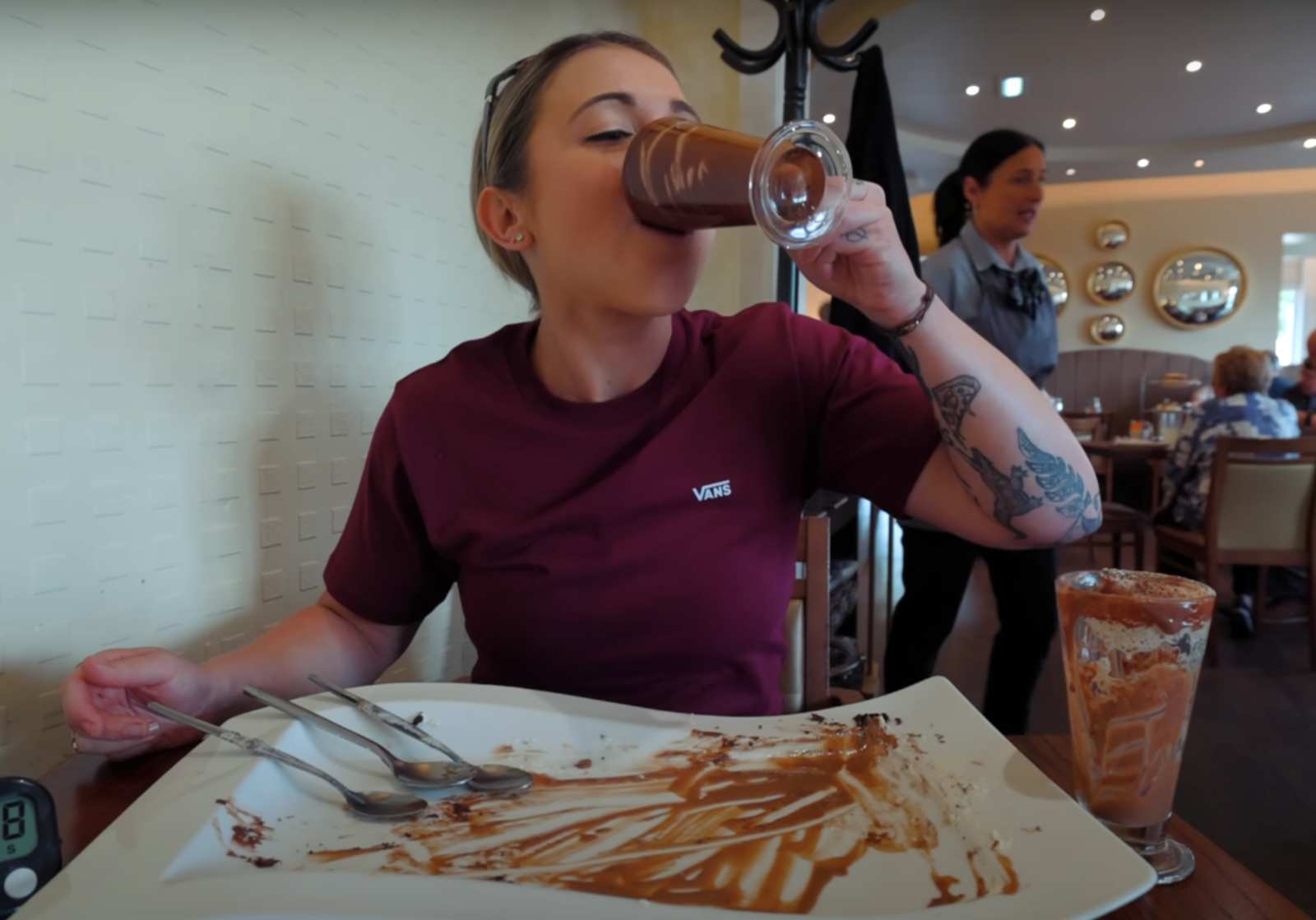 She said the American-style chocolate fudge cake was 'rich and lush', and something that even Matilda's Miss Trunchbull would be proud of.
Katina also paused halfway to acknowledge that she already had that 'shaky sugar buzz' and could see how the Slattery Chocolate Challenge had defeated 'the average person'.
But this woman makes a career out of taking on food challenges, and the sweet plate was no match for her.
She wiped the plate clean in 25 minutes and 19 seconds. Impressive.
Katina Eats Kilos was only the fourth person EVER to complete a double on the Slattery Chocolate Challenge.
Fans absolutely loved her attempt – one person commented: "This was like watching Matilda's cake scene. I was impressed and disgusted at the same time."
Someone else said: "My red flag is thinking this looks so easy."
And another wrote: "Tried this and thought it would be so easy. NOPE. Plus side was taking the rest of the chocolate cake home though."
Read more
Featured image: YouTube, Katina Eats Kilos