TV & Showbiz
David Schwimmer is on the Celebrity Great British Bake Off lineup – and people can't cope
"If he doesn't reference Rachel's trifle at some point, then it was all for nothing."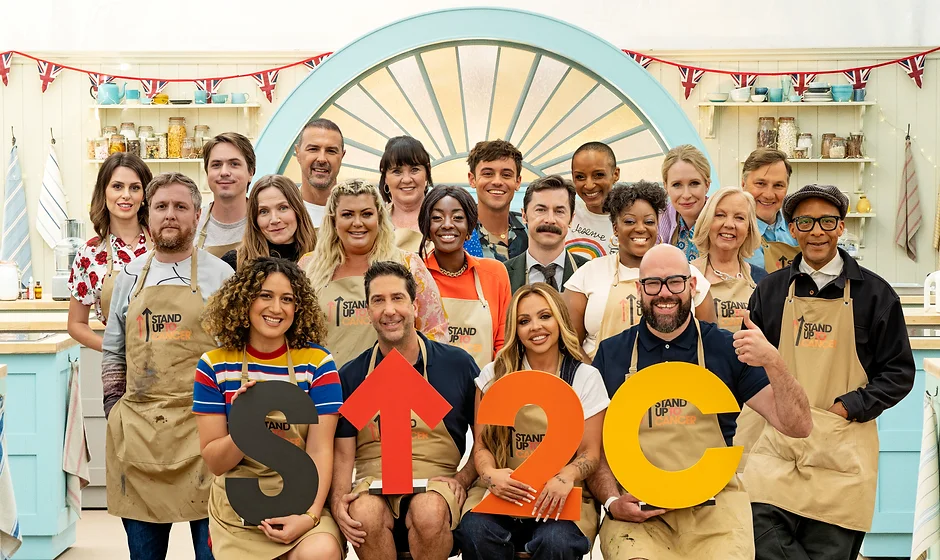 The star-studded lineup for the new Stand Up To Cancer celebrity edition of the Great British Bake Off has been announced.
And it's a wild ride.
Bolton-born comedic actor and presenter Paddy McGuinness, radio and TV presenter AJ Odudu, Radio 1's Adele Roberts, and actor David Morrissey are some of the North West names joining famous faces like Olympic diver Tom Daley, reality star Gemma Collins, former Little Mix member Jesy Nelson, Loose Women star Colleen Nolan, and Dragon's Den's Deborah Meaden on the upcoming The Great Stand Up To Cancer Bake Off.
But while comics, reality stars, TV presenters, and British actors of varying fame levels are all who you'd expect to see a lineup like this, one famous face has really thrown people off – David Schwimmer.
Yes, that's right. Whether you can believe it or not, the star of the most famous sitcom of all time, and everyone's favourite wrongly-accused Blackpool corner shop cans thief, David Schwimmer, has laced up his apron and headed into the Bake Off tent.
What's even more surprising is that the US actor, who is of course best-known for playing Ross Geller in Friends, was already supposed to have appeared in celebrity special of the hit Channel 4 baking reality TV show a few years back, but he had to pull out right of filming right at the last minute.
It comes after Schwimmer said in an interview that he's a huge Bake Off fan.
He told Radio Times back in 2020: "It's competitive, but everyone's so lovely with each other. It's so not American!"
Finding out the now 56-year-old actor was a fan was what lead judge Paul Hollywood to naming Schwimmer as the celebrity he'd most like to see take part in the show after he had to back out of competing at the 11th hour.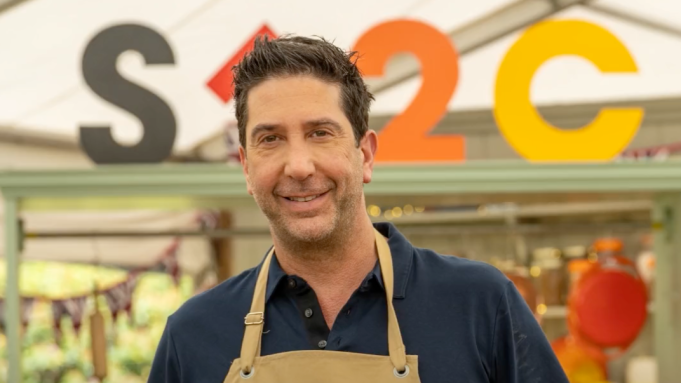 After the lineup was unveiled yesterday, fans have been taking to social media to share their shock at Schwimmer's unexpected inclusion.
"You managed to get actual David Schwimmer? Ridiculous!!!" one fan wrote on Twitter.
Other people were more literal in their shocked reactions, with another fan simply tweeting: "DAVID SCHWIMMER!!!!!" and a third person commenting: "… and David Schwimmer!! Wait! What???"
Plenty of Friends jokes and references were also made, of course.
"I'm sorry?? Gemma Collins and David Schwimmer. Together. On Telly. Making baked goods. For charity? Take my money," another fan wrote on Twitter.
Another tweet read: "David Schwimmer and Jesy Nelson is a duo I never thought I'd see."
"I cannot wait to see Gemma Collins interacting with David Schwimmer on my TV," another entertained fan said in reaction.
Read more:
The Great Stand Up To Cancer Bake Off sees celebrity bakers enter Britain's most famous tent and put their baking skills to the test as they tackle signature, technical, and showstopper challenges in a bid to be named Star Baker, while raising awareness and funds for cancer research and inspiring viewers to do the same.
The new series is set to air on Channel 4 later this year.
Featured Image – Channel 4