Trending
Some of the best spots in Manchester to enjoy the sunshine socially-distanced this weekend
We're set for the return of some much-needed sunshine this weekend.
The buzz of city life once again returned to the streets of Manchester last weekend as it bounced back into action after lockdown guidelines eased.
Mancunians descended on their favourite local hangouts for the first time in over three months on Saturday.
The city's hospitality industry had done a fantastic job of making their establishments COVID-secure, and apart from the odd 'covidiot', these new rules were followed en masse by punters, making for a successful day all round and one to be proud of.
It was unfortunately a bit of a washout though.
The typical North West weather may have put a damper on 'Super Saturday', but the good news is we're set for the return of some much-needed sunshine this weekend, with clear skies and high temperatures of 21°C across both days, so there really couldn't be better time to get out and support the varied selection of independents and hospitality businesses that we're so lucky to have here in Manchester.
Here's a few of our top picks for places to enjoy some socially-distanced sunshine in the city this weekend.
___
Impossible MCR
Great Northern
Impossible MCR may be best known by night, but with a sun-trap outdoor seating terrace at the heart of Peter Street/Deansgate, it's also perfect for daytime dining and drinks.
The Impossible MCR kitchen has teamed up with Vietnamese-inspired street food geniuses South Manny Flavaz to deliver dishes "like you've never tasted before" and they even offer a sensational Sunday Dinner too, that features everything you know and love about the traditional roast, but with a seasoned twist.
Impossible MCR is open from 12pm-late this Saturday and Sunday, and you'll need to book for drinks/dining via the website here.
___
A number of other popular Great Northern hangouts have also already opened their doors, or are planning to do so in the coming weeks too.
Mark Schofield, Centre Director at Great Northern, said: "We look forward to welcoming Manchester locals to the site as lockdown begins to ease and as our fantastic range of resident brands begin to reopen for business. Everyone here as pulled together to make sure the site is a safe space in which to relax, wine, dine and enjoy some much-needed leisure time."
"We'll be monitoring government guidelines around social distancing and other safety measures closely to ensure we're implementing the latest advice and are excited to see the Great Northern come to life once more as each of our residents reopens over the coming weeks".
For more information, including updates on individual brand opening dates and safety procedures, please visit the Great Northern website here.
___
20 Stories
Spinningfields
If you're looking for a touch of class to go along with your sunshine this weekend, then you really can't get much better than the one-of-a-kind rooftop terrace at 20 Stories MCR.
Sitting right at the top of No.1 Spinningfields, sky high dining is always on the cards at 20 Stories, come rain or shine, but this weekend's sunny weather is sure to brighten up your evening.
Advanced booking is required, which you can do so here.
For more information, as well as COVID-safe guidelines ahead of your visit, visit the website here.
___
ZOUK
Tea Bar & Grill – Manchester
ZOUK offers some of the most authentic Indian and Pakistani cuisine in Manchester, but it also boasts a large outdoor seating area – which now follows all necessary social distancing guidelines – making it top of the list for anyone after a hearty meal to enjoy in the sunshine this weekend.
Our mouths are watering just thinking about it.
Booking in advance of your visit to ZOUK is required, which you can do so here, and you can specify an outdoor terrace table too.
For more information, visit the ZOUK website here.
___
The Oast House
Spinningfields
There isn't a sun-trap quite like The Oast House elsewhere in Manchester.
Whilst the usual buzz of those large crowds may be a little on the quieter side this year in the name of safety and social distancing, that summertime Oast House experience and classic Mancunian spirit is sure to have not gone away, and the same great food and drinks menu is still going strong.
Booking ahead is required – which you can do so here – and for more information, visit the The Oast House website here.
___
Foundry Project
Northern Quarter
Foundry Project is a beloved Northern Quarter hotspot for a reason, and the outdoor seating terrace – which catches every spot of sunlight that shines down on the city – is just one of its many highlights.
Whether you fancy wining and dining, or just grabbing a bite and a pint, you can now book your table at the Foundry Project, specifically for the outdoor terrace, here.
For more information and safety guidelines ahead of your visit, head to the Foundry Project website here.
___
PLY
Northern Quarter
Ever-popular Northern Quarter hangout PLY opened its doors to the people of Manchester last weekend and it's set for round two today, only this time, it's debuting a new socially-distanced outdoor courtyard, so it's the perfect place to hit up if your after a pizza and a pint in the sun this weekend.
There's also a NEW brunch menu that's well worth checking out too.
Here's a sneak peak at that outdoor courtyard.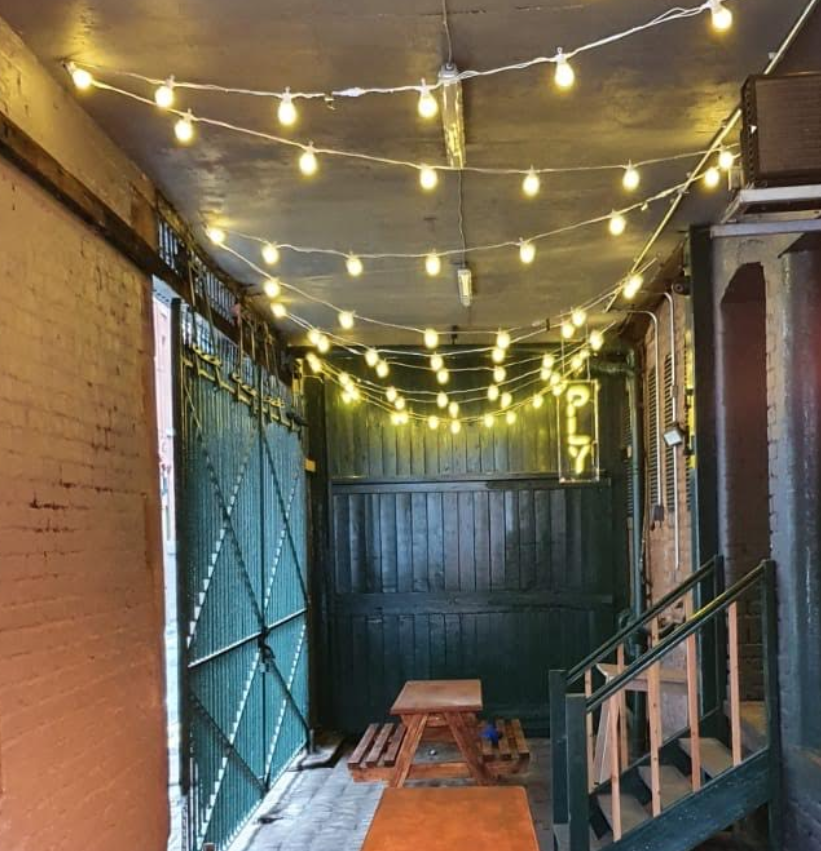 Booking is always advised ahead of your trip to PLY – which you can do so here.
For more information, as well as details on social distancing measures and COVID-safe guidelines, visit the PLY website here.
___
Home Sweet Home
Northern Quarter
Home Sweet Home, sitting in the heart of the Northern Quarter, always has a selection of outdoor tables available all year round, but has recently debuted its "shiny new outside area" after reopening doors to the public last Saturday.
If you've got a sweet tooth and some sunshine in mind, get yourself down to Home Sweet Home this weekend.
It's always best to book ahead, which you can do here, and for more information ahead of your trip, visit the Home Sweet Home website here.
___
Bunny Jacksons
Manchester
Bunny Jacksons, tucked away on Jack Rosenthal Street, is of course home to the famous '10p wing', but it's also home to a popular sunny, (and now socially-distanced), outdoor seating area that's perfect for catching a few rays this weekend.
There's never any need to book at Bunny Jacksons, so just rock up, remember to adhere to all social distancing guidelines, and hope for the best.
For more information, visit the Bunny Jacksons website here.
___
Haven't found somewhere that takes your fancy? For a full list of bars and restaurants that have now reopened their doors to the good people of Manchester, you can have a read of our rundown list here.
The Manc is helping local businesses and venues get back on their feet after lockdown with our #BuzzingToBeBack campaign – offering as much support and exposure for Manchester hospitality as possible.
Read more about what we're doing for the industry here.
Read more about eats in Manchester here.