Trending
Wigan man crowned world pie eating champion after scoffing one in just 36 seconds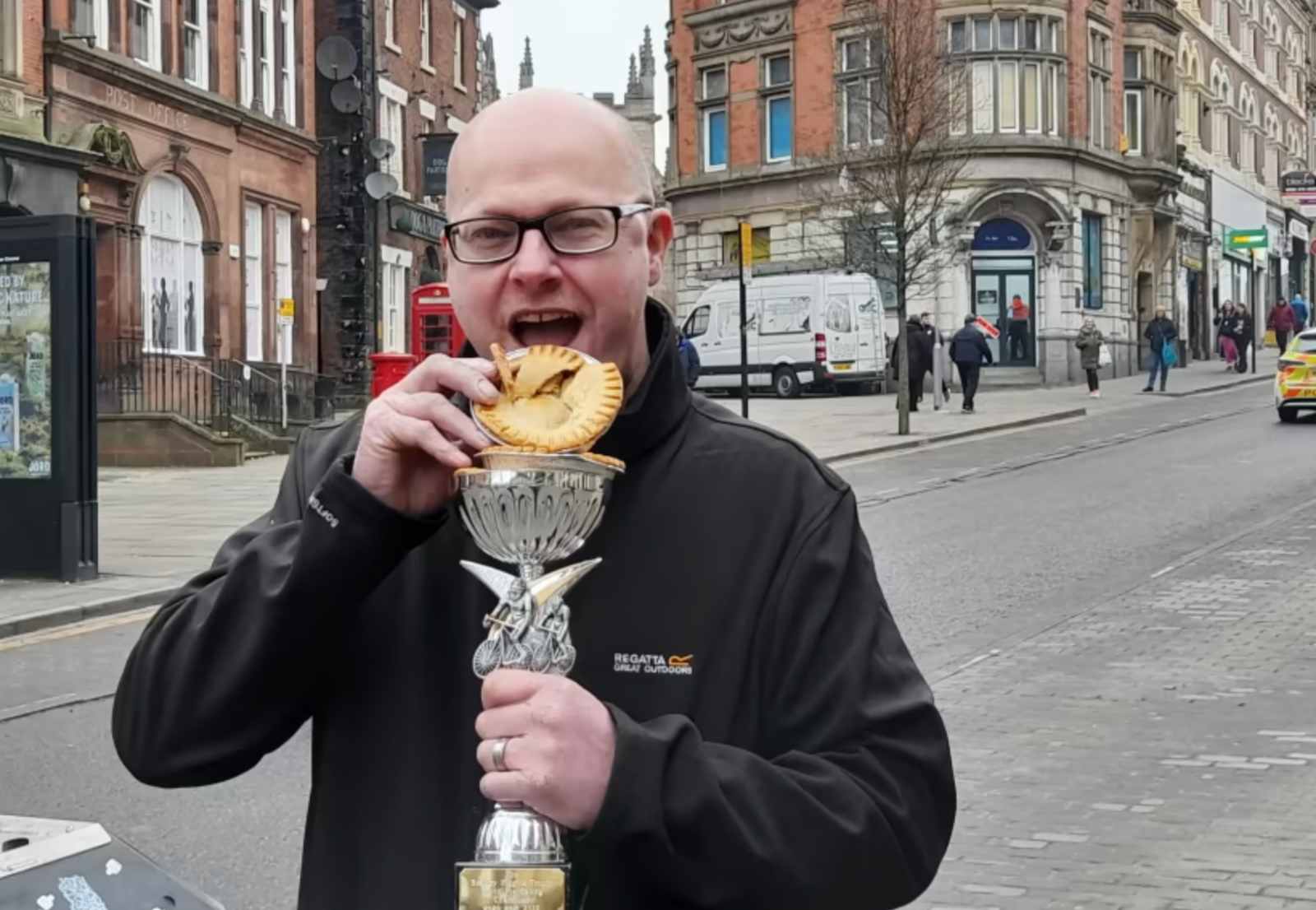 A proud Wigan man has become world pie eating champion after impressively scoffing one in just 36 seconds flat.
Everyone from Greater Manchester knows that Wigan is a place synonymous with pies, with bakeries flogging the beloved pastry lining the streets of the town centre, and even the mascot for the town's football club, Wigan Athletic, being a big pie named Crusty.
So is it really any surprise that the man who has just been crowned World Pie Eating Champion 2023 is a Wiganer?
We wouldn't expect anything less.
49-year-old Barry Rigby is no stranger to competitive pie eating, having already previously being crowned fastest in 2009 and 2014's competition – but now he has another title to add to his ever-growing collection.
Barry has just won this year's World Pie Eating Championships on Tuesday (24 January) by wolfing down a 12×3.5cm meat and potato pie in just 35.4 seconds.
The World Pie Eating Championships is a tradition that stretches back 26 years, and this year, the competition took place at Harry's Bar in Wigan, with 15 brave pie-eating 'athletes' all lining up and risking choking to be crowned the winner for 2023.
Previous pie-eating champions include 43-year-old Ian Gerrard, and 41-year-old Martin Appleton-Clare, with the latter having taken home the trophy a staggering five times – but although both took part in this year's competition too, they sadly lost out to Barry's impressive skills this time around.
Barry has called the championships an "important local event" that's a "good thing to take part in".
But what is his secret then? What does Barry put he three-time success down to?
Well, the winner told ITV Granada: "You've got to take small bites and keep chomping at it, swallow it quickly and get it down you as quickly as you can without dropping any bits."
Read more:
While we're all suitably impressed by Barry's new title, one person he claims won't be so much is his wife – "She won't be surprised I won, I eat a lot of pies," he concluded.
Featured Image – ITV Granada